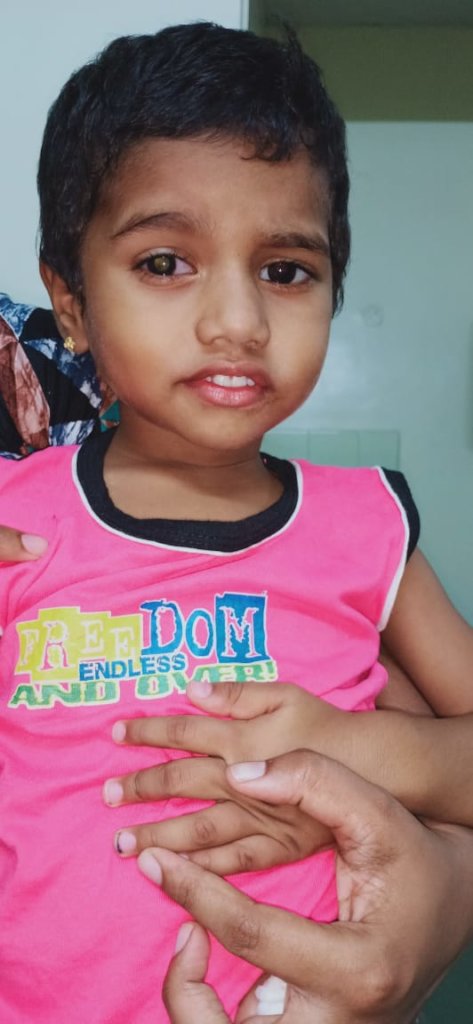 Dear friends,
My last report was written to you in the midst of the India's frightening and demoralizing second wave of the pandemic. Five times as many cases as the first wave and shortages of beds, oxygen, medicines, and nursing staff across the country.
Aravind met this challenge head-on, increasing protective measures for staff and patients alike. We started a program to deal with Covid survivors who develop fungal disease after recovery. (You might have read about this disease, Mucormycosis, in the New York Times. Aravind's own Dr. Usha, head of our Orbital cancer program and founder of the Ring of Hope, noticed the increase early on.) To help our staff -- 85% women -- deal with the increased stress of working in this "new normal", we have created an initiative to provide counseling and training.
And, we never stopped caring for our patients, despite the obstacles. One of those patients was a two-year-old girl named Athlin from the adjacent state of Kerala. Her father is a fisherman. Her family visited Aravind where she was diagnosed with eye cancer, but returned home because of lockdown. As cases kept rising, the family worried about delaying her treatment -- rightly so, because early treatment was key to saving her sight and life. Aravind received special permission for the family to travel to Madurai for surgery, chemotherapy and genetic screening -- all free of cost, thanks to you.
I am more optimistic today than when I wrote to you in May. The numbers of reported Covid cases in India are lower than those in early summer, and roughly a third of the population has had at least one dose of vaccine, as you know. There is still a long road ahead and many uncertainties. But, knowing you are with us in this fight inspires and comforts all at Aravind. In the words of our founder, Dr. V, "Much has been done, but much remains to be done. We look to the future with renewed strength to continue the mission of providing quality eye care."
Thank you for your support. As always, we would love to hear from you. Please feel free to call me at 917 412 4742 or email me at donnacampbell@aravind.org. Or visit facebook.com/AravindEyeFoundation and or tweet @aravindeye. I will get right back to you!
With gratitude, Donna
Donna Campbell, Executive Director, Aravind Eye Foundation
Links: