Project Report

| Jun 27, 2020
Quarterly report of WLEP- April 2020- June 2020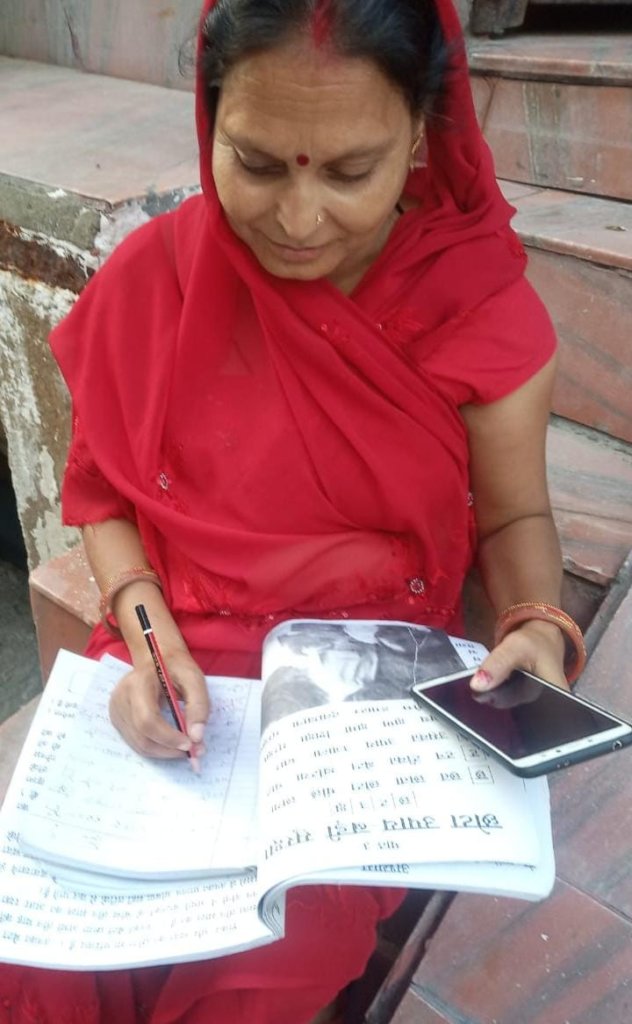 GLOBAL GIVING QUARTERLY REPORT
APRIL 2020- JUNE 2020
DHANPATMAL VIRMANI EDUCATION TRUST & MANAGEMENT SOCIETY
PROGRAM- WOMEN LITERACY & EMPOWERMENT PROGRAM
EXECUTIVE SUMMARY
Since March 2020, our world has been turned upside down in every department of our lives. The current global pandemic has halted most of the operations and we all are unable to move out. We all are adapting to the changes in our surroundings and in our daily lives.
In the beginning, we were utterly puzzled on how to move forward with our programs as most of our team is on-ground. With patience and brainstorming, we took the step to carry out all our operations online. We started to teach our beneficiaries online and they were excited about the online classes. Yes, we had our own struggles and ups & downs, but we believe to rise from every crisis and problems.
WOMEN LITERACY PROGRAM (ONLINE CLASSES)
We commenced with the Women Literacy Program online classes in April 2020. The concept of teaching the beneficiaries online is new for the Center in-charges and the beneficiaries, yet it is a success. Beneficiaries feel proud and thrilled via the new way of learning. They never imagined in their dreams that they can learn online too. In total, we are educating 4,459 beneficiaries online and the numbers are going to increase in the coming days. The beneficiaries have acquired knowledge of numbers, basic Hindi Matras, and can write down their names and addresses.
FOOD DISTRIBUTION
Our Women Literacy Center's center in-charges helped in distributing the uncooked food items provided by Virmani Education Trust. In total, 280 families were touched upon in various destitute communities.
ONLINE SESSIONS
Online sessions have been conducted regarding the COVID-19 with the Coordinators, Senior Coordinators, Center in-charges, and beneficiaries.
HANDMADE MASKS BY CENTER IN-CHARGES
Our Center in-charges have stitched 9,698 masks for the deprived families and the communities to curb the shortage of masks at the medical stores. We are overwhelmed by the kind gesture of our Center in-charges and can solely learn from them.
CHARTS TO AWARE OF THE COMMUNITIES
Center in-charges & beneficiaries made charts related to COVID-19 with the purpose to create awareness in the communities.
ACTIVITY DAY
During the current global pandemic, it is pivotal to concentrate on mental health. We are very much aware of the fact that a plethora of people are under stress and anxiety about what the future holds. To resolve this problem to some extent, we decided to encourage the beneficiaries to carry out activities they love the most such as stitching, cooking, etc. every Saturday. These activities can surely assist the beneficiaries to take some load and stress off from their minds.
WORLD ENVIRONMENT DAY
Center in-charges and beneficiaries celebrated World Environment Day (June 5, 2020) with love and happiness. They sowed seeds of plants and also took a pledge via the link provided by Tata Power- DDL.
INTERNATIONAL YOGA DAY
International Yoga Day is celebrated on June 21 every year worldwide. Our beneficiaries and Center in-charges celebrated the day on June 20, 2020, with love, peace, and harmony.
We are eternally thankful for your support throughout. You truly make a difference for us, and we are extremely grateful.
Best Regards,
Virmani Education Trust