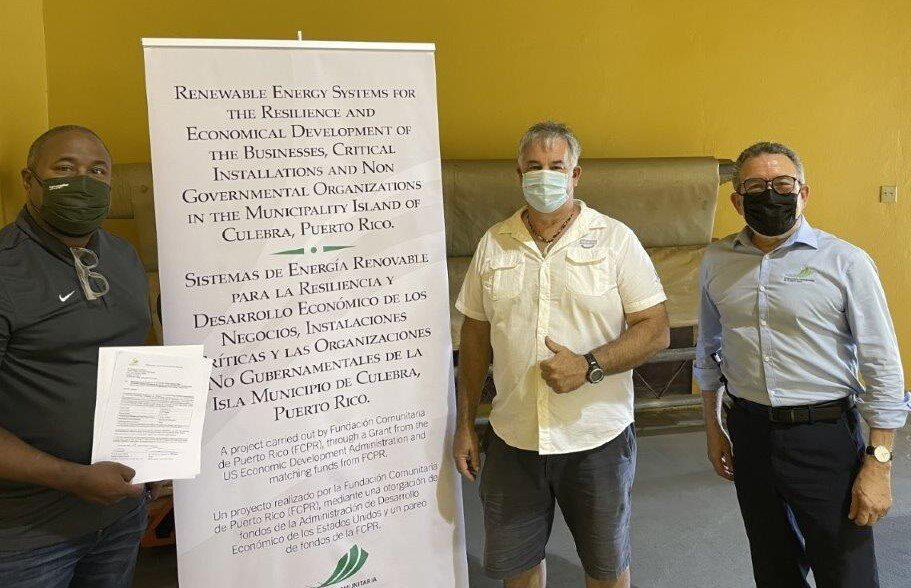 The Renewable Energy for Culebra project in Culebra, Puerto Rico, is already in the pre-construction stage. After many community meetings to garner participation and commitment, and despite the pandemic of COVID, we are ready to begin with the installation of the solar systems in over 50 businesses, critical facilities, and nonprofits organizations. One can only notice the joy the project brings to Culebrenses.
"I'm very emotional about this project because we are a small island, disconnected from the big island, lacking the most basic resources of subsistence. But thanks to this project, we will be able to overcome future events and maintain our island running", said Ada Soto, director of the Asociación Educativa y Pro-Desarrollo Humano de Culebra.
Ada has lived firsthand, what it is to become a community first responder, providing the small community of Culebra with emergency care. They have also become a resilient center providing water - they have two cisterns (1,200 gallons each one) - a kitchen to provide food, Internet to provide connectivity, and energy to store essentials like medicine and food provided by a partial solar system. The project will allow them to have a full solar energy system to become a more resourceful organization for their community.
"We want to step it up and substantially improve what we already have", she explains. "To have a center 100% solarized will become of huge benefit to the whole community to face future crises. To continue our operation uninterrupted, despite the lack of water or power from Puerto Rico's centralized utility services, will be of great benefit for the people of Culebra", she added.
After Hurricane Maria hit Puerto Rico in September 2017, Culebra and Vieques, two municipal islands in the north-eastern region, suffered from lack of energy for more than a year. Power generators had been providing the source to maintain electricity in the island with an unprecedented, elevated cost and with a negative impact on the environment. According to Census 2020, Culebra population is 1,792. The Puerto Rico Community Foundation (PRCF) proposed to transform Culebra's energy system into a renewable system providing a solar energy infrastructure to local businesses like supermarkets, restaurants, hardware stores, and municipal critical facilities, as well as local community based organizations that are providing the Culebrenses with a wide array of services.
"The services will not be interrupted, and we can keep bringing services to the community", highlighted the woman which born in Culebra. "We will have resources to get up after an emergency, while the help arrives", added.
The project started in 2019 with planning and matching grants efforts. By 2020, the work concentrated on contracting staff, legal, compliance, and engineers for the design. In 2021, PRCF celebrated community outreaches and individual and collective structure predesigns. Also, requested to Puerto Rico Energy Bureau the certification of Fundación Comunitaria de Puerto Rico Servicios Inc., as an electric power company. Fifty different designs were made to comply with each physical structure. The project will power 950 kv.
The project is funded by Economic Development Administration (EDA), GlobalGiving, Prudential and other private donors. Be a part of the transformation of Culebra and continue to support this project.