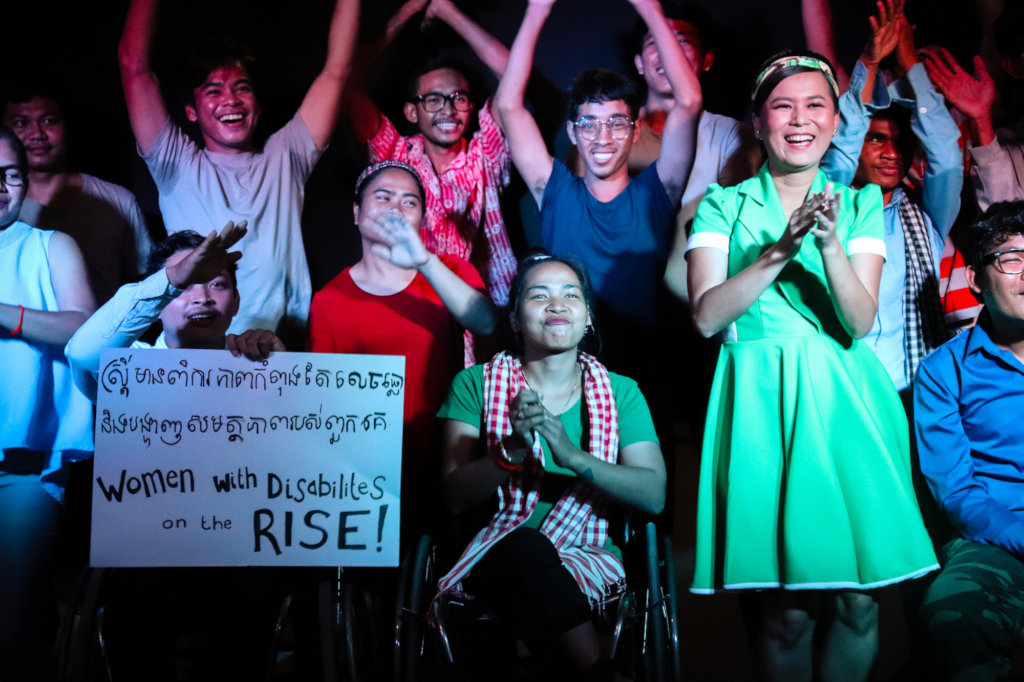 Bringing you some happy news and entertainment during the global pandemic.
Scroll to the end if you're interested in how the COVID-19 outbreak is impacting our work.
As March is International Women's Day we've had a focus on the women and girls at Epic Arts. Over the last 5 years we've seen an increase in girls enrolling in our Inclusive Arts Course. After the class of 2019 graduated in April, we had several full-time paid positions throughout Epic Arts open to graduates. 3 out of the 4 female graduates decided to apply and were successfully interviewed and employed through our social enterprises.
In early 2019 before they graduated our students took part in an exciting creative media Community Arts Project – 'Rise Up'
The project worked with women, girls and mothers affected by disability across Cambodia, from Epic Arts and other disability sector NGOs. Through creative storytelling workshops we turned women's stories of discrimination & abuse into a powerful, catchy original song with an inspiring music video featuring over 50 people with disabilities.
Thanks to your donations we have the opportunity for our students to take part in projects like this, which not brings positive representation of people with disabilities in the media. Most importantly increases the confidence and pride of the young people taking part alongside professional dancers and well-known figures. 'Rise Up' video has been a big success and had over 158k views in Cambodia.
The video encourages and inspires viewers to challenge their perceptions around disability and discrimination and also inspires people with and without disabilities to rise up from the violence and advocate for equal rights.
Click the link to watch the video and see if you can spot our students.
________
How COVID-19 is affecting our work
The Ministry of Education's decreed to close all schools and vocational training centres in the country in mid-March.
Our classrooms are empty for the time being but we're committed to all of our students.
Education staff will be visiting our vulnerable students and their families regularly to make sure they are doing well and that they have up to date and correct information on how to stay healthy.
Many of our staff find it difficult to access information, so we've been regularly updating all staff on the ongoing situation. We've supplied 70 bottles of hand sanitiser, soap and thermometers to all staff and students.
From 23rd March we'll be practicing social distancing the majority of staff will be working from home until the Khmer New Year celebrations begin in April.
We made the tough decision this week to close the Epic Arts Café (our biggest income generator) now, more than ever, we need your support so that we can continue to offer support to vulnerable children in Cambodia.
We're wishing all of our friends and supporters around the world good health and safety!
The Epic Arts Team