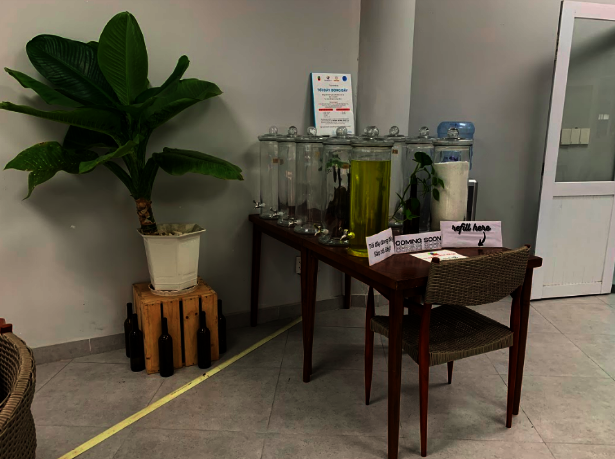 Dear our beloved supporters,
Firstly, we would like to thank you for your support from the very beginning until now. After graduating from Vietnam Climate Leadership Camp 2021 and being equipped with knowledge and necessary skills, teams have returned to their own homeland and they have been implementing the projects now. We had 7 teams joining in Camp 2. They are Toi Day Dong Day, ANKHOE, GOMers, YNET, The Eco Project, AROS Team, and The Renewable. Here are some reports from all teams.
"Toi Day Dong Day" is a project aiming to build the reuse habits for students by refilling. Then, it helps to reduce the single-use plastic containers at universities in Ho Chi Minh city. Until now, the team successfully cooperated with Hihub to set up their booths.
Regarding the financial management, the team has already built their budget for their project. They also created their own account and fanpage "Toi day dong day" on social media to communicate and spread the message of the project. They have built their communications plan, and have been uploading some information on their pages.
Furthermore, they would recruit volunteers to help them run the project. In terms of external relations, they made proposals and approached different stakeholders to get more funds and maintain the project more sustainably.
ANKHOE is an app focusing on encouraging people to eat more healthily. This app is established to solve the problem that vegetarians usually face. ANKHOE has already finished two functions consisting of empathizing the users and menu on the app. Regarding the content, ANKHOE has completed 50% of the total data they need for the app, and in terms of coding/ technical issues, they finished approximately 30% of the necessary tasks. It includes the language and design.
"GOM - The project to build a network to collect and treat used batteries in Quang Ninh province" is an initiative built by the group GOMers - Generation of Collectors to fight climate change. This used battery management initiative not only focuses on communicating to change public awareness, developing young people's thinking in protecting the environment and especially combating climate change, but also directing to the further goal of safely handling used batteries, meeting environmental technical regulations of the Ministry of Natural Resources & Environment.
Until now, the team has implemented many activities such as extracurricular activities, creating the collection point, communicating on social media channels, and working with Quang Ninh's television station. To be more specific, they contacted Hon Gai High school and other relevant stakeholders. Then, they had meetings with various clubs at school. Also, they created an extracurricular activities program and made battery collection bins. They communicated on social media to spread the message of the project, and they have been contacting Quang Ninh's television station to introduce the project.
The purpose of the project is to raise awareness about climate change in Vietnam for youths and they have to take action to address this issue.
The project has attracted and engaged a huge number of participants. Concerning communications plans, the posts were designed beautifully and neatly. It led to the positive results for the project. Last but not least, they favorably engaged alumnus of the previous season.
The Eco Project is founded to provide the space for youths, especially students, to discuss, improve their design and critical thinking in terms of sustainable fashion industry. Until now, the team has established their own fanpage, and contacted the University of Social Sciences and Humanities. Team also met some challenges including teamwork, and paperwork. However, they have tried their best to solve these problems and run the project.
Team would like to raise awareness and provide knowledge about climate change for students at Ben Tre province. Then, they can acknowledge these issues and protect their health. AROS Team wants to bring this program to four primary schools in Ben Tre Province, attract more than 600 students, parents, teachers, and the Ben Tre Youth Union. Here are some achievements of the AROS Team:
Communications: Fanapge attracted 195 followers, 857 reaches, and 169 interactions. The projects accomplished two main contents: Green Class and Green Citizen.
Human resources: AROS Team organized two training workshops about social media and event management. Furthermore, they always have weekly meetings to update the progress of the project.
To achieve these goals, the team did research about climate change and salinization. Then, they could build materials and communication plans. Moreover, AROS Team has used their network such as friends, experts,...to be guest speakers in their weekly meetings/ training. Team will continue to reach primary schools in Ben Tre and do online communication campaigns to spread the messages.
The purpose of "The Renewable" is to reduce the single-use plastic consumption and change the habits of students at Van Lang university. Due to many challenges, they are pending their project. However, they tried to recruit the core team already. Then, they continue to plan to make their project happen.
This year, we will continue to organize "Vietnam Climate Leadership Camp 2022". It is expected to be held in Soc Trang province which has witnessed various climate issues so that participants can acknowledge what is happening on our planet, particularly in the Mekong Delta. We are still raising funds for the campaign this year. Please support us!!! It is believed that your contribution is totally valuable and beneficial for not only our program but also our community.
Once again, thanks for your trust in us!
Sincerely,
CHANGE Team.