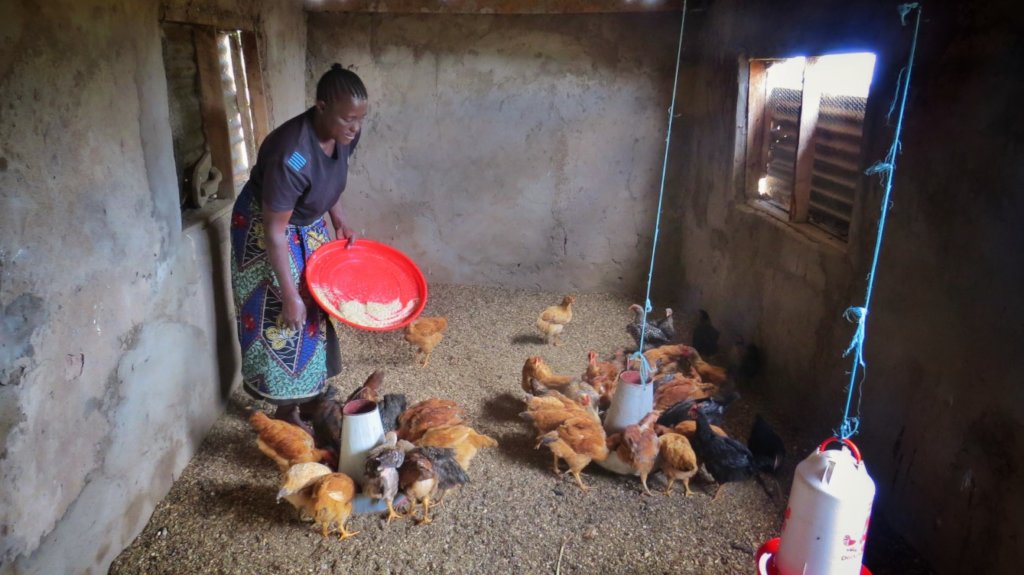 Naitolia village is filled with Acacia trees and a few maize farms that can be seen from a distance. As one drives deeper into the village, all farms have turned golden yellow which could only mean one thing, harvest season. But that is not the case. This time drought has destroyed nearly every crop, leaving the community in Naitolia unprepared. But Maria is not a victim.
Maria (42) is married to Sanare (58) and they have six children, four boys and two girls. Five of her children are in school. Maria is also taking care of her two grandchildren who are five and two. Maria is a member of Upendo Savings Group, a farmer and a poulter.
Maria remembers the old days when all she fed her children was ugali, a cornmeal porridge and milk from her cattle. The children often fell sick because they lacked a balanced diet which affected their growth. "In good days, we had two meals per day and when the maize harvest was bad, we could only manage one meal per day," says Maria in a low voice. When her children fell sick, Maria and her husband were forced to sell the food in the house or a cow to pay for medical bills. Paying school fees and buying school materials for their children was very hard and her children had to share the only pair of school shirts that she had. "As a parent the worst feeling you can have is failure to provide for your children, and I constantly felt that and thought that we have failed our children," says Maria.
Maria started working with World Vision through a savings group where she received training on savings and lending as well as rain water harvesting for farming in the dry season. World Vision taught Maria how she can diversify her income through poultry. Her savings group worked with World Vision to become a demonstration for chicken poultry so other groups can learn from them. World Vision supported Maria with a chicken coop to start her poultry business. Maria and her group were linked to Vision Fund by World Vision so they could access microfinance loans to buy chicks. "After all the training we received from World Vision about income diversification, my big question was where I will get money to start a poultry business, but World Vision connected us to Vision Fund for loans." Maria and her husband are teaching their neighbors how to do poultry as a business as well as mobilizing them to start vegetable kitchen gardens for their families.
Maria and her family now eat three meals a day and their health has improved since they can afford to eat a balanced diet. From the sale of chickens and vegetables, Maria is able to pay school fees for her five children as well as their school supplies.
Maria has also connected her house to solar power and her children can study after dark which has improved their grades at school. "I want every parent to be able to provide for their children because that is the highest achievement for me as a parent," says Maria, while picking eggs and getting ready to take them to a local market.