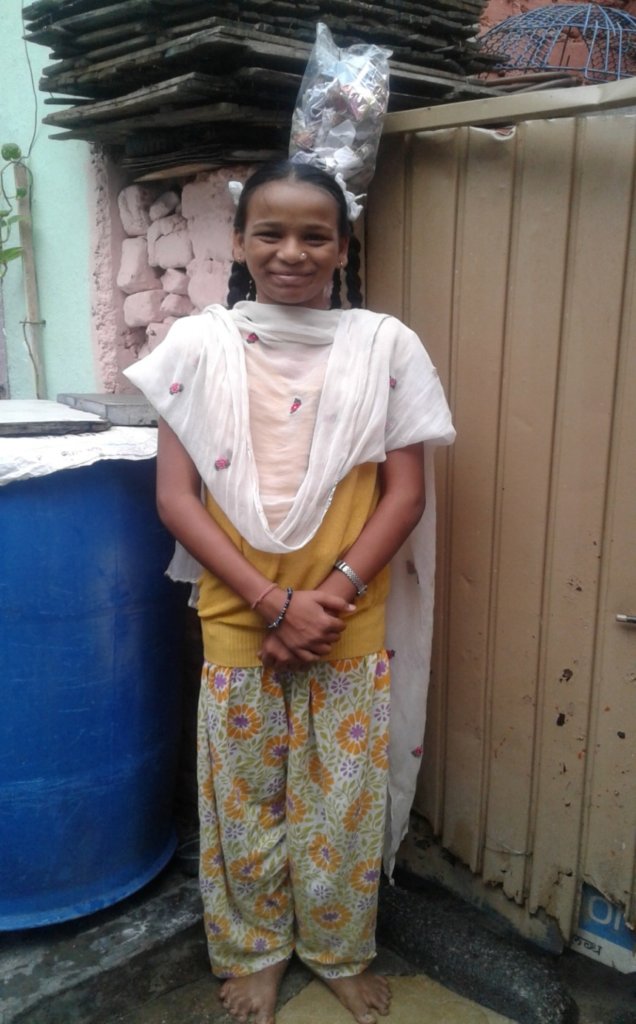 Megha's life is typical of girls' in the slums we work in. At the age of 14, she knew nothing about puberty, menstruation, or how to look after her health as her body went through changes. Because of taboos and superstition, these things are not commonly discussed and there is a lot of misinformation. Girls can be confused and made to feel ashamed about being girls. Indeed, when Megha asked why this happens to girls and not boys, no-one in her family or slum could give her a satisfactory answer.
Her father passed away when she was young and her mother single handedly works to support both her and her sister. They live in the incredibly congested slum of Bhimnagar, Pune, and a house made of leftover waste materials and corrugated iron. Because she has two daughters and no son, her mother is particularly worried about the future financial situation of the family.
Megha, however, was incredibly shy. Barely speaking, due to lack of confidence, she could barely contribute at school. When puberty hit, this exacerbated everything and Megha was ready to retreat to their home forever.
Thankfully, she found her way to Green Tara Foundation's activities raising awareness on issues of hygiene and health amongst adolescent girls in the slums. She was able to ask many questions about her body, her physiology, and the differences between men and women. Through this she learnt that it was possible for her to achieve much more than she thought - she was not lesser and unclean just because she was female!
Megha has a new confidence in life now. She is active and more confident and is working at her studies with the hope of becoming a police officer one day.
We have learnt time and time again how important awareness of puberty, menstruation and reproductive health is for these slum girls, who otherwise have no idea what's happening to them and why. It answers the questions they have, and exposes them to a different view of the role of women in society.
Thank you so much for helping to fund this life changing work!