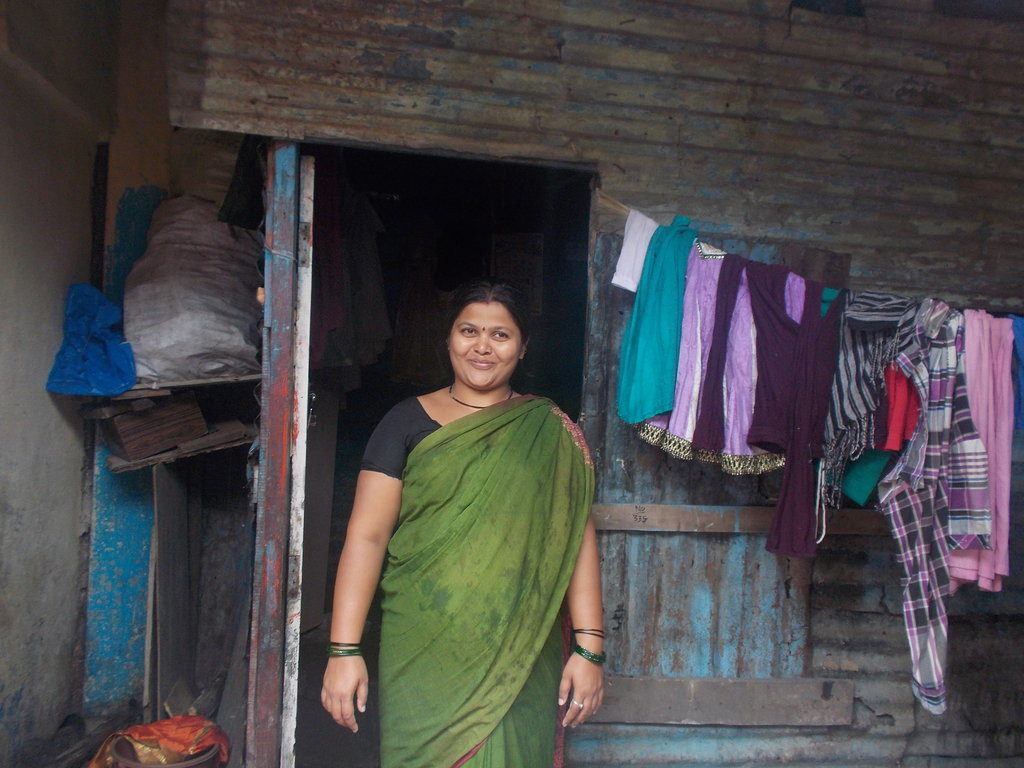 Not all of the girls who live in the slums are fortunate enough to benefit from the interventions offered by this project. In fact most are not, and so end up marrying while they are very young and dropping out of school. This was the case for almost all of the girls a few years ago, before project activities began here. Now the situation is slowly changing.
For the young women who had no opportunity to escape early marriage and domestic servitude, the project provides them with a chance of improving their situation. Many come to project activities, benefitting from an environment of peers (most of the women seldom leave their houses before attending), sharing their stories, and giving assistance and support to the staff and the younger girls. Some take part in the skills development courses to improve their own situations.
Pratibha is 28. She is married with 4 children and lives with her husband and mother in law. They live in the Bhimnagar slums, Vishrantwadi, in a small house of one room with a tin roof. Her husband is a driver and his 6,000rs (£64) a month salary doesn't quite cover the basic needs of the family.
Prabhita wanted her children to study so they would not have to struggle as they parents do. They saved as much money as they could and the children were going to school, but there was no money for their books, and not enough for oil to cook food.
Then one day Pratibha spoke to a neighbour of hers who had attended sewing classes, Motivated by the wish to educate her children, she was inspired to do the same and started going along.
She has now been attending classes for 6 months, and has gained a lot of confidence and new experiences through leaving the house and socialising with other women. In terms of income, she can earn up to 120rs a day for sewing things for others, and this 3,000rs or so a month raises the household income by half.
They can now afford both food and books and educational materials for the children. Pratibha says the house is also more peaceful now there is not the pressure of making sure there was enough money every day. The relationship with her mother in law is much improved now that she is able to contribute to the family financially. Furthermore, she has made a lot of new friends, and is confident that with the support of those around her, her business can grow.
Now Pratibha is happy, her home is peaceful, and her children stand a chance of escaping the poverty which binds their parents.
Thank you, as always, for funding this life changing work.