Project Report

| Mar 2, 2020
For the empowerment of women like Theresa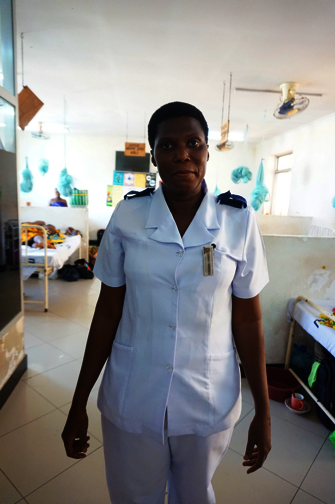 Today, I want to introduce you to Nurse Theresa, a woman who embodies the strength and resilience that we see in so many of the women and girls that we serve.
Nurse Theresa has been a nurse for over 20 years, and is the head of the Neonatal Clinic at Mwananyamala Hospital, one of the 23 facilities supported by our partner CCBRT's Maternal Health Capacity Building Program (MHCB). In 2018, Nurse Theresa attended a week-long breastfeeding training organized and led by CCBRT. In the training, she learned about the importance of breastfeeding, how to help babies breastfeed early, and potential challenges with breastfeeding. One of the key components of the MHCB Program is providing training on the early identification and referral of babies born with birth defects, helping us provide life changing treatment for children with disabilities earlier.
Nurse Theresa shared that the training was very beneficial, and that she learned a lot in only five days. She returned to work to lead on-the-job training on breastfeeding for other nurses in the ward. Nurses at Mwananyamala Hospital had identified that supporting early breastfeeding and communicating about the importance of breastfeeding had been challenges in the Neonatal Clinic. Following the CCBRT-led training, Nurse Theresa and her fellow nurses were better equipped and more confident, providing continuous breastfeeding support for new mothers and helping set the stage for a healthy start for both mom and baby.
Nurse Theresa regularly contacts CCBRT's MHCB staff when she has questions, and they often check in with her. She is thankful that she could attend the training, and that she was able to share what she learned as a Trainer for her colleagues. She looks forward to attending future CCBRT training on other topics such as low birth weight babies, and kangaroo mother care.
Your support makes it possible for us to empower women like Nurse Theresa with the knowledge and tools they need to continue to raise the quality of maternal and newborn healthcare, and to identify babies born with birth defects and refer them for treatment. From March 6th-13th, we will be celebrating the strength and resilience of the girls and women we serve in Tanzania as part of GlobalGiving's Girl Fund Campaign. We need your help. Stay tuned for more details on the Girl Fund Campaign later this week!
With gratitude,
Abbey Kocan
Executive Director
Links: