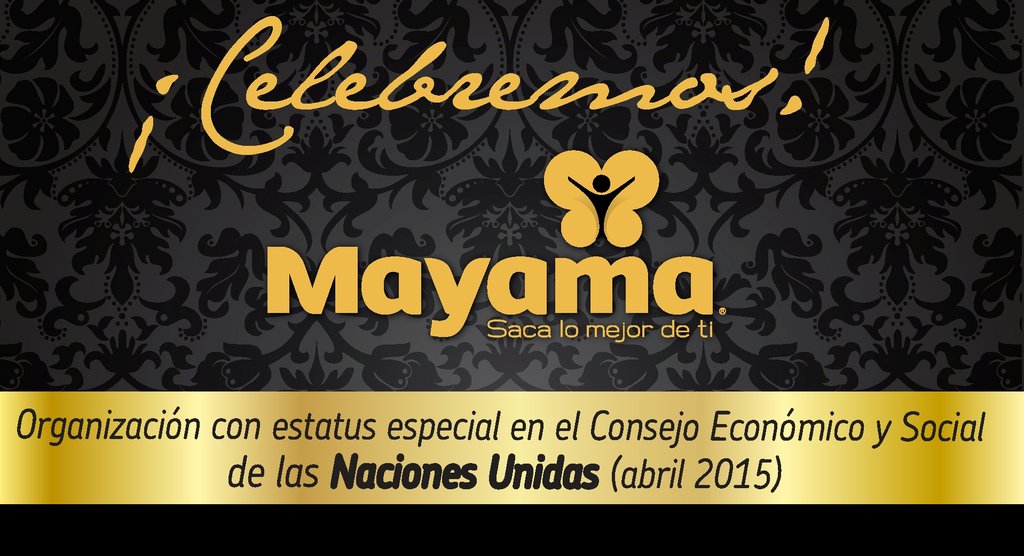 This quarter was full of celebration and recognition for Mayama. In the company of nearly 250 donors, friends and team Mayama, we celebrate 5 years of life serving children and families in vulnerable conditions, we recognized the generous people who have supported this project for 5 years (our donors) ago and also gave the great news that Mayama obtained the Consultative Status of ECOSOC (Economic and Social Council) of the UN on April.
What does mean belong to the ECOSOC?
The Economic and Social Council is one of the constituent bodies of the United Nations, and deals with economic, social and environmental problems of the world; these issues are discussed, debated and formulated policy recommendations.
ECOSOC granted Mayama this April 10, the special status of advisory body, because it recognizes it as a Non Governmental Organization legally established and operating; it has a board created democratically; whose finances are transparent and stable; and also is committed wth transparency, delivering results annually to its donors, beneficiaries and various stakeholders, plus it has a solid structure in terms of staff and social impact.
In five years, Mayama has established an educational model whose innovative techniques contribute to children and with their families, living in areas of high poverty, violence, abuse, orphans and exclusion; develop for themselves skills that allow them overcome difficulties of their environment and improve their quality of life.
As a preventive project, focused on human and social development, Mayama generates and applies innovative educational tools in scenarios of social exclusion, inequality, educational backwardness, lack of access to health services, few job opportunities and violation of the rights of Children, located in areas of the municipalities of Tlaquepaque and Tonala, Jalisco, Mexico.
These are some of the reasons that allowed Mayama to obtain this Consultative Status, and now we are part of the 4,045 non-governmental organizations of global civil society, recognized as counselors in that chapter of the UN, which 30 are Mexican and 5 belongs to the state of Jalisco.
In Mayama, we believe is better to invest in preventive projects that involve children's families as a key to prevent children end up living on the street. To achieve this, we believe in combined efforts of various sectors of society: business, government, civil society, academia, the media and others, are essential to achieve this.
Mayama faithfully believes in alternative, innovative and integral education, in order to develop the full potential of children; trust the management of emotions to relate positively, with love and without violence; estimates the power of the family and its potential to generate social change; supports the professionalization of the social sector and invariably adheres to the practices of transparency of each program, project and donation. That is, Mayama brings out the best in everyone who gets involved with this project: children, families, donors, volunteers, team, friends and our Global Giving donors.
Thank you for brings out the best of you!