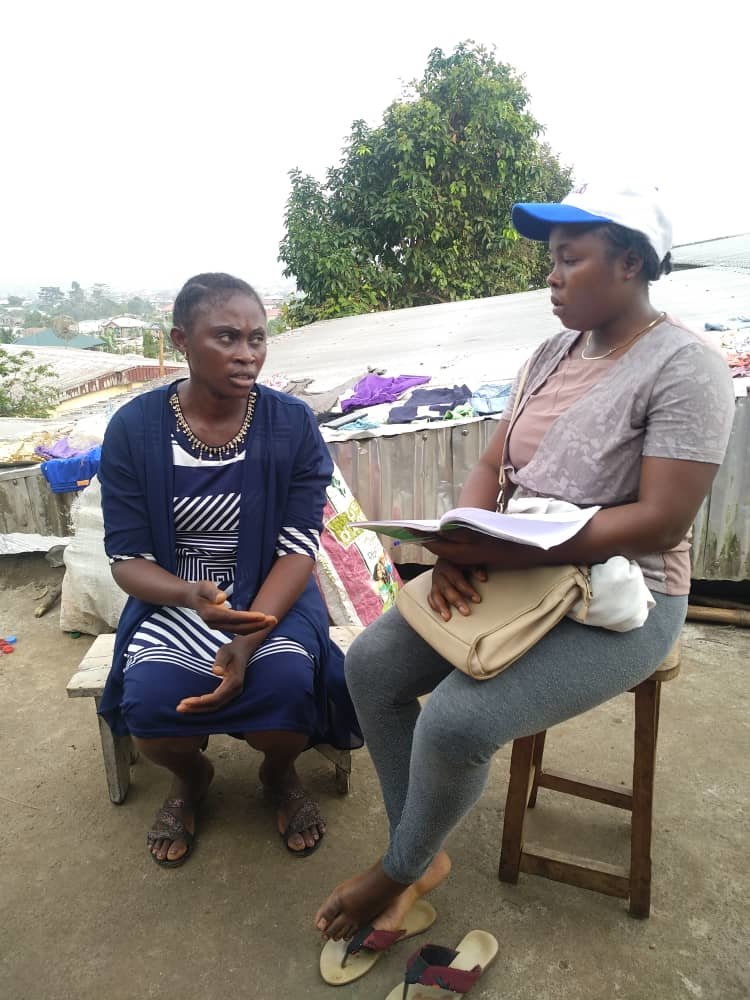 This microproject, titled "Help Empower internally Displaced youths in Fako and Meme has as major objectives to support 15 youths who have been grossly affected by the current crisis by establishing small businesses for them. In Meme, 05 IDPs have been selected for intervention because this area has for the past two years served as host community for many Internally Displaced Persons from other parts of Meme such as Ekombe, kwa-kwa, Mbonge just to name a few. In Fako, areas such as Molyko, Koke and Small Soppo which has witnessed an increase in IDP population recently with people coming in from Ekona, Muyenge, Bafia and others were chosen for a start of this project.
Major criteria for selection was that the IDP must be between the ages of 18-35 years and should be willing to do business and to comply with the organization's monthly follow up procedures.
So far, the following activities have been carried out:
Identification of 30 Internally Displaced Youths from Kumba and Meme
Social enquiries of the beneficiaries conducted
Drawing of business plans of 12 beneficiaries
Documentation of stories and challenges from beneficiaries
12 youths have been selected to pilot the project
Edith, one of the identified youths to be empowered shared the following story
Edith is a mother of four who was displaced from Ekombe (Meme division) to Koke (Fako division) where she has been living for over two years. She has a sister in kumba but could not live with her because her quarter is frequently attacked by the SAG and NSAG. Together with her husband and 10 kids ( 6 are her sister's own kids) now rent a room in Koke a locality in Buea. She hawks and sells fried ground nuts just to make a living. Presently, she has a capital of 10000 frs ($20) which she manages to make a living together with her family. With support from her husband, she struggled in the first year and all of the children started schooling. Though I stress in selling the fried ground nut because i hawk around, the business is really profitable but since I don't have enough capital, I can't really save anything out from my business as I use the profit to feed the family which most often than not it is not sufficient for 12 people in the house.
Edith has a desire to add dry species to her business if she can raise a sum of 100,000 frs ($200). This is a business she admires and has helped a friend of her's to sell when she just came to Buea. But her desires or dreams are threatened because two of her sister's daughters who are schooling with her are pregnant. "Now am confused and don't know what to do. Do I look for money to feed the family or do I look for money to register them for anti-natal or what"? If she had to start saving for the desired business now she will be forced to divert the money to the needs of her pregnant nieces. Never the less if Edith is assisted she can and will be able to support her family.
With support from Reach Out Staff, her business plan has been drawn and she will receive the money next week to start her new business
Thanks so much for your generous donations. It is and will continue to impact the lives of Cameroonian youths and better their communities. Your generosity goes a long way of curbing the crisis.