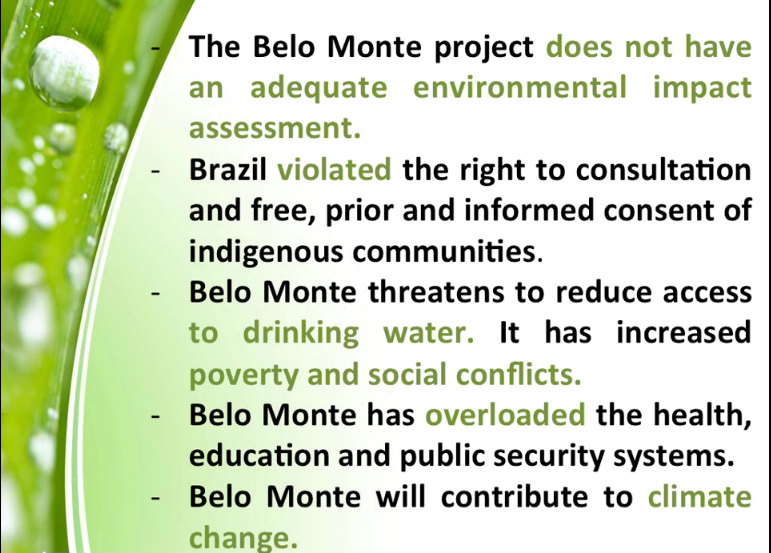 A year ago YOU helped us launch the biggest individual donor campaign in AIDA's history, for our work in one of the world's most important ecosystems - the Amazon rainforest. This precedent-setting case will demonstrate to Brazil, and the world, that communities can not be brazenly pushed aside for economic interests.
Your support this year has enabled us to provide the communities in the region of the Belo Monte dam construction with legal advice and training. As well, we have advocated on their behalf before Brazilian national courts and international forums including the Inter-American Commission on Human Rights. At NO COST to them.
Just last week in a webinar, I described AIDA's role in pressuring the Brazilian government to comply with its own environmental impact assessment policies, and international standards for consultation with affected communities. Furthermore, I described the social impacts on displaced communities that have already resulted in:
Increased poverty and associated social conflicts
Inadequate or unavailable health services
Contaminated drinking water
Loss of farming and fishing grounds on which families depend for food
It is estimated that Belo Monte will lead to the forced displacement of more than 20,000 indigenous people - but independent estimates double this number! The social ramifications could be massive.
This week we are asking you to close the gap on our funding goal - we have $12,500 to go.
TOMORROW - Wednesday, May 7th - starting at 9 am Eastern, Global Giving will match donations up to $1,000 at 30%, until funds run out. This boosts every gift, making our goal more accessible!
Would you match or increase your gift this year?
Could you forward this to 5 friends asking them to join you in supporting this case?
Thank you for considering a donation! And, for being an advocate, for the Amazon and AIDA!