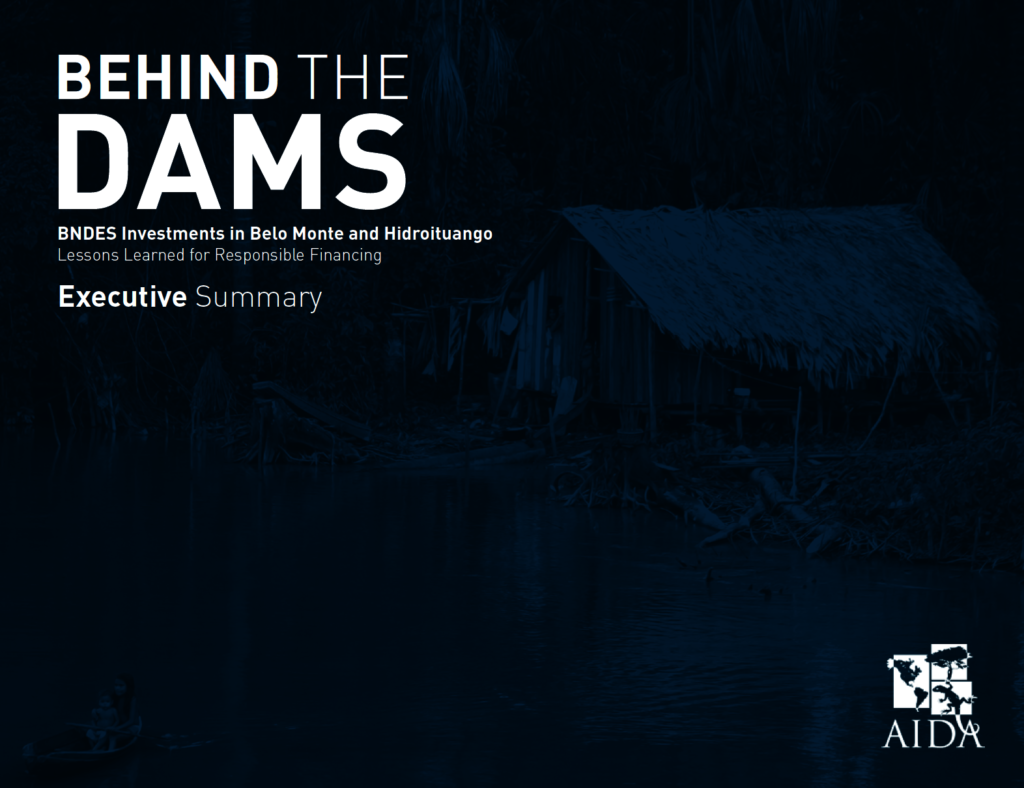 We're proud to present to you our newest report, Behind the Dams: BNDES Investments in Belo Monte and Hidroituango.
In it, we analyze the application of existing international standards for hydroelectric plants through the lens of two of the most important investments in the history of the Brazilian National Development Bank: Hidroituango (in Colombia) and Belo Monte (in Brazil).
The analysis reveals evidence and offers conclusions and recommendations to the Bank, as well as to the organizations and communities involved. They are concrete elements to help improve the future performance of the financial institution.
We hope that these contributions strengthen the dialogue with the BNDES, and facilitate the identification of options toward greater compliance with the values the bank has adopted, particularly those of transparency and social and environmental responsibility.
The investigation concludes that the BNDES has initiated important efforts to improve its performance policies and avoid major risks and negative impacts on human rights and the environment. However, the changes made thus far are insufficient.
As such, it is recommended that the Bank: increase clarity about the existence and application of socio-environmental policies; adopt new policies regarding the analysis of socio-environmental impacts of hydroelectric plants and standards for projects in conflict zones; properly apply banking secrecy, in alignment with international human rights standards; and demonstrate openness to dialogue and an effective grievance mechanism.
If changes are not made in time and as part of the evaluation and implementation of investments, risks and losses could continue and even increase. The risks are not so distant, as was evidenced with the Hidroituango Dam in 2018. The Belo Monte Dam, without having entered into full operation, has caused significant damages that could have been avoided. These lessons can help the Bank and the people affected by the projects ensure that the investments have greater benefits.
It's worth mentioning that, although this research in focused on large dams, the analysis, conclusions and recommendations can be applied to various sectors, thereby increasing the reach of the suggested improvements. They are important calls for the incorporation of real improvements into the ways banks operate through project support.
Links: