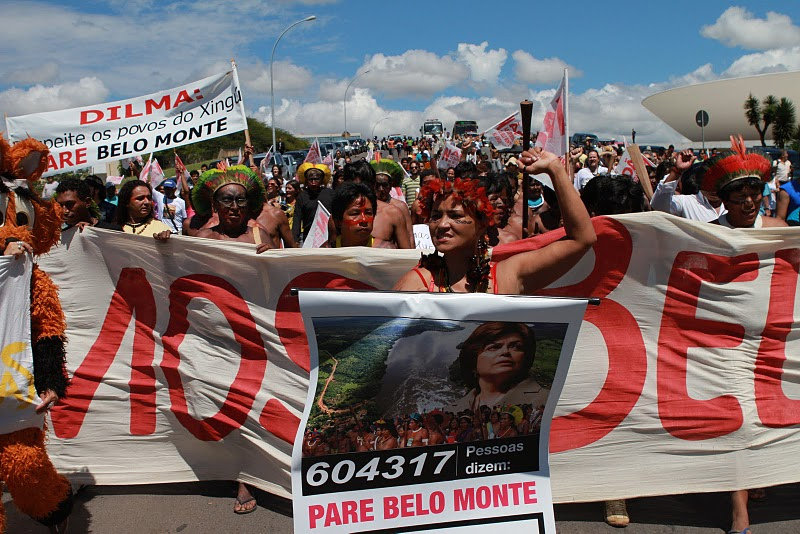 The plight of people living along Brazil's Xingu River can easily go undetected by the rest of the world. This is the Amazon, a densely forested region with minimal communications in or out. And, yet, what is happening to the Xingu communities as a result of the construction of Belo Monte, the world's third-largest dam, is both a human rights and environmental atrocity.
Donations to AIDA via GlobalGiving support our ongoing efforts to defend the rights of the Xingu communities. Belo Monte will change and even destroy their cultures, traditions and livelihoods forever, a change that's being imposed on them with violence, secrecy and lack of consultation.
The Brazilian government has hired spies to infiltrate opposition meetings. It has deployed the National Security Force to protect Belo Monte construction sites to prevent any further delays to the project. Officers have orders to suppress protests by indigenous people, fishermen and others. Some could face fines, too. A local court has issued an injunction against Antonia Melo, a leading voice against Belo Monte. If she or her followers protest at Belo Monte construction sites, they will be fined $25,000. They also have been frowned on by the dam's workforce, which went on strike recently to defend their labor rights. Nevertheless, the indigenous peoples of the Xingu tell us that they will continue to fight the dam.
AIDA is providing these communities with legal support and resources so they can develop strategies to defend their rights to their homeland and their lives. And we will continue to press the Brazilian government and the dam's financer to recognize its significant, detrimental – and unnecessary – human and environmental impacts.
Thanks for your donations.
You can help even more. GlobalGiving is running a Bonus Day today (June 12) and it will match donations at 30% until funds run out, likely early in the day. It's a good chance to provide even more help to the Xingu peoples.
Links: