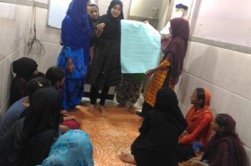 The intervention is a project to support the education of adolescent girls and prevent child marriages in the community. Under this intervention, a group of 10 girls are provided with monthly fellowship on the condition that a) they continue their education and b) don't get married before the legal age. A peer support model is built to ensure that the girls support and motivate each other. Each group is led by a mentor who work closely with girls for a period of four and half years. These mentors will be young women pursuing higher education, already trained extensively under different projects of our Citizenship programme. Some of the mentors have also spearheaded campaigns in their respective neighbourhoods – for basic amenities like safe drinking water, electricity, safe spaces and secondary schools.
Objectives
Girls complete their education at least till grade XII
Parents are enabled to strengthen the ecosystem conducive of girls' education
Marriage before the legal age is avoided by providing an incentive to parent's to support their daughter's education
Activities during the period of April to June
School Visit
In April 2019, mentors visited the schools where their respective groups are enrolled, mainly to confirm regular school attendance of them. The private schools were very supportive but government schools were very rigid towards giving any information. Due to these visits, we could understand the academic status of these groups. Additionally, the mentors have now built a good rapport with the school teachers so that immediate intervention can be taken if any group member have low attendance.
Opening of New Bank Accounts
Out of 140 girls, 13 have successfully opened their bank accounts in April. 139 girl now have their own bank account. We encourage for them to open their own accounts as it will help them have an understanding about savings which will eventually help them in future.
Mentor Training
Mentor Training is a very important aspect of this project as all the trainings on Life-Skills with the girls and with parents on Financial Literacy are led by the mentors. This training and review is conducted during the first week of every month along with planning of activities for that month
Home Visits
Every month mentors do the girls' home visits to ensure regular intervention and rapport building with parents. This helps the mentors to understand the family's attitude towards education. The mentors have done 420 home visits between April to June 2019
Life Skills with Girls
This training tries to inculcate the sense of self- awareness, social awareness, gender sensitivity and a basic understanding of the Indian Constitutions. These sessions are led by mentors who are trained in Apnalaya's Curriculum. The mentors have started taking sessions with the girls on a weekly basis, which begins with group norming, creating a safe environment for sharing and have open discussions and self- awareness
Financial Literacy with Mentors and Parents
Financial literacy training is provided to help the parents develop a basic understanding of the flow of resources (money) within a family. The module also includes topics like how to improve savings and optimal utilization of family income. The training encourages them to reflect upon the gender discrimination in context of the financial inclusion of women in Shivaji Nagar. This also motivates the parents to start saving regularly in appropriate ways so that they can give better education to their children. Mentors were trained on 5th May and then they conducted workshops with 77 parents on 23rd, 24th, and 26th May respectively
Impact
1. Financial Independence for Mentors
After the Financial Literacy training, mentors have now started saving from their stipend. They are even paying their own fees for continuing education.
2. Developing Positive Relation with Schools
Due to the quarterly school visits, we now have a very good rapport with the teachers and Principals. The school staff themselves give information to mentors regarding attendance or academic status. This helps mentors to intervene immediately if any issues come up.
Challenges and Learning during implementation
1. Barriers in workshop attendance
As most of the sahelis in the 10 standard they find difficulty in attending workshops. The mentors then have to re-plan the workshops several times as we do not want the sahelis to miss out on important topics.
2. Developing a feeling of belonging in Sahelis
Initially, when the sahelis were called for workshops they would hesitate to come as they didn't know each other. After the sessions started with parents and girls, they started interacting with each other. The mentor's home visits also helped parents to understand the importance of education, because of which their participation in the workshops increased.
3. Weekly Sessions during Vacation
During vacations most of the sahelis go to their native places so many of the workshops planned for them gets delayed. Girls in 10 standard have extra classes in schools even on Sundays, it becomes very difficult for mentors to plan their time slots for sessions
4. Prevention of Child Marriage in Shivaji Nagar
Under-age marriage is a reality in Apnalaya due to various aspects like low levels of education, and misguided perceptions of gender. So Apnalaya works with the parents through workshop on gender and sessions on POCSO were taken for 10 girls and their parents to avoid such incident. In addition, Apnalaya also works with young boys to develop them as allies in addressing this challenge.
Impact Story:
Sakina continues her education and supports girls in her community as well.
When Sakina was in 9th standard, she dropped out of school. Her father was suffering from severe osteoporosis, and with little money to survive as it was, every penny had to be diverted to help him with his treatment.
Fortunately for Sakina, because she had earlier been part of the Khula Aasmaan programme, Apnalaya staff identified her and convinced her to be a Educate and empower mentor. While mentoring she understood the importance of education and how it will impact her future. She then enrolled herself in school again and started paying her own fees with the stipend amount.
"Seeing my mentors in Khula Aasmaan (now Educate and empower colleagues) and how well they were doing in their studies gave me the push to re-join school again," said Sakina who is currently studying in 10th standard through an open school.
"After being associated with Apnalaya, my confidence has increased. I used to be a quiet person who kept to herself but now if something is bothering me, I voice it out, I'm not meek anymore," she said. "The support that the other mentors have given me is something I have never experienced before," she added.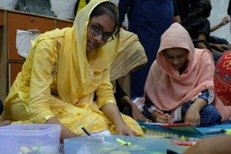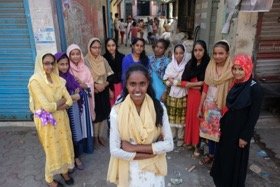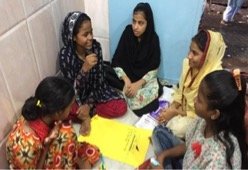 Links: