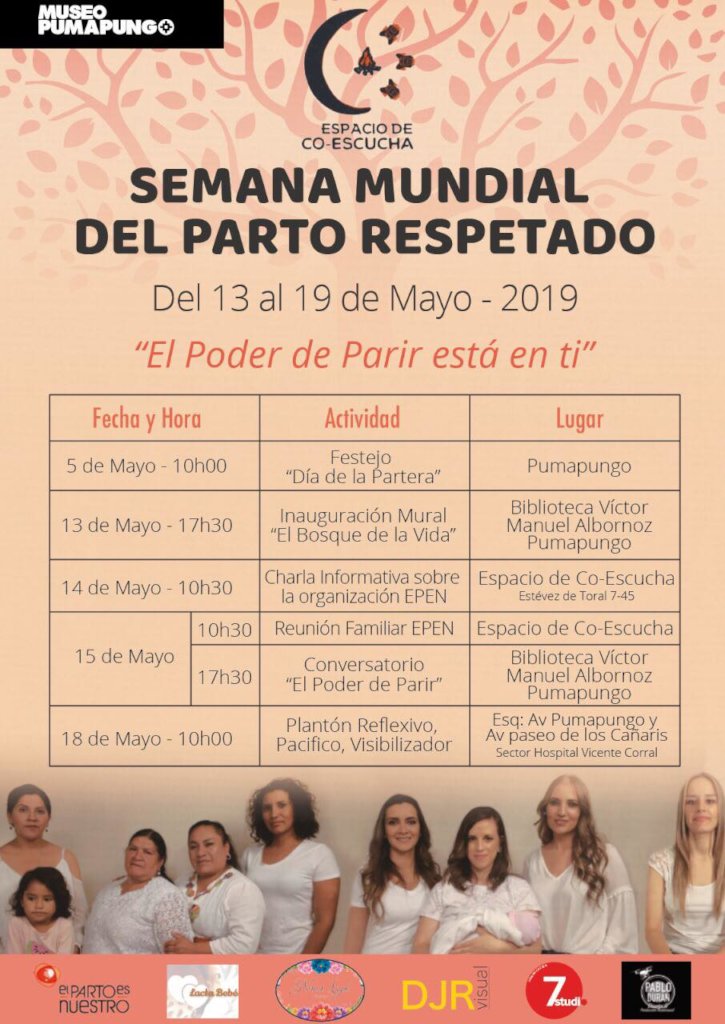 Hey everyone!!
First off, Mírame would like to give a BIG THANK YOU to all of you who participated in the March fundraiser in honor of International Women's Day. With your help Mírame raised $1,500!
Since then, Mírame has connected with two women-led organizations to host a series of events to empower Ecuadorian women during one of the most vulnerable and transformative times of a women's life–pregnancy and childbirth.
In honor of International Week of Respected Childbirth (May 13-18), Mírame has joined up with Espacio de Co-Escucha, a women's organization dedicated to helping women in crisis, and El Parto Es Nuestro (EPEN) an international nonprofit which promotes meeting the World Health Organization's recommendations for maternal health and supports women throughout pregnancy, childbirth and postpartum stages. Together, we're leading a week long initiative to empower women to practice natural birth and to educate families and professionals about the rights of womenduring childbirth.
During International Week of Respected Childbirth, Mírame will be supporting the following activities–all free and open to the public, thanks to your support:
Inauguration of the mural, "Bosque de la Vida" (Forest of Life) on display in Museo Pumapungo's public library in Cuenca, Ecuador. (Commissioned by a volunteer coalition of Ecuadorian artists, this piece is made from the imprints of hundreds of naturally delivered placentas. "Bosque de la Vida" is a powerful, one-of-a-kind piece of art that Mírame is proud to sponsor).
Informative dialogue circle led by EPEN to educate women and their families about their rights during childbirth.
Women's dialogue circle led by EPEN to explore and discuss the transformational experience of natural childbirth.
Open panel discussion led by certified medical professionals regarding the importance of natural, respected birth for maternal and infant health, and how families and medical professionals can use their influence to change birthing practices in Ecuador.
Peaceful demonstration near Hospital Vicente Corral Moscoso to pass out informative fliers about natural childbirth and display public support for women's childbirth rights.
Mírame is very excited about leading this awareness campaign, complete with TV interviews, radio broadcasts, social media communications and five interactive events to support a community-wide educational initiative on natural childbirth.
Thanks to your contribution, we look forward to celebrating International Respected Childbirth Week and reaching our goals to:
Empower women in their natural right to respected childbirth, and
Shed light on the medical epidemic termed, "obstetric violation"–a phrase used to refer to forced cesarean birth and invasive medical processes without probable medical cause.
As you may know, Ecuador is one of 15 countries globally to have the highest rates of cesarean birth – with nearly half of the Ecuadorian population (45,5%) being born via cesarean.
While cesareans are a vital and indispensable medical intervention that saves lives and they should be available to all women, cesareans are an extremely invasive medical procedure that affects the health of both mother and child. As stated by the World Health Organization, only 10-15% of pregnancies are sited as requiring cesarean medical intervention.
Cesarean births are on the rise due to many factors, and during International Week of Respected Childbirth, Mírame aims to help women reclaim pregnancy and childbirth as a natural, ancestral process (not a medical illness) and to be aware of their rights to decide:
how to birth (standing, squatting; consuming foods or liquids, etc.)
who is present with them at childbirth (husband, mother, doulas, etc.)
how their baby should be treated in the first moments of life (skin-to-skin contact, immediate breastfeeding, when to cut the umbilical cord, etc.)
For more information about our activities, please feel free to send an email to: Mírame.vivir@gmail.com or visit us on Facebook. We would love to hear your feedback!