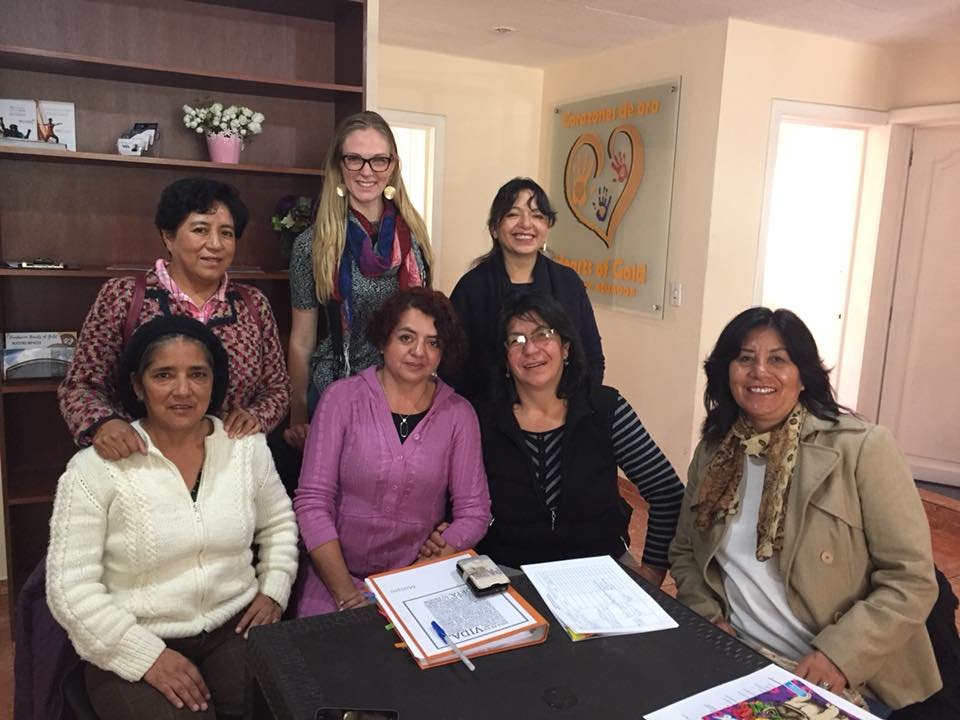 We would like to express our deep gratitude to all for your generosity towards our Mírame project in the "Empower Ecuadorian Women to Elevate Communities" campaign! Thanks to you $12,531 was raised to fund women's empowerment work in Ecuador!
While we did not win a spot in the 2018 Girls Fund, the success of this campaign will go on to fund a year-long series of workshops and dialogue circles focused on women's empowerment, a scholarship position for 1 nonprofit serving women in the CAP program, and perform research on women's issues and pressing challenges in Ecuador.
We are excited to report that programs are already underway! We have undergone a review process to select a candidate to receive a scholarship in our Community Assistance Program (CAP) designed for nonprofits! The winning organization is run by women and serves women, and we look forward to publicly announcing the winner next week (stay tuned on our Facebook page)!
The winning organization will receive 15+ hours per month of educational workshops, evaluations, and mentoring hours designed to develop their organizational capacities, making them a stronger, more impactful organization! On top of that, we will be working hand in hand with the group to develop specialized private workshops that are focused in personal development and women's empowerment for the group's unique demographic.
We're also working on our year-long plan of workshops and dialogue circles to offer to ALL women in Cuenca! From self defense to self care, workshop themes will help women discover their true potential and live their life with more confidence and self-esteem! By collaborating with volunteer facilitators who can share their knowledge and experience with the community, we can ensure that women have access to special opportunities that weren't in reach before.
Last but not least, we are learning more! Being informed is a huge step to ensure the success of a long-term program. We are preparing a research plan in order to learn more about the realities of women in Ecuador and the issues that need to be addressed in order for women to live, strive and succeed. Our contract with the Universidad de Cuenca will allow us to put a local research team to work and bring back thorough and high quality results!
Watch me live. Mírame vivir.
Watch me strive. Mírame luchar.
Watch me succeed. Mírame triunfar.
We are honored to be on this path, all thanks to a call from the women of Ecuador, and thanks to your support for making this journey a reality.
STAY TUNED for exciting information throughout the year as Mírame continues to grow and blossom!
Queremos expresar nuestro más sincero agradecimiento por tu generosidad con nuestro proyecto MÍRAME en el cual buscamos fortalecer y empoderar a mujeres ecuatorianas y comunidades enteras. Gracias a tu valiosa contribución logramos recaudar $12.531.
Gracias a esta oportunidad logramos alcanzar una posición muy buena en el concurso de Girls fund 2018, no alcanzamos a la beca de los $24.000, pero consideramos que representamos de la mejor manera.
Sin embargo el monto recaudado nos permitirá dar la bienvenida a una nueva organización de mujeres que se beneficiará de un año de nuestros programas de educación con charlas y talleres enfocados en el empoderamiento de la mujer y fortalecimiento de su organización comunitaria tanto en programas de desarrollo de sostenibilidad y sustentabilidad.
Hemos trabajando a través de un mapeo a distintas organizaciones en las que evaluamos y seleccionamos a la organización que será beneficiada de esta beca, estamos listos para anunciar su nombre la próxima semana, te pedimos que nos sigas en nuestra página de Facebook para que nos acompañes a darle la bienvenida a esta gran organización.
La fundación beneficiada recibirá 15+ horas mensualmente de mentorias, charlas y talleres que fortalecerán a la organización en sus valiosos servicios que ofrecen a la comunidad. Además de estos servicios estas mujeres se beneficiaran de charlas personalizadas enfocados en restaurar la fortaleza de la mujer su empoderamiento y su alcance a una vida plena.
Estamos próximos a dar apertura a todas las mujeres de nuestra comunidad a todos los programas y charlas MIRAME, enfocados en el autoestima, autocuidado, defensa personal, ética y valores entre otros. Los temas de los talleres van a permitir a las mujeres a que aumenten su confianza y autoestima. A través de colaboración con facilitadores de la comunidad quienes realizarán un compartir de saberes mediante sus conocimientos y experiencia con la comunidad; estamos seguros que más mujeres tienen acceso a oportunidades y recursos que no tenían antes.
Además, estamos en continuo aprendizaje trabajando cada dia mas! En conocer la realidad de las mujeres en la cual nos permite proyectarnos a largo plazo em planes enfocados en temáticas reales. Estamos preparando un plan de investigación para aprender más sobre las realidades de mujeres en Ecuador y los temas que requieren atención prioritaria para que mujeres ecuatorianas "Vivir, Luchar, y Triunfar" !
Nuestro convenio con la Universidad de Cuenca nos permite organizar un equipo de estudiantes para investigar y traer resultados importantes!
Mírame vivir.
Mírame luchar.
Mírame triunfar.
Estamos honrados estar en este camino, gracias a la llamada de las mujeres de Ecuador, y gracias a TU apoyo por hacer realidad este camino a través de tu generosidad y responsabilidad social.
¡MANTÉNGASE SINTONIZADO para obtener más información durante todo el año a medida que Mírame continúa creciendo y floreciendo!