Project Report

| Nov 20, 2023
Turning Novelties into Norms
Annually, the 11th of October is marked on the calendar to celebrate and unite the world to advocate for girls' rights. Through this year's theme "Invest in Girls Right: Our Leadership, Our Well-being", UNICEF "envisions a world where girls have space to shape government policy and spending to inform the rules and norms by which businesses should operate, and to direct the priorities for new research and innovations. These examples should not be novelties, but the norm."
For many girls in Kenya, not having access to education is a huge barrier to fulfilling this vision. In Kenya, primary education has been made free since 2003, but the financial burden for many families doesn't end there. While tuition is covered, parents and guardians are still responsible for expenses such as uniforms, books, stationery, and other educational materials.
Secondary education presents a more significant challenge, as it not only entails the same costs but also includes school fees. Considering that the average daily wage for two-thirds of Kenyans is less than KES. 500/- or $3.20/- per day, these additional expenses become a substantial burden. Families, especially those in marginalized communities, often find it difficult to cover these costs alongside their basic household expenses, including food, rent, and medical bills. Consequently, many girls are forced to drop out due to lack of funds further perpetuating the cycle of poverty. Moreover, the issue is compounded by the lack of access to basic menstrual products.A study in Kenya found that 95% of menstruating girls miss one to three school days each cycle, and more than half say they fall behind as a result.
At RKF, we firmly believe that access to quality education is not just a goal but a fundamental right and a key driver for the empowerment of girls. Through our Girls Project, we are actively supporting girls in their educational journey helping them break down some of the barriers that often impede their progress. By providing reusable sanitary pad kits through the Girls' Empowerment Workshops, we not only address the menstrual health needs of girls but also provide crucial education on hygiene and self-care, empowering girls to manage their well-being effectively. Furthermore, secondary education is a crucial stepping stone in a girl's path toward empowerment and leadership. Acknowledging the financial challenges that many families face, we are now supporting young girls through our Scholarship Fund to continue on their educational journey so they can have the chance to become leaders and change-makers and by doing so, turn novelties like access to education into norms.
Since our last report, we have supported an additional 26 beneficiaries, 13 of whom are teenage girls who received a Sanitary Pad Kit that consists re-usable pads, soap, panties, toilet paper, a girl talk booklet and a bucket. We are also supporting another young girl to complete her education; Whitney was abandoned as a young child by her mother and was left in the care of her grandmother. RKF had supported Whitney during the pandemic with a Sanitary Pad Kit. In December last year she completed her KCPE from a public school in Kisumu with a score of 317 marks. Earlier this year we learnt from her former class teacher that she had been moved out of Kisumu to a rural school in the care of her extended family after her grandmother could no longer cover the expenses of looking after her. Unfortunately Whitney's performance dropped and her guardians asked her to drop out of school as they could not afford to feed her either. When she came back to Kisumu, we were able to get her admission into a Secondary School through our Scholarship Program.
To read our last report where we shared detailed updates from our Workshops and Scholarship Program, you can click here: Update from our Girls Empowerment Workshops - 2023.
Giving Tuesday is coming up…
Giving Tuesday is on the 28th of November this year! A celebration of kindness and community that inspires the world to give back to their favourite causes. This year GlobalGiving is giving away $1.2 million in matching funds!!! The more you give, the more we receive in matching.
From all the million reasons to get matched this Giving Tuesday, you can pledge your donations to support young girls from marginalized communities to stay in school and complete their education.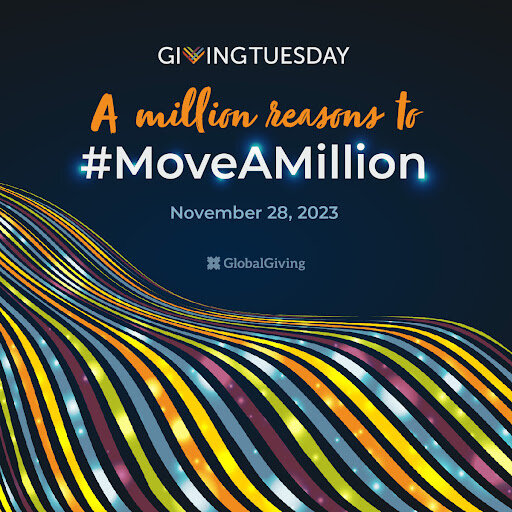 Links: