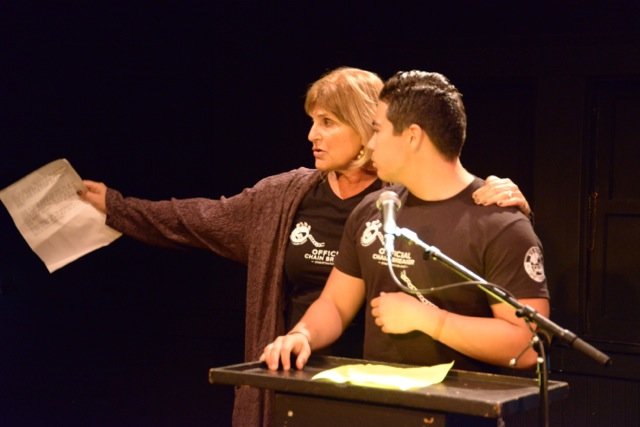 GlobalGiving has been eye-opening, and heart-expanding because of the swell of generosity from people like you--and from some of our POPS the Club members. Without your support, POPS the Club could not nurture and nourish so many young people, one of whom reminded me again this week about why POPS matters.
One of our POPS graduates is Anthony. He graduated high school in 2015, and though we'd stayed in occasional touch, months had passed since I'd last heard about him. I confess: Now and then I checked in on Instagram to see how Anthony was doing. He'd first come to POPS in 2014 when a football buddy convinced him to come. Over time we learned about his struggles--a dad in prison, years of homelessness and foster care and difficulties in school as a a result. At POPS he was always quiet, attentive and kind. We decided to reach out to see how he was doing.
My husband Dennis and I dropped him a note and asked him to meet us for coffee, and he agreed. Twenty now, Anthony is still quiet, attentive, and kind, and we were delighted to learn he has a good union job and a five-year plan. He lives in a nice apartment—his own for the first time. But after graduation he had ived in his car for a few months while he worked to get his life together. While living in the car, someone robbed him. He lost everything.
But he had regrouped. He's happy with his life--his job, his home, his new car and his even newer girlfriend who made him smile ear to ear. Thirty minutes into our conversation, he suddenly looked at me and said, "I need to ask you a favor."
I steeled myself, thinking he might need money and unsure what I would say, but he said, quietly, "I wanted to get another copy of the POPS anthology I have work in. It got stolen, and well...I really loved it."
"Of course," I said and ran to the car to get him a copy. When I handed it to him, his eyes lit up. Then he blushed. "I have to tell you about that poem I read at POPS. Remember when I read my poem in front of everyone?"
Not only did we remember the day he read in front of the whole club, but he had also read at one of our events before 100 strangers, and when he did, people sat in rapt silence.
"Well," he said, "writing and reading in front of everyone changed everything for me. That's why I'm good today. That's what helped me do everything." Of course my tears began to fall. Anthony laughed because all the kids joke about how easy it is to make Amy cry. But I dare you not to cry as you read Anthony's poem from Ghetto By the Sea, our 2015 POPS the Club anthology:
I Have Always Been Searching for a Father
I have always been alone searching for a father, but it never happened.
Every night and day I have been praying to see him.
I have been crying for so long.
I was lost in the world, doing drugs, joining a gang, just looking for a father figure.
He fades away.
I learned things the hard way, by seeing my mom working so hard to give my brothers, sisters, and me a bite to eat every day.
Every night I listened to my mom cry.
I felt bad because I thought it was my fault he left.
When I saw him in jail, he said, "Sorry."
But I didn't listen to him. I was so mad I couldn't forgive him because he wasn't there when I needed him.
But I learned to keep my head up and how to forgive my father.
I thank God for changing my life. Without God in my life, I would be lost.
Last week Anthony began sharing the POPS GlobalGiving Campaign on his social media because he wants to change others' lives too.
I hope this helps to explain the way your gift is changing the world, one person at a time.
It's because of Anthony and so many others like him that we are ever-grateful for your generous support.