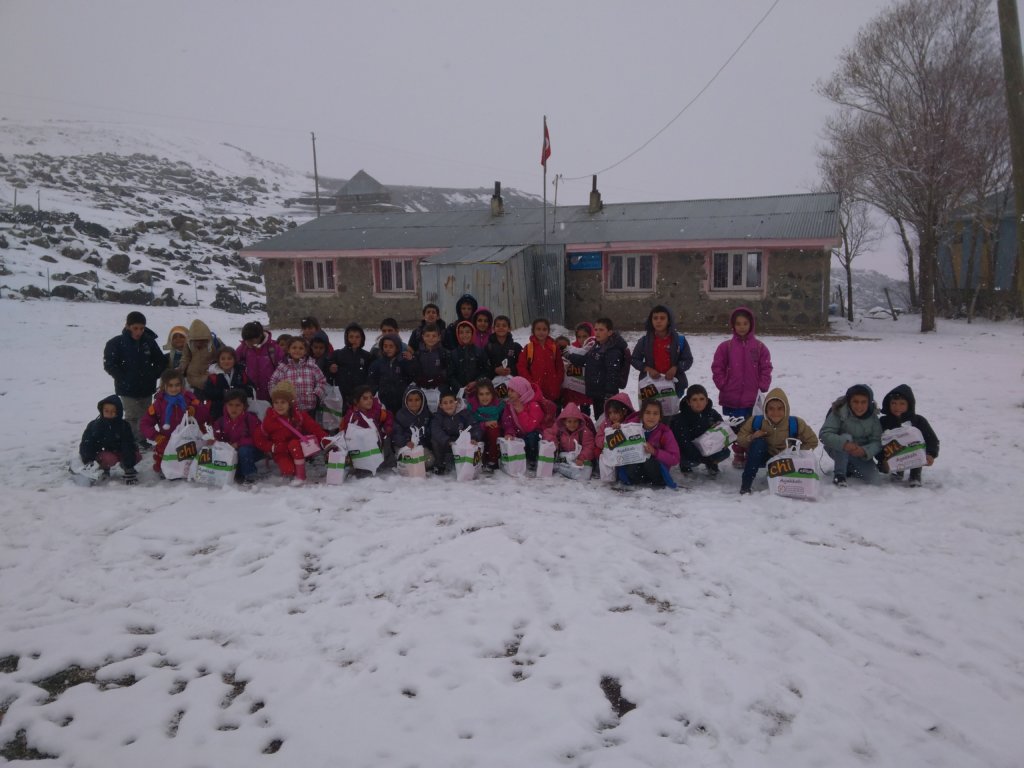 We usually get asked about our criteria when choosing the schools which we plan to help. Our process is pretty simple actually: teachers submit their application forms with their letters summarizing their school, students and their needs. Once the applications are in our project leaders evaluate the needs and immediately start taking action. The rest is easy: we just deliver happiness.
This year one of these applications came from a teacher from a small village school in Mus. Her name was Teacher Esra… We had received her submission in last December…
"Today is the 3rd of December… And, I am writing you after another heavy snowstorm which covered the whole city in almost blinding white…
Couple of days ago after another snowstorm and a pretty long and tough commute to my school, two teary eyes welcomed me to my classroom, where I teach preschool students for the last three years… My student was crying inconsolably and when I asked her what was going on instead of replying back to me she just showed me her hands… Her hands were cold, almost blue, even purplish… "It was really cold when I was walking to school," she said between her tears. I could not say anything… I could not find the right words… I just held her little hands in my own hands and kept them there until they felt warmer. Even, now, when I am writing this letter to you I cannot help myself from crying… That moment was one of the few moments in my life when I felt so helpless. Really helpless… But then I decided to find a way to help my students and I eventually learned about your organization… My only hope is that for you to help my students and invest in their future and happiness. Be a hope for them, won't you?"
And, then after delivering 52 pair of boots, 52 coats, 52 beanies and gloves, 52 school bags and 1 set of children books we received a second letter from Teacher Esra…
"Dear Bridge to Turkiye Fund Boston Circle Volunteers and Supporters,
I cannot begin to thank you enough for hearing my voice and for your kind gifts for my students… For the last three years this school and its students have become everything to me. These kids have become my family, and I would do anything for them or at least I dream of doing anything for them. But, life is not always easy and I knew I needed a partner to fulfill my students' dreams... That's why I believe our paths crossed!
I always have loved this quote from Paulo Coelho "a child can teach an adult three things: to be happy for no reason, to always be busy with something, and to know how to demand with all his might that which he desires." For the last three years, my students have taught me a lot… They've taught me about who I am, who I want to be and who I want to become as a teacher… Now, their happiness I my happiness. They are my only occupation. That's the reason why I had reached out to you; and thankfully you heard my voice!
When I was distributing the gifts from BTF one of my students looked at me with his big happy eyes and said "Teacher Esra, this is one of the happiest days in my life. Actually, I am so happy that I think I am going to faint." That was one of the happiest moments in my life, too. And, I will never forget his happy face, his smiling eyes! So, I would like to thank you from the bottom of my heart for proving my students that someone was caring about them; that they were not alone and that their voices were heard by someone. I will always remember our friends from Boston and how they made my students' dreams come true. So, from the bottom of my heart: thank you."
This letter from Teacher Esra is the reason why we continue with Boots4Kids project. This is why we are motivated to reach out to more schools, teachers and students with each passing year. This is why in 2016 so far we have delivered close to 500 pair of boots and coats to 14 different schools in 8 different cities… This is why your continuous support means a world for this project. So, from the bottom our hearts, and quoting from Teacher Esra: Thank you. Thank you.