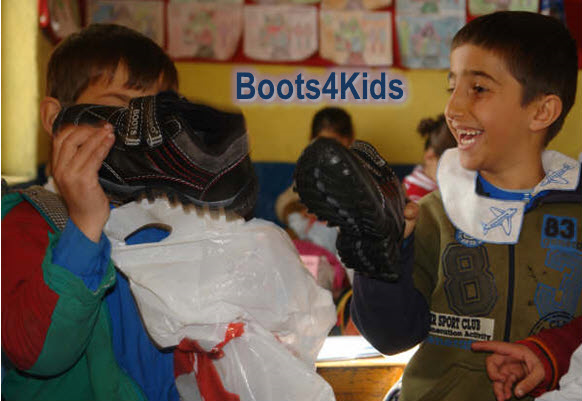 Dear Friend,
By now, you and I both have received at least a few emails from our favorite retailers informing us about the upcoming winter season… They update us about the latest trends in winter shoes and boots… Maybe you would like a pair of knee high boots… Or, maybe you would prefer a pair of ankle boots… Or, maybe you would like to go with something more comfortable like Uggs… Whatever your choice would be, you and I both know that we need at least a pair of boots to "survive" the next couple of months…
Recently, I was informed about this young boy, who lives in a village near Erzincan… He does not receive emails from his favorite retailers because he does not have Internet… He does not have a laptop or a computer, either… Some days they don't even have electricity in the village which he lives in… But this boy, like his other friends who are attending to his school, will also have to "survive" the coming winter. He does not have an option to choose between the various types of boots. He wears his older brother's old shoes to school. Shoes that are meant to be worn in spring, and certainly not in winter.
So, my friend, you and I both offered a choice… We both can use this opportunity to play a role in improving a child's life and help him to enjoy this winter season just like you and I will do, too. For just $15 you and I could give a pair of boots for a kid in need, and could dramatically change the quality of their day-to-day life.
In 2014, Bridge to Turkiye foundation is planning to donate 1500 pairs of boots and socks to the children in need. So far, we have sent over 100 pairs to the Eastern part of Turkey. However, our job is not done. And, only with your help and partnership we can reach to our goal before the first snowfall of the season.
Here, my friend; and once again, I'm asking you to be a part of the change. As Thomas Paine said once "we have it in our power to change the world over". Let's start today!