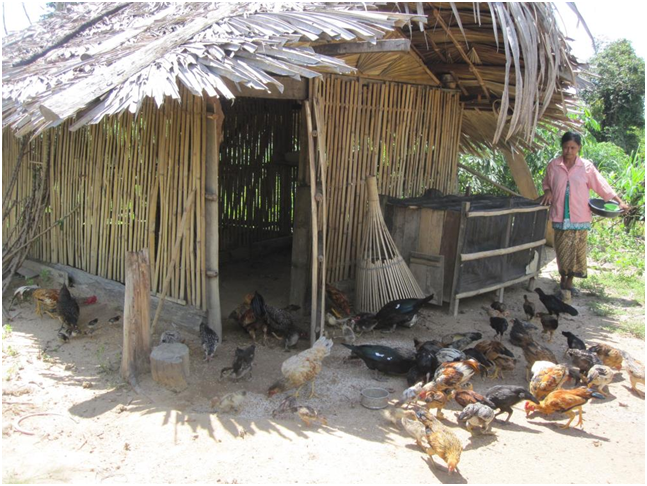 Mrs Hern Vany, Fish CBO Accountant in Prey Kor Village, Damrei Phong Commune...
When CRDT first came to Prey Kor Village, Mrs. Hern Vany jumped at the chance to get involved. Now after almost three years, she can sit back , observe and feel proud of how her determination and hard work has led to her family's successes.
She is an active member of both the fish and vegetable CBO groups. Her two big fish ponds are thriving and her fish grow to 1.5 - 2.5kgs. Villagers frequently come to her house to buy fish and recently, a middleman from the nearby town of Chhlong, learned of her success and chose Vany as his supplier.
Throwing termites into the fish ponds at lunch time, she rocks on her heels smiling, to tell of her enthusiasm for CRDT's fish culture activities. "I wanted to have a good relationship with the staff and so I volunteered to be the accountant for the fish group. When I was elected by the other members, I was very happy because then I could ask for more assistance and understand the technical aspects to help others."
She has been the accountant since 2008 and is very happy with her position. She continues to encourage meetings even when it gets difficult because people are busy, explaining that the group leader is very strong but a busy local high school teacher: "he arranges all of the meetings and helps me with some activities. He is a very kind, hard-working man." There are 10 members in her group and they all know each other well, therefore, they are able to support and encourage each other, solving problems as a team.
Not only does her enthusiasm for fish raising shine, but likewise, vegetable growing is also very important to her. "Last year I grew mushrooms, cabbage, papaya and banana near my home and now I grow pumpkin too. I never have to buy vegetables and I have lots of different ones to choose. I am happy because I eat what I grow and then sell any I have left!" She is able to earn 15,000 reil on average per day simply by selling her vegetables along the main road close to her house.
Last year in her village, Vany explains that one lady who was only 58, died from sickness and diarrhea; "she didn't have a toilet or clean water access." This lady's death caused Vany to worry about the cleanliness of her drinking water that she was drinking, fully understanding the connection between unclean water and sickness. From this event she vowed to make her house sanitary; "I told my family to keep the water filter and only cook with water from the filter. I did not want to get diarrhea."
With less than half the commune population using safe drinking water and an average of 82 people to one toilet, water supply and sanitation has become a major concern for Vany and her family. Since working with CRDT she has noticed a significant improvement in her health; "I look after my water filter and take care of it because it is a really useful present from CRDT. Before I had to walk to the open well in the village". This open well was dug by the villagers and did not have any strengthening concrete rings; "It was really small but then CRDT made it bigger and used rings, so now it is really easy to use."
Because of her large family and central location on the main road, Vany was chosen as a beneficiary for a rainwater and open well construction. CRDT contributed 3 concrete rings to this new well, but she contributed an additional 5 rings. This means that it is a valuable source of water for the community particularly in the difficult months of the dry season; "People in the village like to come to my house for the water because it has a good taste! There is another well near to my house built by CRDT, but I am happy because people still come to use mine. They drink here and wash there."
The discussion about the construction of toilets made Vany's eyes light up; "without a toilet, it is difficult to go in the night. I had stomach problems". The lack of toilets also contributes to other health and sanitation issues, for example heavy rain means that waste will flow into nearby water sources, causing increased sickness and diarrhea; the money which must then be spent on medicine drains any disposable income being saved by the family. When her large family of nine were living together in close proximity and with no toilet, there was an increased spread of infection and sickness. She recalls that one member of her family got very sick and they had to pay 700,000 reil for treatment. She shakes her head as she thinks back, "It was hard to find that extra money".
CRDT have enriched Vany's life; from a vital supply of water to health and sanitation aids, from increased income and alternative livelihoods, to the opportunity to improve her capacity to manage accounts whilst helping her community. Contributing her full support and encouraging others to do the same, she is a glowing example of how significantly lives can change with support and guidance. With growing water supply problems, these role models and leaders will be imperative to maintain and strengthen community based organisations in the future.
If this makes you feel happy, then you might like to support our work further, or connect with CRDT online. Please join us on Facebook, tweet us on Twitter, or have a look at Cambodia, on Flickr.

Huge Thanks

www.crdt.org.kh