Project Report

| May 12, 2017
New beginning after Hurricane Storm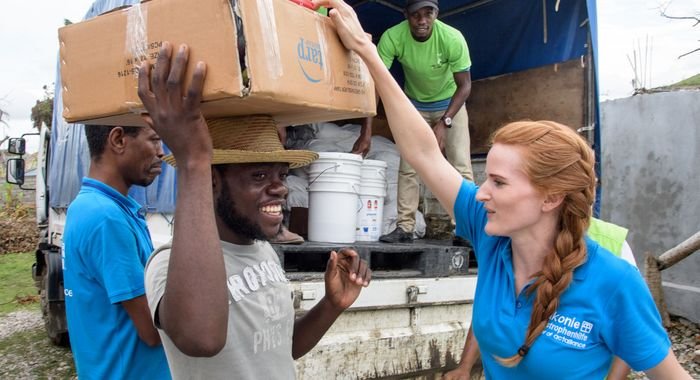 On October 4, 2016, Hurricane Matthew, a hurricane of category 4, reached the second highest level, with wind speeds of more than 225 km / h to the southwest of Haiti. Particularly affected were the regions Grand'Anse and Sud. Around a million people live here. With heavy winds, heavy rainfall and stormy waves, the storm hit the southern coast of the island state, causing life-threatening flooding and landslides. The extent of the disaster is immense. The storm left a picture of desolation: houses were destroyed, fields were flooded, roads and bridges were flooded and torn away by the water masses. More than 500 people have been killed by the hurricane.
Hygiene means protection
After the catastrophe, the number of cholera diseases also rose rapidly. To help with this, we actively engaged us in the disease and distributed hygiene articles. In total, more than 1.000 families could be supplied with hygiene and protective packages. In addition, people were trained in how to minimize the risks of cholera. These included topics such as personal hygiene, the use of aquatabs as well as the treatment of sewage and waste. "Clean drinking water and good hygiene are the best protection against fatal cholera," says Sylvie Savard, who heads the project office in Port-au-Prince, which runs the charity together with the Lutheran World Federation (LWF).
Futher help is urgently needed
The situation is still tensed, especially because the media awareness for Haiti faded away.
With your help we can provide families with urgently needed hygiene items. These include soap, shower gel, toothpaste, toothbrushes, toilet paper, diapers and detergents and we can buy protection packages for a family consisting wool blankets and tarpaulins.
Thank you so much.
Yours
Michael Tuerk