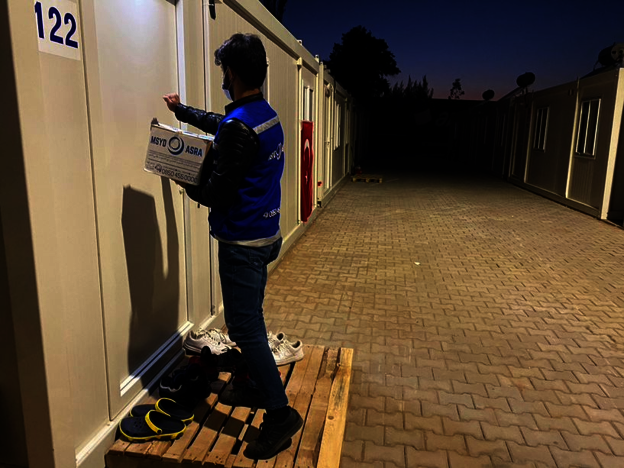 As International Medical Corps' emergency response to the October 2020 earthquake in Turkey draws to a close, this will be our final update.
To continue to support International Medical Corps and our GlobalGiving Projects, please visit our "Emergency Response to Explosion in Lebanon" project, where International Medical Corps is providing healthcare, mental health and psychosocial support services and more to Beirut's vulnerable population following the devastating blast in August 2020.
Learn more about our Lebanon response here: https://www.globalgiving.org/projects/emergency-response-to-explosion-in-lebanon/
On October 30, 2020, a magnitude 6.6 earthquake shook Izmir province in Turkey, where 117 people lost their lives and 1,032 people were injured. The quake left severe damage to infrastructure in different areas of the province. At least 17 buildings collapsed, and 58,138 houses were reported to be either damaged or destroyed. Survivors faced obstacles to accessing food, shelter, hygiene materials, clothing and lavatories in the days and weeks following the quake.
The earthquake struck as Turkey also struggles with an increasing number of COVID-19 cases – at more than 384,000 cases days after the earthquake, and more than 2.7 million cases as of March 2. With thousands initially displaced in tents or other temporary shelters, there were increasing concerns about the further spread of COVID-19 due to overcrowding and limited sanitation and hygiene measures.
Working with our local partner, International Medical Corps deployed volunteers, and we assisted in the set-up of tents and distribution of emergency relief items, including food baskets for the earthquake-impacted communities in Izmir. Based on the most urgent needs, International Medical Corps focused its water, sanitation and hygiene activities to provide relief and recovery supplies, such as hygiene kits, stoves and washing machines, to families who lost their homes and are now residing in temporary accommodations as a result of the quake. Our team reached nearly 1,000 families with these supplies helping them recover, maintain proper hygiene and reduce their exposure to COVID-19.
Additionally, our teams provided the Izmir Provincial Directorate of Health with facemasks and medical supplies needed to perform COVID-19 tests to further support earthquake survivors and prevent the spread of COVID-19.
We thank the GlobalGiving community of donors for bringing awareness to International Medical Corps' response efforts to the Turkey earthquake.