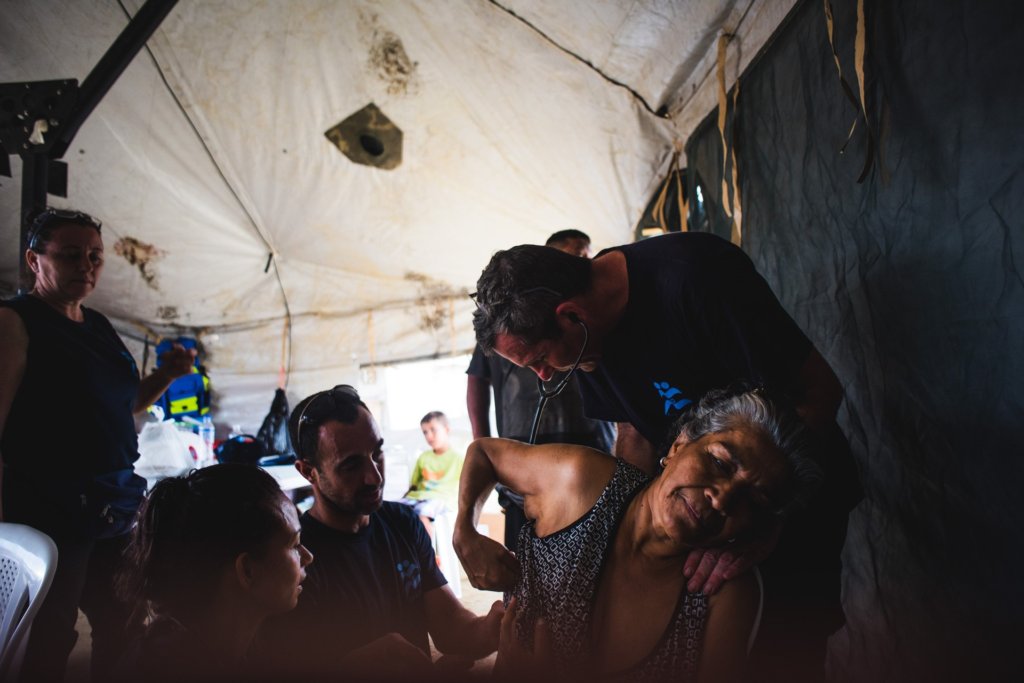 On April 16th 2016, a 7.8 magnitude earthquake struck near the Ecuadorean coastal town of Muisne, rapidly followed by 7.9 and 7.3 magnitude tremors, the first of more than 2,000 aftershocks more than 40 of which were 5.0 magnitude, that have struck the north-western coast of this small South American country. The violent earthquake left a trace of destruction along the coastal line - cracking open highways, tearing apart houses, schools and hospitals. Following the destruction, a state of emergency was declared for the provinces of Esmeralda, Los Rios, Manabí, Santa Elena, Guayas, and Santo Domingo as the death toll climbed to around 700. The earthquake affected more than 230,000 people; 8,679 people have moved into formal refugee camps, 11.146 have been displaced to informal housing, 35,198 houses and buildings have been deemed inhabitable, and 21,823 jobs have been lost.
IsraAID's Emergency Relief Team was deployed only 4 days after the earthquake to offer relief aid, medical and psychosocial support, water solutions, and support with the long-term response strategy to the affected population in the Manabí province. The mission included veteran aid workers, a medical contingent, a psychosocial team, and a Water, Sanitation, and Hygiene (WASH) team. The first few days of the disaster were crucial towards minimizing its long-term destructive effects. Beyond that, as part of IsraAID's core emphasis on long-term recovery, the team has coordinated and engaged with local authorities and international response teams to build the long-term recovery strategy, and share it's extensive expertise and knowledge in the WASH and MHPSS sectors.
Medical Emergency Relief Team
Upon arrival, IsraAID's Medical Emergency Relief Team set up a field hospital in the heavily struck village of Canoa in the Manabí province. The nearest hospital in Bahia collapsed and was not operable; as a result there was an urgent need for medical assistance and provision of medications. The medical relief team, consisting of 2 doctors, 3 nurses and 1 midwife, worked around the clock to attend to the hundreds of patients that came to seek medical attention, often travelling from remote rural areas. Aside from the field hospital, the Medical Emergency Relief team also operated a mobile clinic, which aimed at reaching rural and remote communities that had not received any medical aid since the disaster. Over a 3-week period of time, the medical relief team was able to treat almost 800 patients, consisting for the majority out of vulnerable groups such as children, women, and elderly patients

Mental Health and Psychosocial Team
The earthquake has left a severe psychological and physical mark on the affected communities of Ecuador. Immediately after the earthquake many families fled their homes, leaving one representative to guard what was left of their belongings. Upon return, they found their homes destroyed, their cities devastated, and a great loss of lives and belongings. A large percentage of the population reflected fear and anxiety; many suffer from lack of sleep and panic attacks. For many, symptoms that were present before the earthquake have turned into chronic symptoms. In response to these issues, IsraAID's Mental Health and Psychosocial Team worked for 5 weeks throughout the Manabí province, providing over 1800 people mental health and psychosocial services (MHPSS). IsraAID's MHPSS activities focused on preventing trauma and secondary trauma through conducting immediate training in Psychological First Aid (PFA), self-care and psycho education for the affected communities, service providers and first responders working with families affected by the earthquake.
The two delegations of IsraAID's Psychosocial team have given workshops and lectures of psychosocial first aid, self-care, stress management and relaxation techniques to the affected communities and refugee camps, first responders such as police officers and soldiers, school teachers, professors of the faculties of Medicine, Nursing, Psychology and Social Work at various universities working in the affected region, and other local NGO's. Many participants testified that the only time they were provided with such support was through these sessions offered by IsraAID. The goal of these activities is to build community and personal resilience and to develop a coping mechanism in order to mitigate both the current trauma and be more prepared for future-crisis.
First Responders
IsraAID's psychologists, Lea, facilitated psychosocial activities to Ecuadorian soldiers that assisted the affected population during the emergency state in the Manabí Province. The soldiers were extremely cooperative, opening up and sharing the stories of the atrocities they had encountered in weeks since the earthquake. Lea also facilitated similar workshops for the police, she shared her experience after one of the workshops: "They looked frozen, and their eyes were red from working long hours. They seemed exhausted and uninterested, at first, but once they began to open up and were asked to draw a happy memory, they became youthful and their mood changed from stress to relaxation, which allowed them to open up about their horrifying moments of the earthquake. One policeman shared he saw an older lady who was holding her dying son. It was too late and there was nothing he could do to save the boy. Another policemen shared he saw a man beneath two floors of rubble whom they could not help in time. One officer shared: "It felt like the end of the world, as I looked up and saw my entire world falling down- like in a movie." IsraAID understands the challenges a first responder can experience during such traumatic events, and provides a safe space for recognition, counselling, sharing and support.
School Teachers
IsraAID's team of psychologists also provided psychosocial support to teachers returning to work in the towns of Pedernales and Jama. Both the teachers from the public school and the private schools felt unprepared to start class again, merely 3 weeks after the earthquake. IsraAID's experts provided the tools to help teachers make their way back into the continuation of their lives, their careers, and their responsibilities as role models for their students by coping with what they had gone through, practicing self-care and finding strength in sharing and supporting each other as a group.
Water, Sanitation, and Hygiene (WASH)
IsraAID's WASH Team arrived to the Manabí Province to find critically compromised WASH circumstances. For those who live in remote areas, access to water was completely cut off. The water infrastructure was severely damaged and water reservoirs, tubes, and pumps have collapsed. Communities that depended on rainwater harvesting were left with no roofs and water catchment areas. Water trucking system that operated before the earthquake in areas where no water delivery infrastructure existed, was terminated due to the inaccessibility to some villages - main routes were closed due to broken terrain, landslides, and flooding. These communities depend on this system and have to purchase water every 8 to 10 days. Since the earthquake these villages are reached every 20 days or more. In the urban areas, due to the destructions of homes, schools, churches, and hospitals, people sporadically set up temporary tent camps. These camps lacked basic infrastructure and facilities such as toilets and showers. The absence of water sanitation and hygiene (WASH) systems prevents the practice of basic hygiene. Due to these compromised hygiene practices and an absence of sanitary solutions, there is a large-scale risk for the outbreak of disease. Additionally, there is a severe lack in the provision of sufficient safe drinking water; therefore, families are often left without water for days and are forced to purchase water, if funds allow, with the miniscule amount of savings they have left.
In response to this situation, IsraAID's team distributed safe drinking water through a mobile water filtration system, reaching approximately 2400 people. Furthermore, IsraAID's WASH team prepared and distributed 252 gender-sensitive hygiene kits to unofficial refugee camps and affected communities. Working in collaboration with the organizational leaders of the camps and communities, IsraAID delivered the kits tent-by-tent and house-by-house to ensure each family was reached. The hygiene kits contained essential items such as soap, laundry detergent, toothpaste and brushes, women's sanitary products and other valuable hygiene items. The kits, apart of the obvious purposes of promoting a hygienic life style and minimizing the potential spread of disease, also serve as means to assist people in the camps to live in dignity and care for themselves.
Shelters + Back to School Kits
IsraAID assisted the Ecuadorian people, delivering and constructing shelters and beds for teachers in the devastated towns of Pedernales and Jama. Most of the teachers live outside of the towns, and have to travel a long distance to teach their students. Before the earthquake, most of them rented an apartment in town and traveled back home only during weekends. Since the earthquake, they were struggling to go back to work, as there was no place for them in the devastated towns. Moreover, due to the traumatic event, they do not want to be away from their families. IsraAID donated 10 shelters and 67 beds and mattresses to help some of the teachers in need to stay united with their families while going back to teaching and supporting their students in school. IsraAID's team also assisted students in the devastated counties of Jama and Pedernales in going back to school. IsraAID delivered 400 school kits to students containing notebooks, pens, colors and workbooks for the teachers to work on with the children, so that they can focus on expressing their feelings and coping with the traumatic event through the children's eyes.
Main achievements:
766 patients have received medical assistance from our Medical Emergency Relief Team
1843 people have received psychosocial support
619 families were provided with clean water, benefiting approximately 2400 people
252 hygiene kits were distributed, benefiting approximately 1000 people
10 shelters were distributed, benefiting 10 teachers and their families
67 beds were distributed, benefiting 67 teachers
400 back to school kits were distributed
Total: 7135 unique individuals have been reached through IsraAID's relief efforts.
Program Continuation:
Based on IsraAID's observations, further humanitarian and recovery assistance should be provided in the areas of Psychosocial Support, Protection, and WASH reaching population groups in the affected provinces, both in rural and urban areas as well as formal and informal refugee camps. IsraAID intends to implement programs in these sectors, addressing the needs of rural communities and vulnerable populations and empowering them in the rehabilitation phase, and working towards a more sustainable life. In its latest report, dated July 28th, the Office for the Coordination of Humanitarian Affairs (OCHA) also pushes for continuous re-evaluation of response and recovery strategy due to the constant aftershocks that are resulting in more and more structural damage and psychological trauma.
Mental Health and Psychosocial Support Programs
In its report OCHA stresses that there continues to be a dire need for mental health and psychosocial support. Due to untreated trauma and the continuing aftershocks, there is an urgent need for an increase of psychosocial support programs for the affected population - especially service providers such as health staff and teachers (a population that continues to show high symptoms of stress). Moreover, Ecuador sits on the so-called 'ring of fire' – an arc of high seismic activity that extends around the Pacific Ocean - this calls for further support and better preparedness for future disasters. In response to these needs, IsraAID is currently developing a long-term plan to provide psychosocial support for the families of the victims and provide local officials, social workers, community mobilizers and NGO staff with additional trainings in the field of protection and trauma care in order to build their capacity to cope not only with the current trauma, but with any future disasters.
Water Sanitation and Hygiene Programs
Three months after the earthquake there is still a great need for immediate and sustainable water solutions. The provision of minimum standards for water, sanitation and hygiene in many communities and refugee camps is challenging due to the high geographical dispersion, especially in rural areas. The poor water quality also remains a challenge, and proper management of water and sanitation must be increased and strengthened to prevent the spread of vector-borne diseases such as Zika. In response to these needs, IsraAID aims to implement 'safe water' programs in identified communities, villages, and refugee camps that were heavily affected by the earthquake and are in immediate need for WASH solutions. Through a holistic approach, the intended program will introduce a simple and effective technological WASH solution to provide immediate and sustainable response to the dire need of clean water. IsraAID believes in the implementation of holistic programs as a key component for success and integration of technologies within communities. The introduction of water filtration systems will be accompanied by trainings for proper system maintenance and safe water storage, since filtrated water has no residual disinfection effect. Safe sanitation and hygiene promotion are key components of preventing water borne disease outbreaks and community resilience.
Thank you for your continued support of our programs in earthquake affected Ecuador.