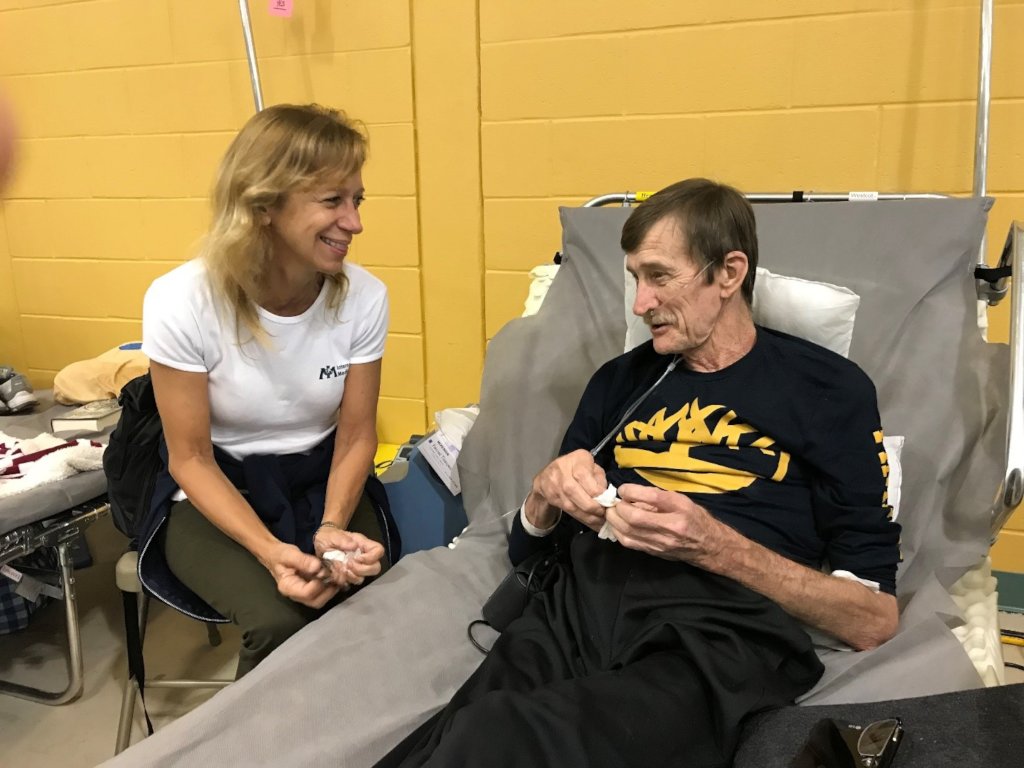 Thanks to the support of the GlobalGiving community and other donors, International Medical Corps enabled access for some 74,300 people at seven locations to relief and recovery. Following Hurricane Michael, our teams provided a total of 4,000 health and dental consultations through mobile medical units and temporary shelters; trained 135 participants on post-recovery resiliency; and distributed nearly 6,000 hygiene and wound-care kits to health facilities. These "kits" included household cleaning and personal hygiene supplies, bandages and other basic items.
To continue supporting International Medical Corps and our GlobalGiving projects, please visit our "Emergency Response to the Ebola Outbreak in DRC." The second largest Ebola outbreak in history, with more than 2,320 suspected or confirmed cases, has officially crossed international borders into Uganda. Your support is urgently needed to help alleviate the crisis.
https://www.globalgiving.org/projects/emergency-response-to-ebola-in-the-democratic-repu/
The Importance of Compassion in Emergency Response
Sitting up in a hospital bed at an intermediate healthcare center north of Tampa, proudly showing off his new defibrillation belt, Dennis knows he's lucky to be alive after the most tumultuous eight days of his life.
Under the care of an International Medical Corps' emergency response team that included two physicians and 15 nurses, the 63-year-old electrician was one of 36 people with intermediate healthcare needs who were brought to the center after being evacuated from some of the areas hardest hit by Hurricane Michael on October 10, 2018.
His journey there included being trapped for two days inside his Panama City mobile home partially buried under fallen trees, without food or water, with no cell phone coverage to call for help, and no power to operate his oxygen tank or charge his defibrillation belt. He admitted that there were moments when he was unsure whether he'd make it out alive.
In the excitement of his chaotic, emotional discovery and rescue, Etheridge left his defibrillation belt behind on the couch of his mobile home. Worn by those suffering from heart problems, the belt produces an electric shock that corrects a potentially life-threatening arrhythmic heartbeat. With International Medical Corps' help, he now has a new belt — and he was happy to show it off.
Like others at the center, he was happy about the care he'd received from the International Medical Corps staff and volunteers since arriving at the center.
"Fantastic," he said with a grin. "They've [International Medical Corps] come from all over this country — from California, from Arizona, from Oregon, from everywhere, just to help us here. I can't believe they would care about us that much. The compassion they've shown is amazing."
International Medical Corps volunteer physician Carolyn, who headed the team of eight nurses during five 12-hour shifts at the center, noted that it is important for medical staff to provide more than medical care. They also have to keep in mind what the evacuees have been through, and to acknowledge the severity of their experience.
Carolyn said that when working with patients whose lives have been turned upside down, "sometimes a simple hug will do more than medication." Volunteer nurse Candice added, "The most important thing is being there for these people who have lost everything. Just giving kindness can help."