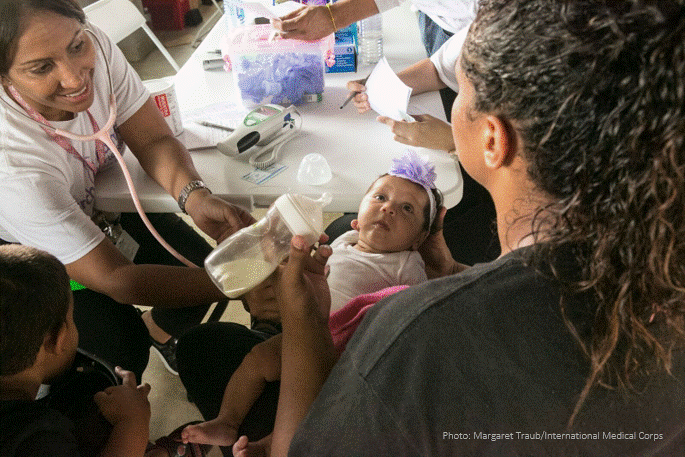 The 2017 Atlantic hurricane season was destructive, incessant—and, for many, overwhelming. Marked by six major hurricanes (Category 3+), including Hurricane Irma, the 11th most intense hurricane recorded in the Atlantic basin, and Hurricane Maria, the third-costliest Atlantic hurricane on record, the season brought unparalleled devastation across the Caribbean and Florida.
Health Facilities are the backbone of any nation's health care system, and in the event of an emergency, play an indispensable role in saving lives and preventing health conditions from degrading further as recovery efforts begin. It is one of International Medical Corps' core missions to support, rehabilitate, and build the capacity of local health facilities to ensure that health care needs are met during the wake of a crisis, and when Hurricane Irma and Maria struck in September, we rushed in to do just that.
Dominica
In Dominica, Hurricane Maria's winds reached 160 mph, ripping the roofs off most homes and cutting the island off from cellular, radio and internet services. Maria damaged 98% of the buildings on the island, half of which had their frames destroyed, and inflicted serious damage to roads, homes, airports, and public buildings, including all 53 of the island's health facilities.
To support their recovery in the immediate aftermath of the storm, International Medical Corps mobilized and distributed Interagency Emergency Health Kits to three of the island's health facilities, the Salibya Health Center, Princess Margaret Hospital and Newtown health facility, with enough medications and medical supplies to serve 10,000 people for up to three months.
We also provided surge capacity and medical staff support at health centers in St. Andrew and St. John Parishes through volunteer medical teams made up of doctors and nurses. In total, these teams conducted 764 patient consultations, covering 101 shifts of overworked local medical staff at 11 clinics and hospitals. We are now working with health facilities in both parishes to restore access to the water supply and improve sanitation conditions.
To fill gaps in medical transportation services, International Medical Corps established an Air Bridge and operated flights into Dominica, Antigua, and the British Virgin Islands from the 29th of September to the 31st of October to assist health care providers and patients in need of emergency care. Altogether, these flights moved 328 people, including Ministry of Health officials, International Medical Corps staff, medical volunteer teams, and patients, in addition to 71,000 pounds of essential cargo.
Puerto Rico
Hurricane Maria hit Puerto Rico as a Category 4 storm, causing widespread flooding, high winds, and storm surges. The entirety of Puerto Rico's electrical system was downed, leaving health facilities without access to power, and many without access to potable water.
International Medical Corps arrived in Puerto Rico within days of the storm, and since then has been collaborating with La Asociación de Salud Primaria de Puerto Rico (ASPPR), a federally funded not-for-profit health network of 76 clinics supporting vulnerable populations on the island.
In the aftermath of the hurricane, we distributed seven generators and six 500-gallon water bladders across 13 of these health facilities to help the clinics maintain their vaccine cold chains and keep their doors open as they faced high caseloads in the wake of the storm.
International Medical Corps has provided an additional $100,000 in grants to 17 ASPPR clinics over the past month. These funds are supporting fuel purchases, infrastructure improvements, and staff wellness activities to ensure health facilities can operate without interruption, benefitting some 63,000 individuals. So far, seven clinics have reported that the grants have supported 4,380 patient consultations, staff care for 130 health care workers, 336 hours of power generation, and 1,200 gallons of fuel.
International Medical Corps Responds: Florida
In Florida, storm surges brought by Hurricane Irma's Category 3 winds left 6.5 million individuals without power and destroyed up to 25% of the homes in the Florida Keys. The lack of electricity and clean water displaced 200,000 into shelters across the state and strained the capacity of health facilities to meet the needs of their communities.
International Medical Corps pre-positioned an assessment team in Florida prior to Hurricane Irma making landfall and since then, has been supporting a network of 30 local clinics in and around Fort Myers, an area hit hard by the storm's flooding. With the clinic's 500 staff largely displaced from their homes, we are providing sanitation facilities so that staff can return to work. We are also helping restore power and rehabilitate the network's clinic in Bonita Springs, which serves some 30,000 people.
Finally, we are partnering with a clinic network in Miami-Dade County, helping to provide low or no-cost medication for vulnerable families, ensuring that they are able to continue receiving care for chronic diseases such as diabetes and easing their financial burden in the wake of the storms as they rebuild.
For more information about our response to the 2017 Hurricanes, please see https://internationalmedicalcorps.org/emergency-response/hurricane-irma/
We thank the GlobalGiving community for their support as we work to rehabilitate and support the needs of affected health facilities across the Caribbean and in Florida.