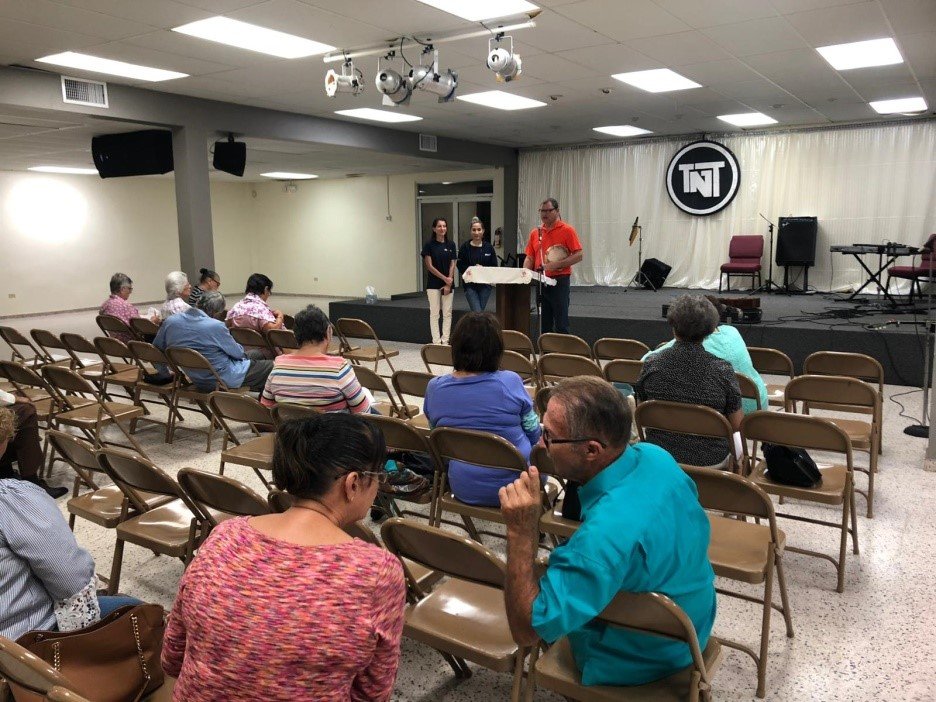 On September 20 in Puerto Rico, Hurricane Maria affected some 3.9 million people when it made landfall as a Category 5 storm. Following the devastating storm, International Medical Corps met with leaders of the affected areas, such as the Pájaros community in Bayamón on the northeastern part of the island, to determine how our team could help them to build back better.

One of those leaders, Pastor Miguel, told our teams that while the local church had supplied much of the water and food to the community in the immediate aftermath of the storm, he had observed isolation, powerlessness, helplessness and financial loss within his community. Our teams began working directly with members at Pastor Miguel's church through a series of workshops to combat loneliness and prepare for future disasters.
Following the loss of her husband as a result of the hurricane, "I was in a state of hopelessness," workshop participant, Celeste, told our team at one of the meetings. Celeste struggled to cope with the destruction of her home, loss of clean water and crippling loss of power – all while mourning her husband. "It was the worst experience in my life," she said.
Another participant, Juanita, had lost one of her sources of income because she could no longer rent out her home after the pro-longed major power losses. Through the workshops provided by International Medical Corps, participants and community leaders, like Pastor Miguel, learned about topics such as managing emotions, stress management and emergency preparedness during disasters. These workshops gave those affected the resources to heal and help others when they felt that the government had forgotten about their psychosocial needs.
Juanita tells us, "the skills I learned in the workshop will help me to help people." Juanita feels confident that if another hurricane were to hit her community, she would be much better prepared to help – not just herself, but members of her community, too. "International Medical Corps has given me hope of changing my community for the better," explains Celeste. Meanwhile, Pastor Miguel plans to use his new knowledge to establish a center of psychosocial support for future catastrophic events.
Thanks to donations, like those from GlobalGiving, International Medical Corps is able to contribute to the continued and sustained recovery of survivors – like Celeste and Juanita – even after the emergency is over.