Project Report

| Dec 1, 2020
Responding to the Catastrophic Explosion in Lebanon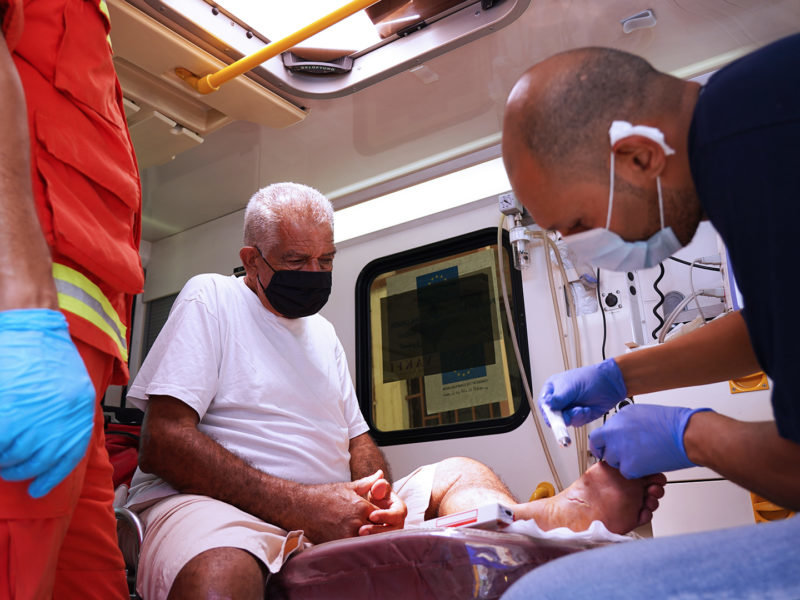 International Medical Corps responds to emergencies around the world, no matter where, no matter the conditions. But our teams do not often find themselves responding to unexpected emergencies in their own neighborhoods. On August 4, 2020 – when a massive explosion tore through Beirut, Lebanon, killing at least 220 people, injuring more than 6,000 and leaving some 300,000 homeless – our team did.
International Medical Corps has about 100 staff members based in Beirut, including Adam, our Project Coordinator, who was running near the Port of Beirut at the time of the explosion. "On the way, as I got closer, there was a series of small fireworks. A few moments later, a very big explosion stopped me in my tracks," Adam explained. "A huge fireball went up. Then the white blast, sphere-like cloud came directly at me. In the split seconds after seeing the explosion, I hit the ground to try and protect myself. I thought I was about to be incinerated on the floor." Luckily, Adam was uninjured. Following the explosion, he recalls, "I navigated through central Beirut, which was just totally catastrophic. Glass, buildings destroyed, the facades in disrepair, many, many people injured."
The blast left more than half of Beirut's health facilities non-functional. The remaining facilities were overwhelmed, limiting the amount of emergency care available in Beirut. Healthcare workers were reportedly among the killed, and nurses and doctors were in high demand. The blast also affected the country's stores of vaccines, medicines, medical equipment and reproductive health supplies, leading to acute shortages of vital medicines.
"The blast was really a big disaster. Most people in Beirut were affected. The big issue is that people lost their houses and there were around 300,000 people without shelter. There is a lot of work to be done," described Dr. Nada, Sr. Medical Advisor.
International Medical Corps quickly launched an emergency response, coordinating efforts with international aid agencies, the Ministry of Public Health (MoPH) and other international non-governmental organizations in the country. We provide medicine, medical and cleaning supplies and personal protective equipment (PPE) to some 27 hospitals and other healthcare centers. In the months following the explosion, we distributed more than 160,000 masks, 300,000 pairs of nitrile gloves and 16,000 surgical gowns, and our efforts continue today.
In addition, we deployed two mobile medical units (MMUs) and mental health and psychosocial support (MHPSS) shelters, providing medical care and mental health services to patients affected by the blast. The MMUs, operating in the first weeks of the blast's impact, provided critical relief to healthcare facilities, while meeting the urgent needs of residents. During that time our team provided medical consultations to 1,121 patients.
Rima, International Medical Corps' Communications Manager in Lebanon, recounted, "We treated wounds, stitches, and the mental health team was available to provide psychological first aid to all those affected. The support that we have received from all over the world has been tremendous. It has made a huge difference and we're very, very grateful."
With the generosity of the GlobalGiving community and other donors, International Medical Corps has responded immediately to the explosion in Beirut and continues to address the needs that persist – providing PPE, medical supplies, medical care and mental health services to those affected by the blast. Thank you!