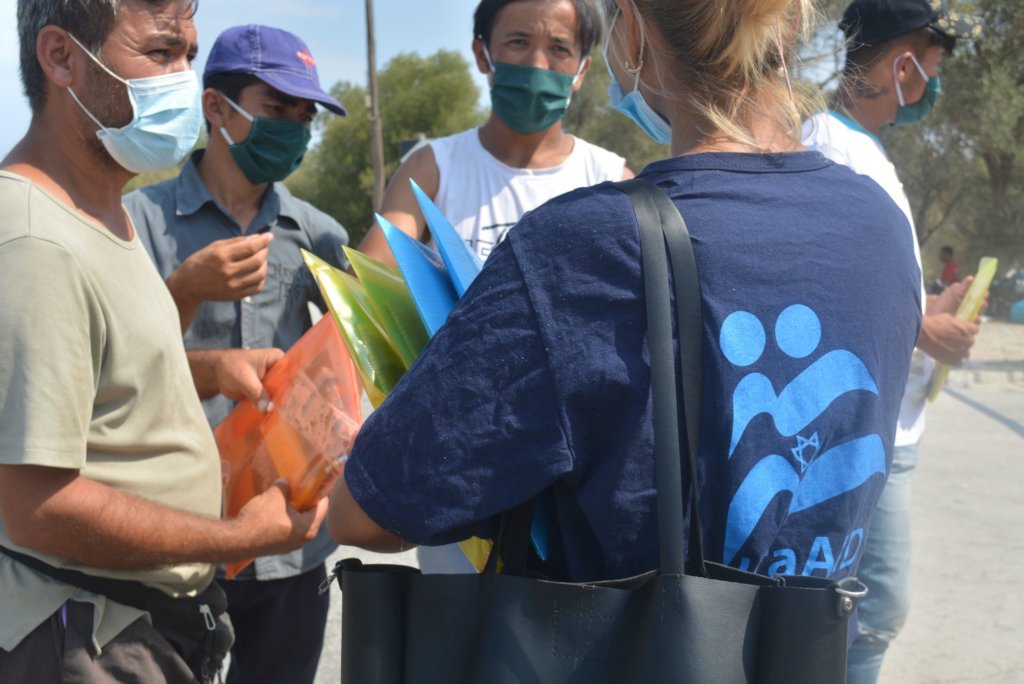 On September 8, 2020, a fire broke out in Moria Refugee camp, located on the Greek island of Lesbos. Moria was home to some 12,000 refugees from Afghanistan, Iraq, Iran, Syria, and various countries in Africa, and was infamous for its harsh living conditions as the largest refugee camp in Europe. The ongoing Coronavirus pandemic has made the situation on the ground even more tenuous, with more than 20 confirmed cases of COVID-19 among those who previously resided in Moria.
Currently, refugees who lived in Moria are living on the streets surrounding where the camp, behind police barricades, where Moria used to stand. Vulnerable populations from Moria—specifically single women and families, have been moved into a new temporary camp adjacent to the Kara Tepe Accommodation Center located nearby, which can accommodate 5,000 people. The 400 unaccompanied minors and separated children who lived in Moria, have all been accepted by other European countries, led by France and Germany, for relocation.
Amid the extremely challenging circumstances on the island, the IsraAID team is working with our partners on the ground, including the UNHCR, to distribute urgently needed non-food items to affected populations. The team has already conducted a distribution of tents and battery banks, led by refugee leaders from IsraAID's programs in the community. We have also provided 1,500 hygiene kits with items such as soap, hand sanitizer, reusable face masks made at our refugee community center in northern Greece, diapers, and female hygiene items for those living on the streets and in the fields. In addition, our Psychosocial Support and Protection coordinators have compiled children's activity packs for children under the age of 8 and a separate kit for those older, to distributed to 100 children living under these circumstances. These kits include arts and crafts materials, drawing paper and mats, and children-sized masks.
Osama (name changed to protect identity), a teacher at IsraAID's school for refugee children on Lesbos, is currently stuck in the zone behind police barricades, where he and his family are sleeping on the street. Due to current restrictions to prevent the spread of COVID-19, there has been extremely limited access to this area, and Osama and his family have been without sufficient food and hygiene items over the past days. The IsraAID team has been in close contact with Osama over the last days, and succeeded in getting a box of essential items to him and his family. Despite the extremely dire conditions in which Osama is living, he has been active in supporting the rest of the staff on the island, and is encouraging them to keep providing as much assistance as possible to other refugees affected by the situation. The whole team is hoping that Osama will soon be able to rejoin the team physically soon to help conduct distributions and psychosocial support interventions.
Thank you for supporting IsraAID's work in Greece during this challenging period.