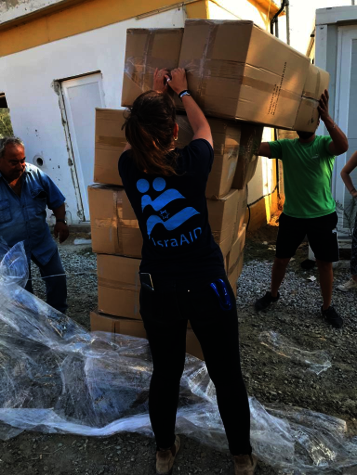 In the last months, the number of refugees arriving on Greek shores has spiked. Today, the UNHCR reports that more than 18,500 refugees are living on the island. The situation on Lesbos is nothing short of alarming. With winter at its start, conditions are life-threatening, resources are scarce, and more support is urgently needed.
IsraAID first arrived on Lesbos in 2015, deploying an emergency response team to providing medical and psychosocial care for what we now know as the Refugee Crisis. Asylum seekers originally from Syria, Afghanistan, Iraq, Iran, Congo, Somalia, and other locations, embarked on the treacherous journey across the Aegean Sea in rubber dinghies, hoping for a life of dignity and safety in Europe. In the 4 years since 2015, the influx of new arrivals has ebbed and flowed at manageable rates, with political realities in Turkey, and across the Middle East—and IsraAID has remained on the ground, shifting our programming as needed to address the changing situation.
In light of the ongoing surge of new arrivals, IsraAID is deploying additional resource to address the massive renewed need on the island. Despite the enormous need, the media is no longer covering this humanitarian situation, and funds have dried up.
Emergency Item Distribution: In the past months, responding to high needs in the Moria Camp, IsraAID distributed 1,400 sleeping bags to new arrivals. IsraAID remains in close contact with authorities on the ground so that we can best provide support, and conduct a secondary distribution if necessary. Camp winterization is of serious concern, as most residents live in makeshift tents and rely on sleeping bags and other blankets for warmth, with no insulated building, heating, or reliable hot water.
Psychosocial Support for Refugees: IsraAID, with our local partner, has opened a community education center across the street from Moria Camp. The center provides a variety of daily services to the camp's residents, focusing on the urgent psychosocial need to improve wellbeing and create social connections between people, on the backdrop of chaos and scarcity.
Daily programs include basic schooling for 90 children, taught by refugee teachers recruited from the refugee community, who are regularly trained on issues pertaining to Child Protection, Psychosocial Support, and administering Psychological First Aid. Activities for children at the center include a curriculum in Social and Educational Learning, and expressive arts such as theater to support the psychosocial wellbeing of the children. The center also offers daily Greek and English classes, self-care workshops, and cultural integration activities with local Greeks, to provide an outlet for refugee adults to build relationships, develop new skills and coping mechanisms, and prepare for resettlement on the mainland. Specific winterization needs are critical to maintaining the center's daily operation, to heat classrooms and construct additional shelters for rain and snow.
Thank you for your ongoing support in responding to needs on the ground!