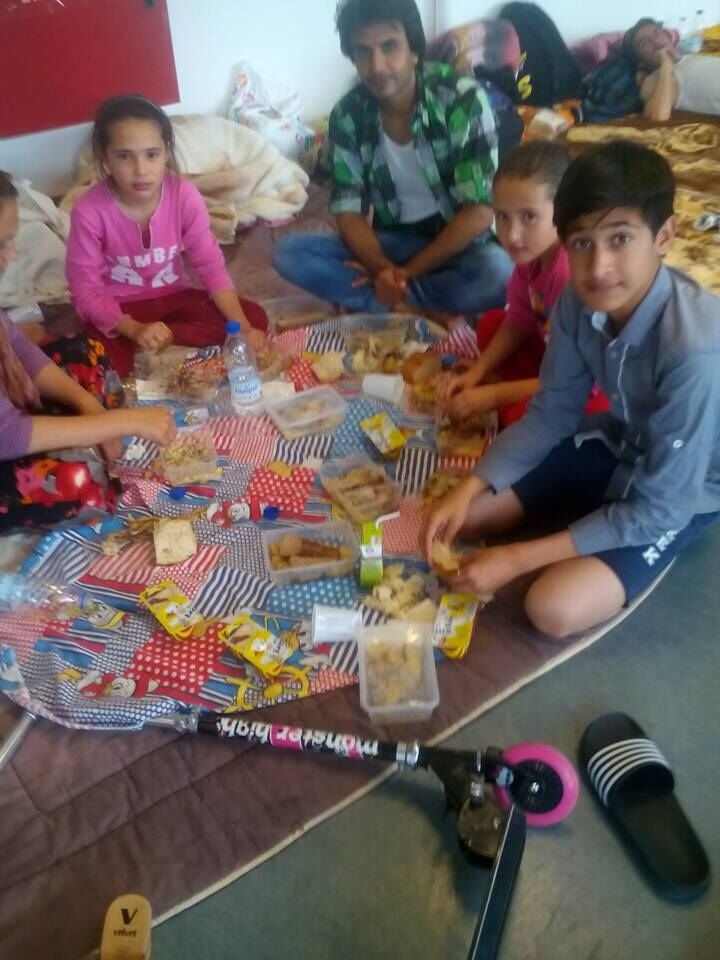 Dea friends and supporters of "Kids & Family's" efforts,
I need to share with you a personal experience I recently had while helping "Kid & Family's" deliveries to refugee kids and families in Eleonas hot-spot. Eleonas and Skaramadas hot-spots are the two areas in Athens where the most detrimental cases of refugees are tranferred, refugee kids with severe health problems, mothers with their kids, and mothers who deliver their infants when reaching the hot-spot.
It was Friday 10 in the morning 2600 concentrated food with 200 boxes of canned milk are waiting in the mini van for our volunteer driver to get delivered to kids in Eleonas refugee hot-spot. My heart was beating from joy, I was impatient to give. I just finished my exams in the U.K. and came to Greece to support as a volunteer "Kid & Family's" efforts. It surprised me the number of policemen in the entrance of the hot-spot as well as the number of people who were hunging on the entrance door. The entrance was under control. Our logo on the t-shirts was the most useful 'passport'. The fact that we entered seemed just a miracle! I am going to keep that t-shirt...!
I didn't have the chance to ask for that little boy's name. The only thing that mattered to me was that I could see the pain in his eyes. At that moment, I thought that just playing with him would distract his attention and forget for a minute what he had been through. I wish I could take his pain away, but I was so happy when I made him laugh for hours with my jokes. I felt like I did the most beautiful thing in the world; help someone who needed it the most. Then, I realized how important it is to help people and their families, those people who have lost their homes, their relatives, and their identity.
It would have been extremely helpful to just offer a bottle of water, food, some warm blankets, or even second-hand clothes. It is important to offer our help to those people to re-create their lives under those extreme circumstances and provide a better future for their children and their families. It was a great shock for me when I realized how much these people needed our help. It came to my surprise when I found out that, despite the financial crisis and the difficulties that Greek people experience every day, they still offered their help to the refugees by providing food, clothes, and accommodation.
All these might not be news to an older volunteer, but to me, as I am a new volunteer of just one week in "Kid & Family's" efforts, I am contrited and shocked, but at the same time so proud for my country and for the charity. That is why "Kid & Family" charity helps kids in need or with mental problems. Please urge your friends and family to support our efforts. Join us, we are struggling for funds and volunteers. Be by our side!
Warm regards,
Elina Kasapantoniou