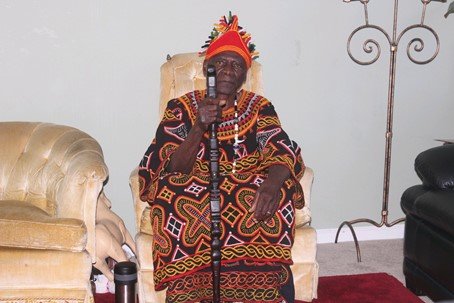 Greeting;
Breaking News!!!
We regret to inform you that on March 10, 2021 in the state of Georgia, USA, at the age of 95 years old, our founder, leader, mentor and teacher for JRCCA/JRFIUSA-Inc, made his transistion from his earthly home to be with his family in his heavenly home. In his behalf we hope that his work here on earth has been a blessings to all of those whom he came in contact with here on earth. We want to acknowledge and give thanks for all of the comments and blessings that have been coming in to our attention.
We hope that this report will meet you in good health and spirit as we make plans for his home coming celebration here in the state of Georgia as we prepare to travel to the place where his remains will rest in the village where he was born in Zang Tabi, Cameroon in the English speaking region in the NW area. Please know that our hearts are heavy as evidence by the out pouring of greetings and comments from around the world. Despite the many challenges that we are facing in this War torn environment in the NW Region of Cameroon, we know that both friends and foe will ban together to make his dream of returning to rest in the village where he was born will be realized.
Despite the challenges from the ongoing Civil War, we are facing lack of access to a good road that leads to his village, and possible challenges to our safety. Our family delegation from the USA is determined to honor his last wishes to be returned to Cameroon and be laid to rest at his natural birth place. We will maintain his legacy of being our brother's keeper and teaching others how to fish rather than giving them the fish.
Special comments here from Ma Comfort and Others!!!
"My dear loving father, I thank the almighty God for your life on earth. I thank you for your endless love, care, support, protection etc.. to me, the family and the World. Despite the fact that you are gone, your legacy will forever remain from generation to generations.
Papa you have always been a real model to me through your hardwork, words of wisdom, your soft words, mentor to many youths who are today leaders in and around the World , your advices to us your children, above all kind hearted and a man of passion . One who demonstrated your faith in action , sharing, caring, compassionate, served other so as to make a positive difference in their lifes, selfless service, courageous, humbleman
Papa you have always been there to comfort and strengthen me when ever I am faced with challenges. You have always taught me to be kind to people and to share what I have with others. You never discriminate and have always shown equal love to us all. That is why in 2014, Ni Gideon with your support had to sponsor my education in Harvard Medical School to fulfill my dreams as a nurse and Midwifery. I remembered on my graduation day from Harvard, you gave me a Golden pen and told me that I should hold fast to education and that through education, I will prosper. Eevnthough you were not able to attend former education you were name "MASTER" by your peers for the many good things and royal duties you performed to serve our communities both in Meta Cameroon and USA
Papa you are so dear to me.
Papa you have always showned us the way to fear God and I remembered your niece Ma Veronica who preached to you the Gospel and you accepted and was baptised by immersion. By this, I strongly believe that you are now resting in the Bosom of our Creator with her.
Papa you always corrected our mistakes with care according to the word of God in Proverbs 23:13-14 and also Proverbs 22:6. You have always adviced us your children that we should not envy and also throw spit to avoid our interest in some bodies thing. You have always adviced us to work hard to achieve our own and that hard work is key to success in life. Call onto the Lord Jeremiah 33..
I strongly believe that by now you are resting in peace in the Bosom of our Father Abraham where I will also meet you when time comes to part no more.
Your Daughter Ma Comfort"
" Special Tribute To My Dad PA John A. T.
Dear Dad,
To me is still like a dream that you had left us so soon. I remembered four days ago when I was just back from work and you called for me to come and lets eat together Dad, and I didn't know that was our last meal together. Dad, one thing I am sure is that you are now resting beside the Master of the universe where you are preparing a beautiful place for us. Dad, I want you to know that I can never forget that day; six years ago, when you called me and told me that hard-work, perseverance and doing good in this World to others, is key to success and you brought us to the United States of America, a place we now called Home to serve others and changes their lives for better. Dad, we say THANK YOU. Even if we slipped along the way, we are now together as you demanded. Dad, if there is anything, I would say to you is just that, I will continue to THANK YOU for the rest of my life for bringing us up so well and in the Fear of the Lord. If I faltered in any way, please forgive me. I know you cannot be blamed. You are so special to all children and neighbors. You call us your brothers and sisters.
Dad, I am going to miss you. I will forever appreciate you for making me a better person in this World and I promised to serve others like you did so they too can have a better life.
Dad, if there is any favor, I must ask from you now is, happiness and joy to the family, peace to the family.
Dad I crowned you Saint John Ticha, a man of wisdom, God is sent on earth.
Dad, until we meet again, I love you.
Sincerely Your Son Celitine"
"Oh Pa John , my best Friend.
I do remember how I always sit and we convers at Kwojeoh. I do remember how you shared your food with me. I do remember how you made me to know Tonekwoh, I do remember how you showed me the land at Mbon where we use to work our farm. I always remember you when we sit with our pets eg Our cat name Camera, Jackson our dog, bobga our dog, and catchman.
Oh Pa, I will not forget how you used to take me to "ekueh" meeting house.
Oh Pa you are the only one I was coming and visiting at Guess House Kwojeoh.
Oh!! Oh!! It is terrible what a big loss. Pa you tought me how to love my neighbor like my self. You tought me how to share my food with someone even if it is little.
Papa safe journey to Abraham Bosom. We will work to achieve prosperity as you tought us. While we will always think of you, we hope to meet you in the nearest future as appointment by God."
Tito
"OMG, an Iroko tree has fallen. Mr. CEO and Family accept sincere condolences from the ESOE'S and the BACDU-USA Families. We pray that God grants your family the fortitude to deal with such a huge loss.
May Papa's gentle soul rests in perfect peace with the lord. Please keep us informed about the program of events in this regard.
God bless us." Dan
"Sorrow fills my heart. Pa, I had been praying that you should come back home because I had so many historical issues to discuss with you but you have left me in the middle of the road.
Well, it is God's invitation. We have no objection to His will.
Rest is His bossom and may you answer my worries through dreams.
Family, take heart." Stephen
"OMG! What a great loss for our community and the world at large. Pa John made the world a better place. Soft spoken , kind hearted role model who inspired me as a kid. He respected the young and will always have some kind words for everyone that came across his path. Pa, we love you so much but God loved you more. May the Almighty grant you eternal rest at his bosom." Festus
Prior to receiving this shocking news our organization has been very active in the field helping members of the displaced families raise their faith and hopes for a better day by encouraging the people to come together and set SMART Goals and Action Steps to work together to develop food security programs including raising pigs, chickens and quails to feed their families and sell at the market. In all five zones, families are working together to enhance their safety while developing their farms and independent small businesses.. After the Thanksgiving Holiday Feed The People, we brought joy and smiles on the faces of 36 children in an orphanage in ages ranging all the way from toddlers to teenagers with our surprise toy for tots project.
We have set up five zones to better serve the local people at the lowest level in the villages in our approach to economic and financial development for the villages. Each Zone has a director and a team of from 8 to 10 team members who come together to represent the zone. We insist that there must be equal participation from both males and females in all decision making and goal setting to restore their lifestyle, economic development and educational system for children who have not been in school for over four years because of the Civil unrest.
We continue to monitor and encourage the women farmers in zone one who we donated 28 farm tools (hoes) to help them provide food for their families and to sell at the market to earn some cash. We are beginning to see pictures of the pigs that werre donated to membeers of the food security project. Pictures show that the pigs will soon be ready to cross and produce off springs that can be shared with other members for food and small business development. Developing the Credit Union Project is still in progress and on track to open soon as each zone director is required to join a CU in his/her zone to learn how a CU operate to benefit its members which includes the benefit of submitting a proposal to start or expand a small business to become self -sufficient.
The Mayor and City Council in Mbengwi continues to collaborate and support our work in the area by providing us with office space to operate in the area. In Appreciation for the support to our indigeneous people in the region, the community and local leaders have dedicated the Center in Mbengwi named "JRCCA AMERICAN CORNER IN MBENGWI NWR IN CAMEROON"! Popularly called (JACIM) . Currently our IT Manager for Cyber Cafe is researching and planning the development of a Cyber Cafe in each of the five zones. Research and development is ongoing in working with each zone directors to select office space and market the project in each zone.
We continue to network and expand our work in the Garden in California as we reach out to other African countries who have the same needs and concerns as we have in Cameroon. Our first efforts to reach out to other countries in Africa included a zoom conference with representatives in DR Congo and the Ivory Coast. We have applied for authorization with the Cameroon government to provide a walkie talkie network between our five zones to improve communication with zone directors. We are supported in this venture with support from networking in the Garden in California, USA!