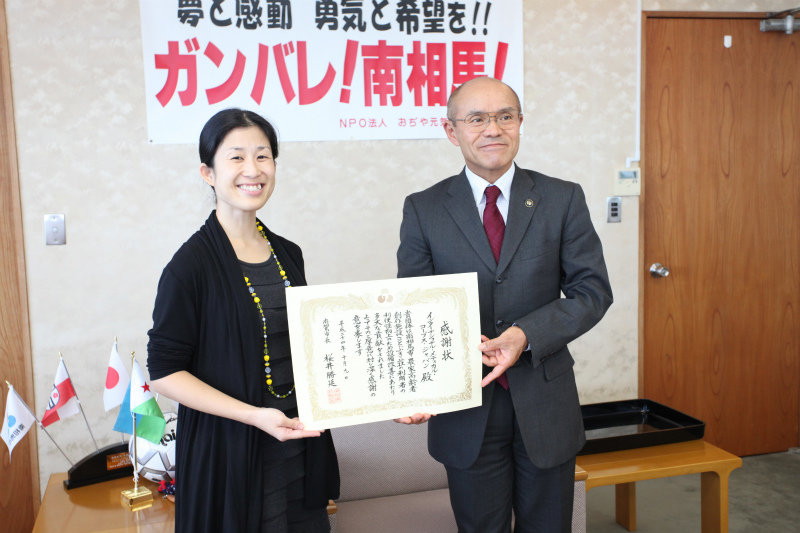 We're halfway through GlobalGiving's Japan Matching Campaign and we still need your help to reach our goal. Through November 15, GlobalGiving is matching donations to our Japan projects 100%—doubling the impact of your contribution!
Consider this: To express his gratitude for International Medical Corps' work in Japan, the Mayor of Minami-Soma City, Fukushima Prefecture recently presented us with a letter of appreciation. The Mayor's thanks came for our help in renovating a government-owned community center, which is currently being used as a vocational training center for the disabled. We installed new bathrooms and ramps to make the center handicap-accessible.
And this represents just one of the most recent examples of International Medical Corps' community-building activities in the aftermath of Japan's devastating tsunami and earthquake. We've been on the ground helping Japan rebuild since 48 hours after the disaster last year. All of our current projects focus on Fukushima, where the Daiichi Nuclear Power Plant was damaged and people remain evacuated from their homes.
To help you support our work, GlobalGiving will match your donations to our Japan projects dollar for dollar between November 1 and 15.
So make sure to give before November 15 to make your gift count twice.
Thank you for your invaluable support for the people of Japan!
GlobalGiving's "Tohoku Recovery Matching Campaign" will provide $100,000 in matching funds to projects that are related to earthquake and tsunami recovery activities in Tohoku, Japan. All (online ONLY) donations through Global Giving will be matched 100%, up to $1,000 per donor and $25,000 per organization. The campaign runs from 12:01am on November 1 to midnight on November 15, 2012.