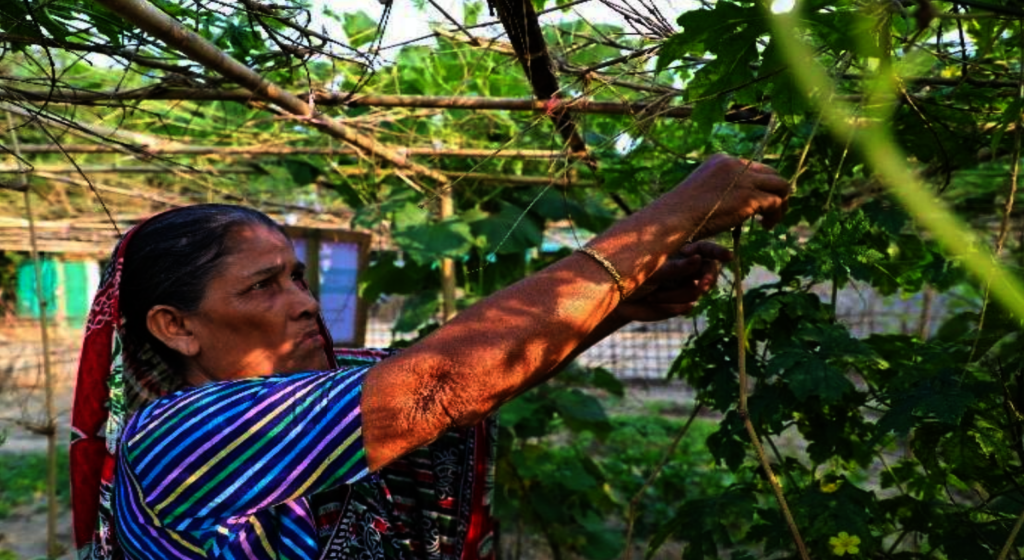 More than two years after the onset of the Rohingya refugee crisis, BRAC continues its efforts to support thousands of families. While meeting urgent, immediate needs is still a priority, we are also working to build long-term resilience and sustainable livelihoods for refugees and host communities affected by the crisis — including people like Rabiya, a member of the local host community.
When Rabiya was offered the opportunity to learn home gardening, she was eager to participate. After the training, BRAC equipped her with the inputs and tools to get her garden going, including seeds, manure, and tools such as a watering can, spade, and hoe.
Through ongoing training and mentorship from BRAC field experts, Rabiya has expanded her vegetable garden. Today, it is thriving.
"I produce vegetables in my own garden now," she shared. "We eat them, sell them, and I can use the extra money for my children's education." She said that her family of 11, including her children and grandchildren, love the garden and enjoy helping her take care of it.
This season, the produce from Rabiya's garden was significant. She harvested several pounds of local vegetables, including calabash gourds, bitter melon, and red amaranth, selling the excess in her own produce stand.
Having found success with her garden, Rabiya is also sharing what she has learned. "When I have spare time, I help my neighbors to set up and expand their gardens," she said.
Rabiya's family is one of more than 3,000 in the host community that BRAC has helped establish home gardens, bringing fresh, healthy produce into the homes and markets of Cox's Bazar.
And in addition to home gardening support, our team of more than 2,500 expert staff and 5,000 volunteers are supporting thousands of refugee and host community families like Rabiya's with a suite of critical services and support. To date:
Over 60,000 children are enrolled in nearly 800 learning centers.
We have conducted nearly 850,000 outpatient screenings in community health clinics.
Nearly 750 women are being trained in artisan embroidery techniques and connected to markets.
We are supporting more than 50,000 vulnerable people through protection services including psychosocial counseling, legal aid, referral services, and awareness training.
None of this would be possible without your continued support. Thank you for standing with families affected by crisis.
Links: