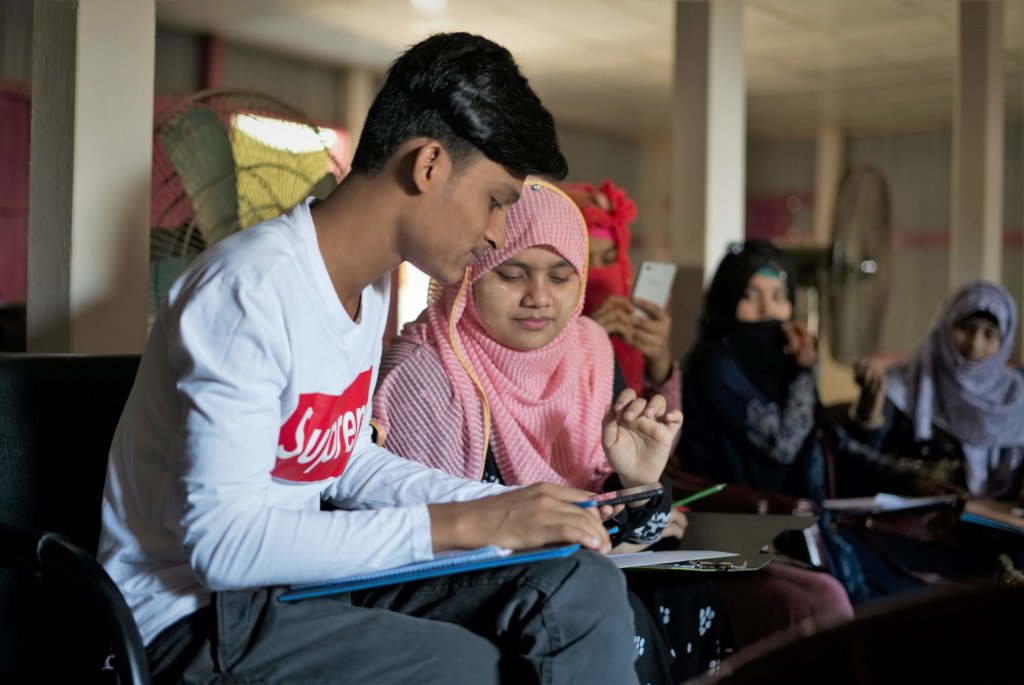 Shamim* is a 21-year-old refugee who fled his home in Myanmar in 2017. Now he lives with his older brother in Cox's Bazar, Bangladesh, in the largest refugee camp in the world. Known by his friends and peers for his positivity, he always has a smile on his face.
Shamim believes that education is one of the most important things in life, and compares the lack of one to having a head without a body. Because of this belief, he provides free, private tutoring to young Rohingya men in his community during his spare time.
Shamim's story is just one of nearly 900,000 unique stories of hope and resilience in Cox's Bazar, many of which have gone untold.
"Rohingya people have seen so many things and our situation is so different," said Hasina,* a 22-year-old Rohingya woman, when asked about her experience as a refugee. "I want to be understood from my own words and photos. I have so much to share about my people."
To ensure these stories do not remain untold, BRAC partnered with the World Food Program to train young Rohingya refugees on digital communications. Through the Storytellers project, 30 Rohingya women and men participated in trainings on storytelling principles, digital photography, social media, and filmmaking with mobile phones.
Now, Rohingya youth like Hasina and Shamim can share their stories and experiences from their own perspective. The initiative enables trainees to amplify their voices and the voices of others in their community, all while developing valuable technical skills in communication.
Training youth as digital storytellers is just one way BRAC is supporting people affected by the crisis. What began as a lifesaving emergency in Cox's Bazar has transitioned to a humanitarian intervention for the more than 500,000 refugees that BRAC now supports. With new skills that can help build sustainable livelihoods, BRAC aims to develop individual resilience and strong communities.
For example, a new artisan tailoring training program connects Rohingya and host community women to Aarong, a BRAC social enterprise and leading lifestyle brand that stocks ethically-made products. Thousands of Rohingya men and women are being trained in demand-driven skills, which also include solar installation and mobile phone servicing.
Last month, the international community marked World Refugee Day. By the end of 2018, a record number of people — 70.8 million — had been uprooted from their homes due to war, persecution, or violence. It has never been more critical to stand with refugees.
Thank you for your continued support of communities affected by crisis. With every dollar you donate, you create opportunity for people like Hasina and Shamim to learn new skills, share their stories, and rebuild their lives.
*Names have been changed to preserve anonymity.
Links: