Project Report

| Oct 28, 2020
What Does the Future Hold?
By Dr. Corinne Taylor-Smith | Project Leader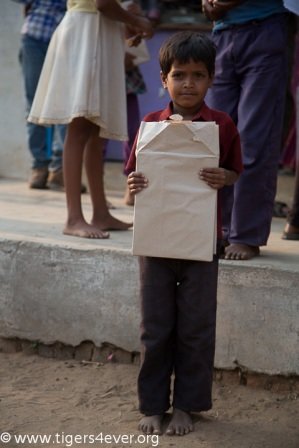 In the last seven months, families all over the world have faced new challenges due to COVID19, lockdown measures, home-schooling, etc. The list still seems endless as does the ongoing threat of this disease which has blighted every corner of the earth. In rural India these challenges have perhaps been more devastating than elsewhere as the people are already isolated, dependent on daily work being available to subsidise their subsistence existence and help their families to have a better future than they had.
In our last project newsletter we asked you to imagine the challenge of home schooling without a computer, without the internet, without even books or a desk where your children or grandchildren can work – did you have that thought in your mind? How did you cope? We suspect that the prospect was one which you wouldn't want to face?
In rural India, around Bandhavgarh, families are faced with all of the above challenges and no work, no food, no electricity, no running water and everyone being locked down together in a single room for over seven months. Now that is unimaginable isn't it? Sadly, it is a reality for the majority of families living around Bandhavgarh Tiger Reserve, and what is worse is that the schools in rural India have been closed for 7 months and have no plans to reopen yet! So you must be wondering why we are writing another appeal for educational resources when the children can't even go to school. Let me share a real life experience of someone living in Bandhavgarh right now, with you:
Sandip is a 7th grade student in Manpur, a village several kilometres (miles) from his home in Ranccha village, Bandhavgarh. Sandip's mother Diya owns a sewing machine and makes clothes to sell to the people in her village so she can put food on the table for her family and send her children to school. Sandip's father, Rajesh, was a farmer like his family had been for hundreds of years, but one day in 2019, whilst he was harvesting his sugar cane crop, Rajesh was bitten by a venomous snake and died in his field. Diya was left with 2 young children, Sandip and Durga. Durga is only 4 so still too young for school. Sandip, devastated by the loss of his father, wants to be a doctor so he needs his mother to sell clothes so he can go to school. Diya said "Since the lockdown, I can earn little or nothing. My usual customers have not been able to earn money and are therefore unable to spend any. I am finding it difficult to make ends meet – we are even falling short of food for Sandip and Durga. We are grateful for the food parcel which Tigers4Ever sent, but that is mostly gone now and I desperately want to sell clothes so that I can send Sandip to school when they reopen. I want him to study well, but we don't have a computer or electricity so I hope that he will be able to go to the special classes in Tala where he can use a computer to continue his studies and learn to speak English too. I want Durga to go to school next year too; it would make me so happy to see my children learning new things. If Sandip can study well and become a doctor one day, this would fulfil his dream and my dream for him too". Diya says that she has an empty purse but her heart is filled with ambition for her son and daughter too.

Parents like Diya have great hopes and ambitions for their children, they want them to have a better life than they have had, it is only natural really as most parents want this for their children, the world over, too.
We would like to help families like Diya's to ensure that their children get a chance to complete their education too. So when this COVID19 nightmare ends we'll be looking to fund scholarships at a new school in Bandhavgarh too, in the meantime, we'd still like to provide materials for the special classes too. If you'd like to be continually involved in supporting the education of rural children in Bandhavgarh like Sandip and Durga, you can start a monthly recurring donation for a small amount, which will make a huge difference in offering future education for them. The link to start a recurring donation is: https://www.globalgiving.org/projects/education-saves-tigers/?show=recurring.
Imagine the Difference
Cast your mind back to the beginning of this report, the sense of despair and uncertainty brought about by COVID19, sensations which sadly are all too familiar right now. So wouldn't it be truly amazing if out of this despair we were able to give at least 30 children the chance to speak English, a skill which they will need if they are to become tiger protectors or doctors in the future? You could make that happen too.
Remember: when we provide education packs and scholarships for children living with wild tigers we are reducing the risk of future tiger habitat destruction AND ensuring that these children have the opportunity to become future tiger protectors.
I would like to thank you for your generosity and support on behalf of the wild tigers, which we are keeping safe; on behalf of the children who we have helped to get an education (and their families who will have food because of this help); and on behalf of the wider tiger community in Bandhavgarh, which benefits from providing books and writing equipment for inclusion in the education packs which we distribute. Stay Safe in these challenging times.
Links: