By Dr. Corinne Taylor-Smith | Project Leader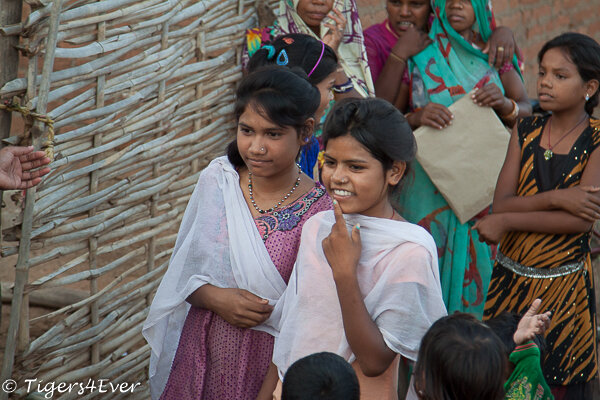 Thank you again for your amazing support in these challenging times. Your donations over the last few months have helped us to provide education packs for another 240 children living with wild tigers. This means a great deal to the rural Indian families whose children lost so many opportunities for education whilst the schools suffered extended closures following the COVID pandemic. Our attempts to resurrect the pop-up nature schools in rural villages for children without access to state schools is still being hampered by resource shortages, so we are trying different solutions to help. Your generosity means that another 240 children have education packs with essential writing materials so they can learn to read, write and protect their forest home and give wild tigers a wild future.
Something Different
This year we have recruited more volunteers, including some in India, who have helped to distribute education packs to the children in rural villages and to gather new ideas to help educate these children about the importance of wild tigers and their forest home. We will continue to work with our new volunteers to ensure that learning about the forest and the wildlife within it will be fun for the children who will provide the next generation of wild tiger protectors. We've also worked with our new corporate partners, the Tiger Chi Community to develop some fun resources to help the youngest children to learn to draw and colour. By taking these new art resources into the villages, we can give every child an opportunity to learn about wild tigers.
We're also developing a new volunteering partnership which will enable us to create bi-lingual educational resources on forest safety and protection for all age groups, including adults, so that our anti-poaching patrollers can distribute these when patrolling around villages and encountering villagers in the forest. We also hope to develop an audio resource which can be delivered by volunteers in the villages as part of a wider awareness and environmental protection programme.
Distribution Challenges
In our last report, we told you how we've had to use our patrollers to distribute education packs whilst on duty, due to our own resourcing issues. This has presented an even bigger challenge since the start of the monsoon season on 01 July when we increased our patrolling to quadruple standard patrolling as we address the increased risk to wild tigers in the peak poaching season. If you've read our recent report on the work of our anti-poaching patrols: https://tigers4ever.org/peak-poaching-season-and-a-late-monsoon/ you'll be aware that the monsoon rains are extremely late this year in Bandhavgarh which will have a huge impact on the farming community too.
The latest hardship will mean that distributing educational resources for both children and adults will take on greater importance than ever. Thus we need to find new ways to raise funds for the essential educational resources and new ways to ensure distribution without impacting our other work. One of these solutions is the distribution of education packs via open days in state run schools.
Working with Village Schools
We have made arrangements to distribute the 240 education packs at three schools in the villages of Barwara, Sakariya and Chakaria in the Dhamokhar Buffer Zone of Bandhavgarh. In each village, the teachers will call the children in their villages to the school where Tigers4Ever representatives and volunteers will distribute the education packs and talk to the children about wild tigers and the forest. We want to continue this initiative across a wide number of schools as we hope that when the children go to school to get their education packs, they will meet new friends and enjoy learning so they will keep going back. In order to do this we will need to raise funds for many more education packs, even if we select the schools in the smallest villages. If you're able to help us do this, please donate now at: https://goto.gg/32565, even the smallest donation can have a big impact in the lives of these children.
Although we can't help every child in need right now, we can help to prevent at least 240 children missing out on schooling by ensuring that the education packs we distribute will benefit children in these three key age groups:
Early learners – Aged 4 – 7 years
Junior learners – Aged 8 – 11 years
Older learners – Aged 11 – 14 years
For every £1400 (US$2000) we raise, we aim to send 450 children living with wild tigers to school. We will try to distribute this evenly across the three age groups with one third of the packs for each. We will continue to distribute all education packs in the hardest hit villages, and will try to raise further funds so that we can also help the pop-up schools when these resume. (https://goto.gg/32565).
Making a Difference
Another 240 children who didn't have access to remote learning due to poverty, no electricity and lack of technology throughout the schools' lockdown now have the opportunity to start or resume their education, thanks to your generosity. If you are able to help us help more children to have an education and become tiger protectors rather than foragers, please consider a new monthly donation as it's never too late to make a difference: https://www.globalgiving.org/projects/education-saves-tigers/?show=recurring.
In the meantime, we will work hard with our now volunteers and partners to develop and distribute the educational resources which our current funding allows. Thankfully, due to your amazing support and donations we've provided education packs to support the learning of 240 children, this time. Sadly, there are still thousands more children who desperately need your help! https://goto.gg/32565
Long Term Impact - Help is Still Needed
Our experience has shown us over the last 12 years, that without education, the prospects for the poorest children will be limited to picking tendu leaves, mahua flowers, amla fruit, from the forest to sell. Others will chop down trees and clear precious forest habitat to create more land for agriculture. Children from the poorest families still have no access to online learning facilities, as they live without electricity or access to technology. https://goto.gg/32565
Your support for our work is amazing. We definitely couldn't keep wild tigers safe without it. As the world tries to rebuild its lives, we hope that we can provide a brighter future for some of Bandhavgarh's poorest children. If you can help to support the education of Bandhavgarh's poorest rural children by starting a new monthly recurring donation from just £5 (US$8) per month, you will make a huge difference for at least 15 children in a year: https://www.globalgiving.org/projects/education-saves-tigers/?show=recurring.
In Bandhavgarh, for the thousands of young children with no access to schooling, without computers or mobile phones, without electricity in their homes, a bleak future awaits. These are the children who Tigers4Ever has always tried to help with books and basic writing materials which give them hope. With your help we give them a chance to go to school which otherwise they may not have.
You Can Make a Difference Today
We want to ensure that the poorest children get a chance to complete their education. We want to do more but we need your help to provide education packs so children can go to school right now. Your donation of £25 (US$40) can make that happen for at least 5 children right now: https://goto.gg/32565.
Remember: when we provide education packs and scholarships for children living with wild tigers we are reducing the risk of future tiger habitat destruction AND ensuring that these children have the opportunity to become future tiger protectors.
I would like to thank you for your generosity and support on behalf of the wild tigers, which we are keeping safe; on behalf of the children who we have helped to get an education (and their families who have food because of this help); and on behalf of the wider tiger community in Bandhavgarh, which benefits from providing books and writing equipment for inclusion in the education packs which we distribute. Stay Safe.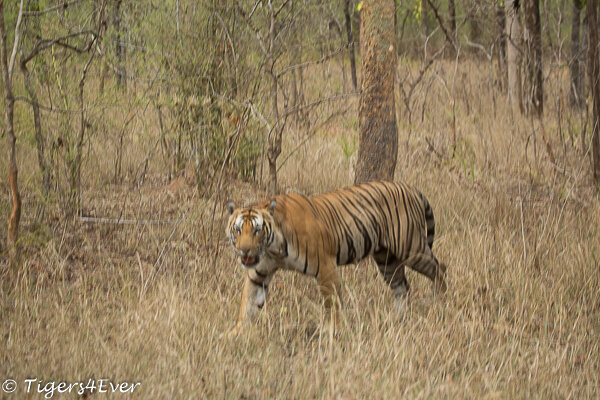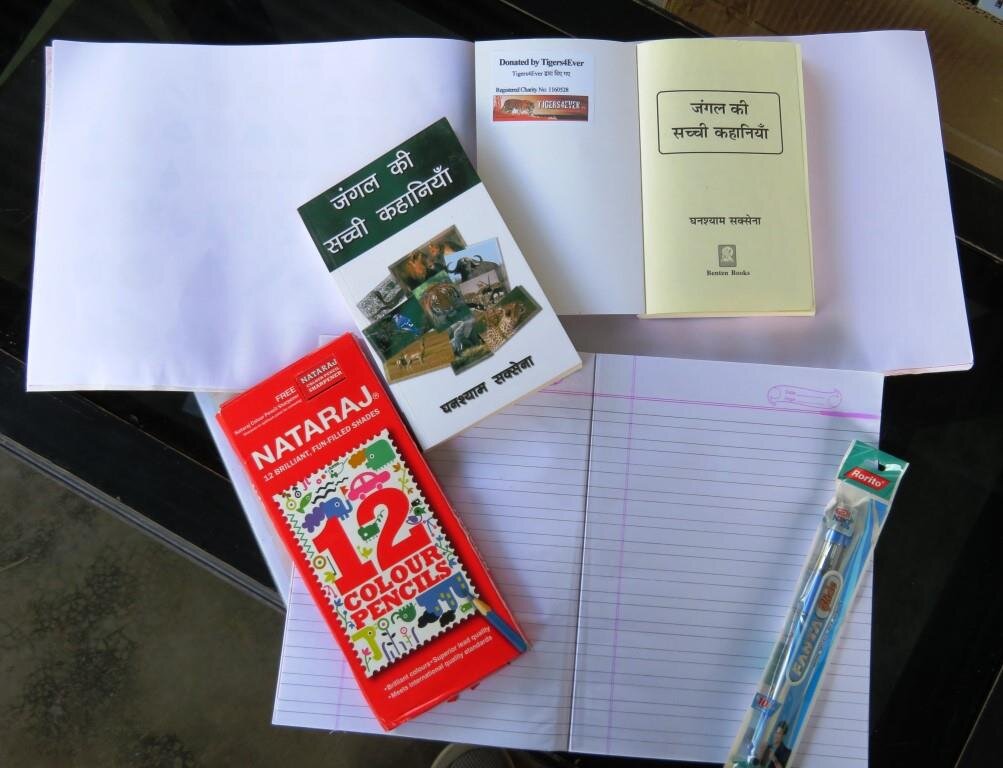 Links: