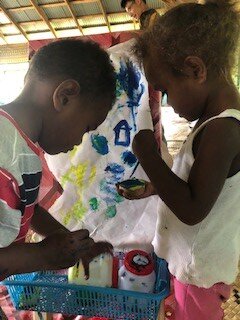 We appreciate your ongoing support for our education project. It allows us to provide valuable support to a group of young learners.
Early education is fundamental to children's development. Providing a range of experiences where children can explore, experiement, learn new words, socialise and create, all mean a holistic approach to child development.
These skills and experiences are then built upon as a child grows, develops and moves on to their school years. Our Learning Through Play program focusses on children from 3-4 years and is a valuable opportunity for childen in the village.
As adults we can structure play scenarios to facilitate a childs growth and development. Let's take the example of providing some blocks for the children to play with. It helps them develop hand- control skills as they pick up the blocks and arrange them, problem solving skills as they work out ways to build a tower, sharing as they work with other children and persistence as they strive to build their structure without it tumbling. Throughout these experiences, adults can interact, perhaps helping them to count the blocks, or maybe pointing out the colours. These are valuable learning activities within the structure of a play environment.
Another aspect of this pre school program is reading storires.. Through stories children learn to listen, imagine and comprehend. They expand their vocabulary and learn that words have meaning, an important basis for developing literacy skills in ther school years.
Your support allows us to supply a range of resources where children can play and explore, leading to valuable learning opportunities. Children learn in different ways and at different rates , by having a range of resources it allows us to cater for the various needs of children in the play group. It also allows us to build a good resource of books and stories to help children enjoy reading and develop their literacy skills.


We thank you. Your donations help purchase supplies and resources to ensure young children have a range of opportunities for development.