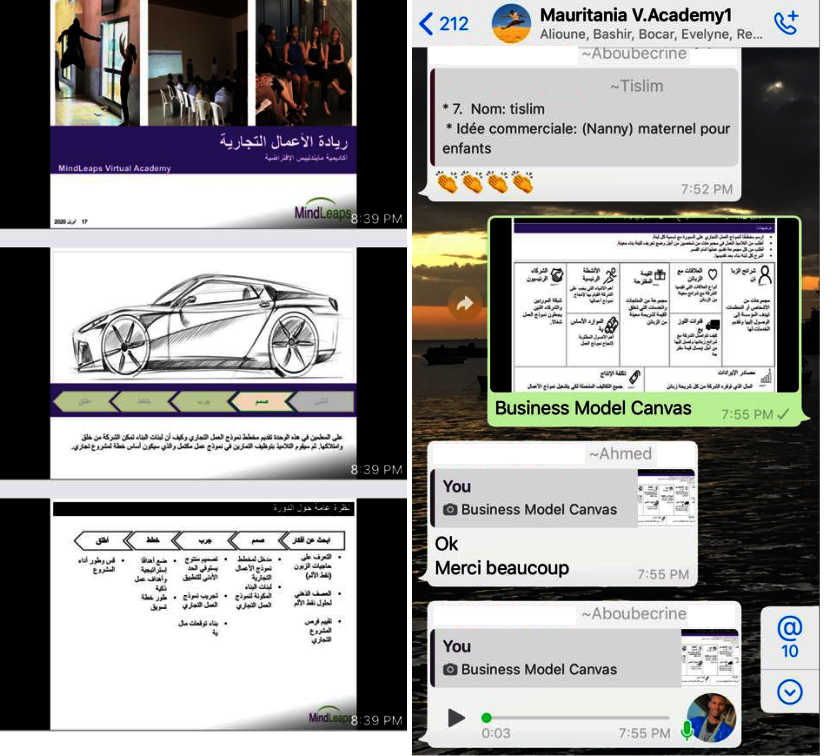 During the pandemic, MindLeaps has launched a Virtual Academy to continue the education and skill development of our trainers and students. To accommodate low bandwidth locations, minimal electricity and poor living conditions, the classes are delivered through WhatsApp groups and by low-resolution videos on smartphones. Through this format, the Academy enables international experts to deliver culturally modified curricula in five core subjects: Business Entrepreneurship, Project Management & Budgeting, Child Development, Communications, and Inclusion.
MindLeaps launched the Virtual Academy in Nouakchott in mid-September supported by the U.S. Embassy in Mauritania. The curricula, homework assignments, and video and audio lessons are available to the students in English, French, and Arabic. Twenty youth between the ages of 16 and 25 are part of the initial group – ten are current MindLeaps dance trainers and ten are youth from the community who attend programs at our local partner, SOS Pairs Educateurs.
The Academy began with a one-week course on digital literacy, followed by a five-week course on Business Entrepreneurship. The students take class from 4:30pm-6:30pm, Monday through Friday, followed by homework assignments on their own schedule. For the practical part of the course, students brainstorm business ideas and then pitch their businesses in a five-minute presentation in the final class. As always, MindLeaps leverages the skill of its trainers and staff from across the world in executing its programs. The Teaching Assistant for this course is Yves, one of MindLeaps dance trainers from Oruchinga Refugee Settlement in Uganda.
MindLeaps Virtual Academy measures the students' progress through quantitative and qualitative data assessments. On the quantitative side- information is collected on engagement, attendance, and homework completion. Qualitatively, MindLeaps examines the growth of hope, long-term vision, and community building. The impact of the Academy is to equip these 20 youth in Nouakchott with skills they can use to be economically independent, as well as become effective youth leaders in their communities.
In an exciting milestone, Mauritania's low infection rates are enabling it to currently reopen its schools. In accordance with governmental guidelines, MindLeaps dance classes can resume next month at our partner SOS Pairs Educateurs.