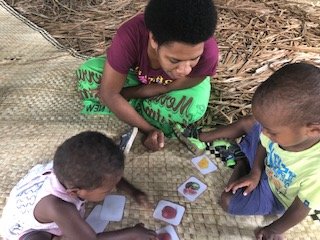 The importance of early childhood development is gaining prominence in Fiji, which offers opportunities to develop the programme in line with emerging Government initiatives. Minister of Women, Children and Poverty Alleviation, Mereseini Vuniwaqa, noted that the inclusion of early childhood development in the SDGs obliges Fijian Government to ensure that the youngest citizens get the best start in life, and the government has consistently invested a large part of the national budget in the education sector.
It has been highlighted that access to Early childhood education (ECE) can provide children who have been marginalized by poverty, ethnicity, disability, location or gender, the means to engage in academics and achieve better for the future.
One part of our early childhood development project is an introduction to early childhood development to provide caregivers /community members with information on developmental milestones .The workshops focus on the importance of parental involvement in early childhood development in relation to the development of language and communication skills; motor skills; collaboration; and problem-solving.
Key Aspects of Effective Learning:
Playing and exploring - Promotes engagement: Finding out & exploring,playing with what they know,being willing to try.
Active learning - Promotes motivation:Being involved & concentrating,resilience in trying,enjoying achieving what they set out to do.
Creating and thinking critically - Promotes cognitive thinking:Having their own ideas,choosing ways to do things,making links .
It also covers the benefits of good nutrition on early development.
The workshops complement and build upon established workshops delivered by volunteers on the Community Project at the local Mothers and Babies clinic.
The main goal is capability building with care-givers that shares ideas on productive play and involvement with children, including creating activities and making toys that promote cognitive development and encourages the continuation of learning and family bonding at home. We are looking forward to getting this part of the project up alongside the "Learning Through Play" projects in the communities of Nasinu , Silana and Nataleira villages .
Our ongoing efforts have been bolstered by your generous support and we are deeply grateful for your contribution.