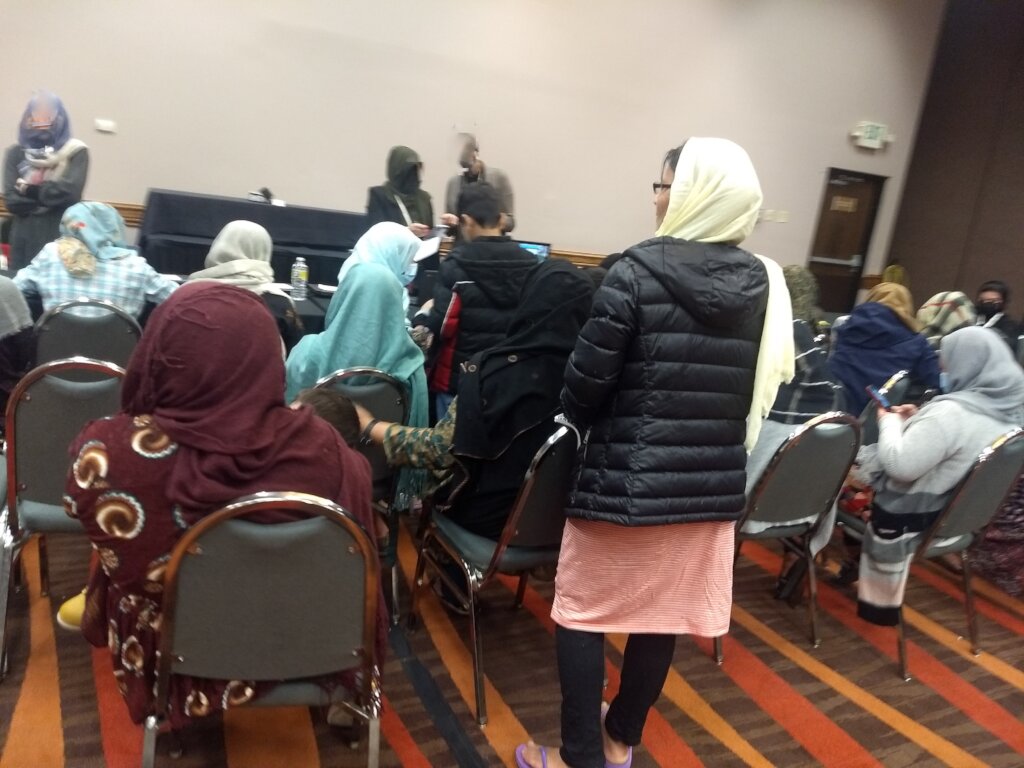 We are so grateful to all those who donated to this project. This was an incredibly successful project! We were able to provide digital literacy training to over 120 adult refugees and immigrants in the Denver metro area. This project showed the importance of mobile classrooms to improve digital equity and inclusion in Colorado.
In Februrary, in partnership with the State of CO, Teach by Tech offered 6 workshops at the temporary housing location for newly arriving Afghan refugees. These were drop-in sessions for adults to receive assistance with state provided Chromebooks. We worked with individuals and small groups to set-up Chromebooks; create email accounts, pair Chromebooks to mobile phones and connect to wi-fi. The instability of wi-fi made hotspots necessary. TBT explained the significance of a hotpot and the availability of hotpots at public libraries. At the end of each session, we had participants sign off and login to their computer/email to determine understanding. For repeat attendees, we taught students how to read, compose and reply to emails, use the camera feature and how to use a variety of personalization features on a Chromebook.
In March, TBT offered 5 weeks of consecutive training classes divided by gender: Tuesday Women's class 5 weeks 10 hours of training and Thursday Men's class 5 weeks 10 hours of training.
We had between 18-25 women arrive to each session. The women were interested in learning and excited for the opportunity. Challenges arose because few women had access to a computer, despite all families receiving a computer. Most lessons were focused on digital literacy skills that could be taught and implemented using a mobile phone and/or computer. We provided 12 laptops each class and modeled all skills on computers and mobile phones. Topics covered: Opening, reading and sending emails; Connecting to wi-fi; Google Maps, Google Translate; Internet Basics and searching and registering in Connecting Colorado.
The men were on average more knowledgeable about computers and had access to the computers on a more consistent basis. However, there was a great fluctuation in attendance. For those who consistently attended, we were able to register in Connecting Colorado and use Google Docs to begin writing resumes and skill sets. Because, most men had an email account set-up, we worked on writing emails with proper formatting and etiquette. The men were mostly focused on finding jobs. We were able to help about 50% register in Connecting Colorado. Several we could not register because they had not received SS#'s. TBT spent a few sessions on practicing internet searches and looking at reputable websites for job discovery. Most were able to find jobs that were interesting and save job ads for a later date. We introduced Google Docs and taught features as related to developing a resume.
In partnership with Asian Pacific Development Center, we offered 2, 8-week training courses. Each cohort received 16+ hrs of training. The first cohort consisted of 8 men and women and the 2nd cohort consisted of 7 men and women. With each cohort we followed the Northstar Digital Literacy curriculum and registered students into the online portal.
Thank you so much for all your continued support of Teach by Tech and making refugees feel welcome and supported in their new homes.
Warm regards,
Linnie Pawlek