Dear Friend of Art Studio,
As we near the end of the school year and begin to prepare for summer programs, our Art Studio would like to take a moment to update you on how your support continues to educate, empower and heal at-risk youth in the Little Haiti community of Miami, FL.
Art Studio's in-school and community location programs have continued to empower youth in need with creative thinking and career preparedness skills; introducing healthy means of self-expression, promoting self-confidence, and guiding youth on a path towards academic, personal, and career success.
Our students at Miami Edison High Art Club recently had the opportunity to attend a national film festival and conference in Washington, D.C. to celebrate their success as finalists in the 'If I Had a Trillion Dollars' film contest and learn more about Media, Leadership and Advocacy. Read more about the project here
For our friends living in or visiting the Miami area, you are invited to join Art Studio and our partners, L-M-N-T Gallery and Vision Launch.org, on Thursday, May 17th from 7pm - 9pm at L-M-N-T gallery (55 NW 36th St. Miami, FL 33127) for an inspirational event exploring the power of transforming a vision into reality.
In addition to live performances, visual art and a panel of visioneers, the even will highlight the results of a student workshop exploring the personal visions of Little Haiti youth. A portion of the nights proceeds will benefit Art Studio to continue empowering youth to pursue their dreams.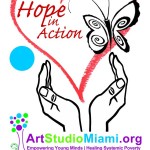 Thank You for your continued support of Hope in Action! Stay tuned for our upcoming end-of-year newsletter with detailed updates and photos from the field, and visit our Facebook Page and Website for more.
With Gratitude,
Our Art Studio Team