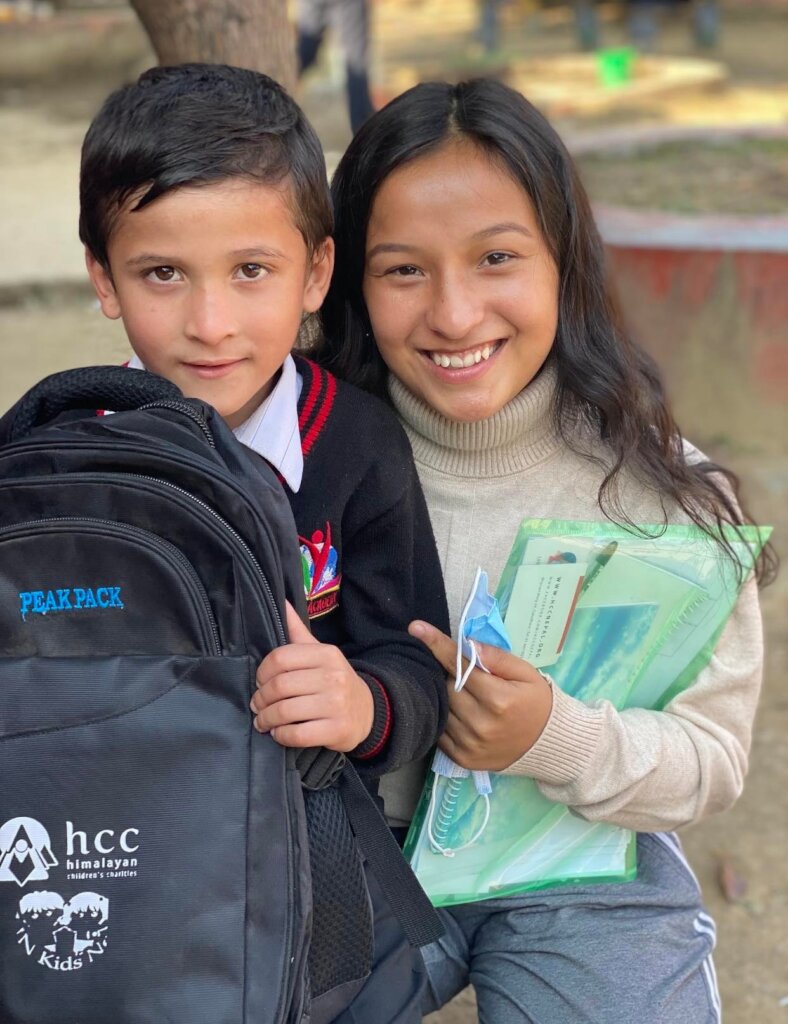 Currently, Himalayan Children's Charities is supporting 81 students in this program. The majority of these students live with surviving family members and receive direct financial support through scholarships. Nine students in our program are currently unable to live with their families, and we have placed them in well-vetted boarding schools that are close to their families and communities of origin. Eight students are receiving support to complete their Bachelor's Degree.
In summer 2021, HCC began a community relief project related to the food shortages and further hardships experienced during the ongoing COVID-19 pandemic. Currently 106 students and their families are receiving food support and essential school supplies.
In mid-December 2021, HCC Nepal staff Mun Maya and Laxmi, along with Angela and Ram (HCC university students / HCC-Nepal interns from Kathmandu), traveled through the rural areas of Dhading district to visit scholarship recipients, boarding school students, and newly selected studentsand their families.
During this trip, the team were able to meet with 65 students and distributed;
Regular scholarship funds, family support stipends, and school stationery supplies as well as extra COVID-19 relief support and personal care items including masks, soap, and sanitizer.
Warm winter socks, caps and muffler to 65 students

Menstrual pads to 50 mothers and female students

Menstrual cups to 20 mothers and female students
Emotional, academic and career counseling to the parents and students in grade 10 and above and provided information regarding applying to HCC Higher Education Scholarship Program for future study.
Roman and Kiran* are confident and smart students. Roman is 15 years old and Kiran is 12 years old and they study in grade 10 and grade 7 respectively. They live with their father, step-mother and half sister in the village. Their father works as a teacher whereas their step-mother is a housewife. They both had online classes only for sometime during lockdown, however neither the teacher nor the students found it effective. Both the boys are doing excellent in their studies and are in the top 5 students of their class. They learned computer typing and helped their mother and father in the household chores and field during lockdown. They both did practical mushroom farming during lockdown as they are interested in experimenting with new things. They also like acting and take part in dramas in school as well. Roman aims to become a successful actor in the future. Kiran likes working on the computer during his free time. He involves himself in editing videos and photos on the computer. He aims to become a video editor in the future. The boys say- "We regard you as a God in our life who supported us in our worst times and we are grateful for your support and care."
HCC youth Angela shares her experience from the field: It was a great opportunity for me to travel to rural Dhading with HCC Nepal to help to record the updates of the students. It was my first time going to see the children, and it was my privilege to know more about the work done by my older sisters and brothers through HCC Nepal in Dhading. This trip gave me an opportunity to connect with each student I met, and I saw myself in them. Seeing hundreds of students like me with different obstacles made me feel lucky for the beautiful opportunities I have in life. I learned many lessons from the students, too. Listening to their stories and the difficulties they faced in everyday life made me emotional. I was happy to represent HCC Nepal and make a ripple effect in the lives of the students there. The smile and joy I saw in each student's eyes after receiving their scholarships and material support gave me a high level of satisfaction. Apart from this, being the district that I am originally from, I was happy to explore Dhading and learn about the lifestyles of different people. I thank HCC Nepal for making me a part of this beautiful trip.
Rina's* mother says-'' I gave birth to my daughter but you and your organization are her guardians who are taking care of her education and other needs. Thank you, and please keep supporting her and other kids like her.``
When she came to visit us she was in so much trauma. She told us that she lost her older son this year in a tractor accident. He used to work as a tractor driver to support the family and during the monsoon season due to heavy rainfall and flood he got buried in soil and his dead body was never found. We promised her that we will continue to support her daughter until she stays at school and does well in her studies.
All the families of the supported students who came across were grateful and said that the support of the organization has made a positive impact in their lives.
And this positive impact in the life of these students wouldn't have been possible without you sponsors and donors. All the credit goes to you all. Thank you so much for supporting Himalayan Children's Charities.