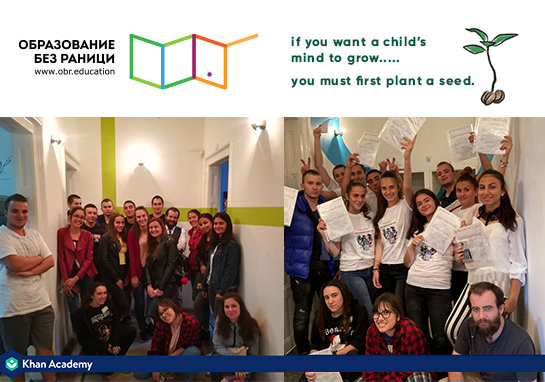 Dear Friends,
There is a famous quote that says: If you want a child's mind to grow, you must first plant a seed. This quote is a great example of the kind of work we have invested ourselves in during the past four months.

Have a look at what we have achieved together, with the support of people like you:

Awarded students - for their Khan mastery in Maths

From April 21 to July 15, 2020 we organized our first online math competition for students in Khan Academy. During the summer we have awarded the winners! They were drawn by lottery and 12 great voucher prizes from Ozone.bg were sent out to 12 lucky and hardworking children. There were also awards for the 3 most engaged teachers who have motivated and registered the most students for this initiative. We continue sharing on social media the inspiring stories of the participants, what they learned and what it ultimately meant for them to take part in this online competition in that hard period when all schools were closed during the pandemic. We have planted the seed that success can be achieved even in times of digital over in-class education - thanks to Khan Academy, the free world-class education platform available to anyone, anywhere.
15 highschool students - our first Khan Academy Ambassadors!
Khan Academy in Bulgaria has its first "Ambassadors", and they are highschool students from Sliven, Pleven and Montana regions! These great young people have embraced the idea of free world class education available to everyone, everywhere and have made it their cause. The seed was planted in the minds of almost 1,200 children who attended the 20 different events organized by the Ambassadors in their home regions in only 2 weeks! We were able to launch this Khan Academy Students' Ambassador Program as a result of a project financed by the National Program for Youth of the Bulgarian Ministry of Youth and Sport. And we hope to continue it with your support!
Our recent social media campaign rocks!
Currently we are advertising Khan Academy on Facebook and Instagram with four new really great visuals, thanks to the support of the US Embassy in Sofia and in collaboration with the Noble Graphics Agency. You can see one of the visuals at the end of this report, and for the rest - just check our Facebook and Instagram accounts, and if you don't follow us there, please do so!
State of the translation effort today
We recently completed and published all content from our World History course.
Now the team is focusing its efforts on translation and proofreading of the Integral calculus and Linear algebra courses as well as the Health and Medicine course. The goal is all of them to be finished and set online by the end of the year.
We also work with few devoted volunteers for translating some new added materials in Science courses, Arts and Computing.
Localization results for the period 01.06.2020 – 30.09.2020:
Translation: 339,7 K words (Math) and 341 videos (2875,5 minutes) - 314 Health and medicine; 13 Biology; 7 Art; 7 Chemistry;
Proofreading: 481,325 K words (Math, History) and 277 videos (2624 minutes) - 202 Math; 55 Health and medicine; 13 Biology; 7 Chemistry
All this is possible thanks to the support of the America for Bulgaria Foundation - our main partner, to the US Embassy in Sofia, as well as to all your support!
Khan Academy usage growth
Khan Academy usage growth for the past 4 months: 17.06. - 30.09.2020
Sessions: 35% growth (compared to same period last year)
Users: 34% growth (compared to same period last year)
Planting the seed of free world class education for anyone, anywhere continues!
In a world where the best services and products normally cost, and they cost a lot, we need to keep reminding people that education, no matter the form - online or in-class, must be world-class, and that world-class education can be fully free and available to everyone, everywhere. We are proud of our new Ambassadors that continue to spread the seed, and of all great teachers whose job is to plant the seed to believe that you can learn anything!
You can help us keep inspiring minds and give them more of the best instruments available to succeed. Please consider becoming a monthly donor, if you are not already, or at least tell your friends about our mission and successes.
Let's plant good seeds together!
Thank you!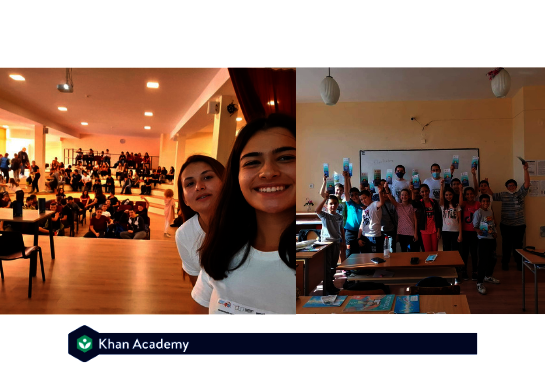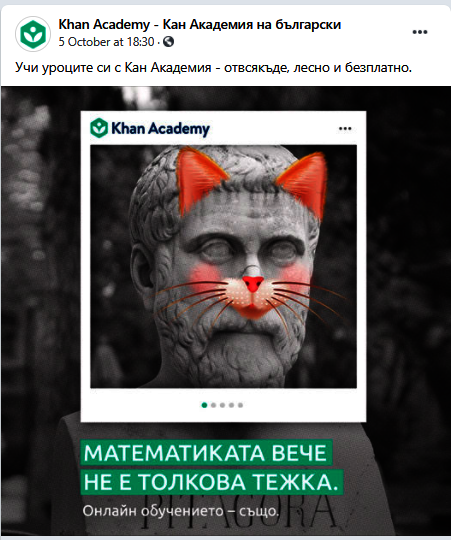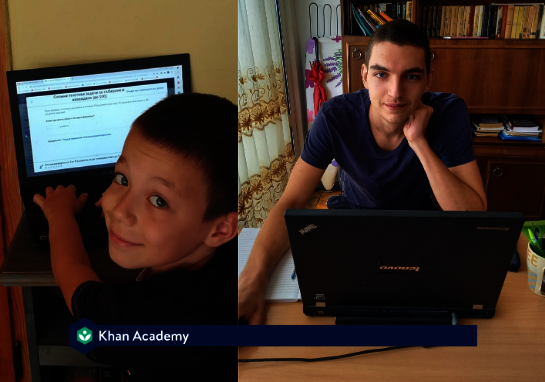 Links: