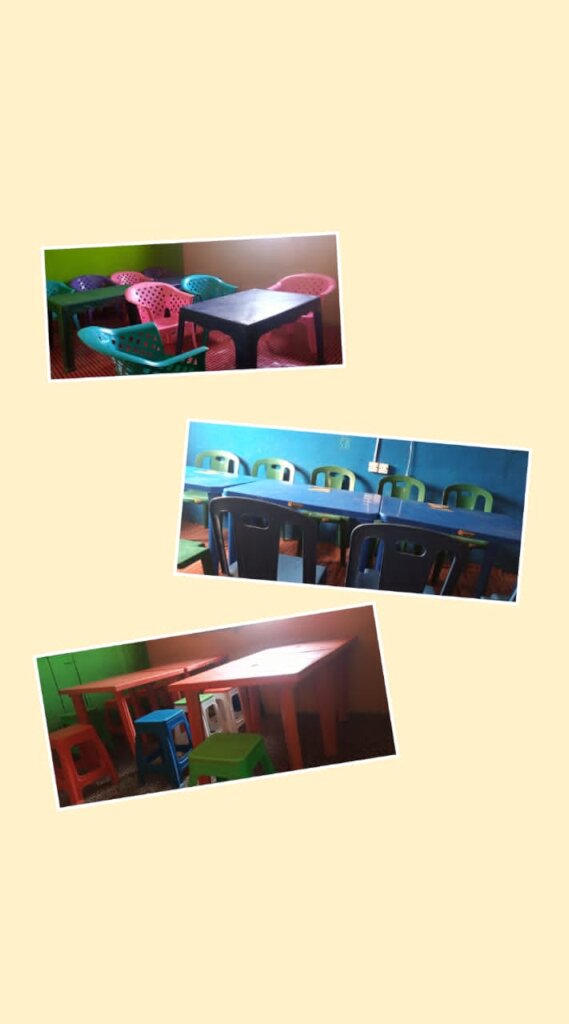 As we all know the major reasons girls drop out of school is due to poverty, lack of sanitary products and facility, a safe and study-friendly atmosphere. With your help we have been able to increase girls enrolment in school by paying for their fees and providing sanitary products, food etc for them.
Recently, the turnout at the girls support centre has been unbelievable, with your generous donations, we were able to purchase more tables and chairs so the girls can sit comfortably without distractions whenever they come to the centre. We also purchased a new shelf so as to neatly arrange the books that were sent to us by Sweetreads, a US based charity organisation.
One of the students that recently received a school sponsorship is Naomi. She is from a family of 8 and the 5th child. Her mother is a petty trader (smoked fish) while her father works at the sawmill. Naomi now attends AUD primary school, she is in Primary four. She enjoys studying, dancing, and playing with her friends. She hopes to become a nurse when she grows up. She was very grateful to receive sponsorship and also register at the Girls support centre (After school club). Our girls not only receive educational support and school supplies, but are also receiving food items and groceries to help with their needs.

Our future plan is to construct a free full school for girls with an ultra modern skills training centre for women, a sport centre, dormitory, staff quarters, large hall, kitchen etc. which will help transform lives and families.
Thank you for your ongoing support towards "Educate and Empower 200 Rural Girls" Project.
You are truly making a difference for girls with your generous support.
As we are yet to meet our target, we implore you to please share this with your contacts and invite them to consider supporting this ongoing project.
We warmly invite you to consider setting up a recurring donation if you haven't already done so.