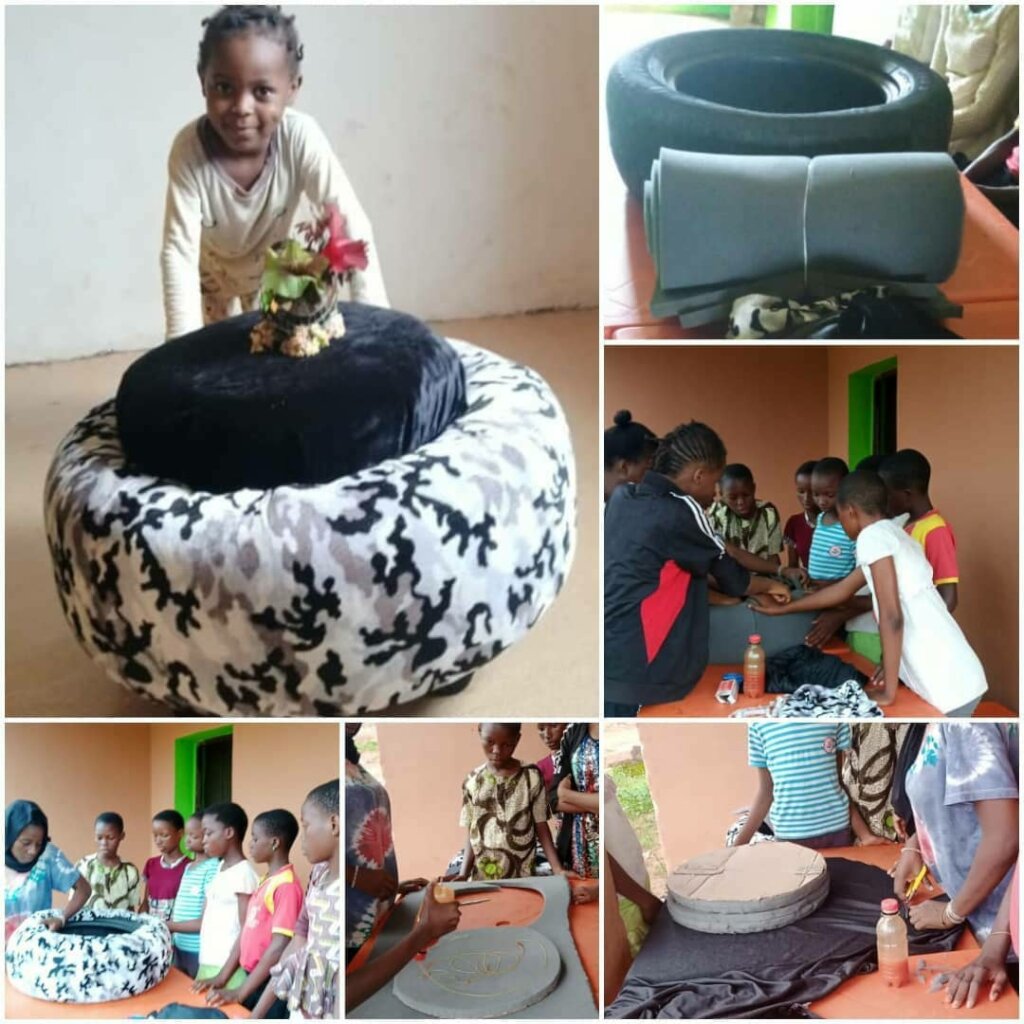 Happy New Year from all of us at SteadFastLove Foundation. Trust you are well and keeping safe. We are overjoyed by your gift cause without you, SteadFastLove Foundation wouldn't be able to serve and give hope to girls in rural communities. You make our work possible!
Do please take this as a quick reminder on who we are and what we do:
The SteadFastLove Foundation is a registered charity organisation that supports girls in rural communities with formal education, skills and vocation training. We also teach body safety education classes across primary schools in rural communities to reduce the likelihood of children being victims of childhood sexual abuse.
During the pandemic in 2020, we launched our free school for girls, a safe haven where girls can read, socialise and play games with their peers. The centre also plays an important role in teaching girls about their rights so that they can protect themselves against harmful practices like child sexual abuse and child marriage. Girls ages 3-17 are taught concepts in Math, English, Science, Body Safety, ICT, Personal and Caeer development, Etiquette as well as Arts and Crafts to bridge the gaps that have arisen from some being out of school. We don't just want to send them to school, we want to make sure they can keep up with their peers and enable them to attain specific grade competent levels.

We Offer:
Home Work Assistance, Healthy Snacks and Meals, ICT class, Counselling, Mentoring, Scholarships, Body Safety Class, Arts and Crafts, Mental Health & Wellness, Physical Fitness & Sports, College & Career Access Programs, Movies, etc.
We provide girls with free sanitary pads to manage their periods with dignity. We also provide them with healthy meals and snacks, since it is important for them to have enough energy to study as many of them do not always get enough food at home. The centre is a place where they are supported to make the most of their potential.
As you know our fundraiser is working to educate and empower 200 rural girls in Nigeria and your contribution has put us so much closer. With your generous contribution, we have been able to secure a projector so the girls can have online classes from volunteers abroad, learn Drone Piloting, Coding, Web designing, Graphics designing and other IT related skills.
We had our 1st Drone Piloting class November 20th, 2021 and had 78 girls ages 7-17 in attendance. The girls also learnt other vocation skills such as Bag making, Recycling of used tyres to make furniture, Liquid soap making, Girls fancy hair band, Bonnet, Hair making, etc to mention a few.
One Saturday afternoon, I looked around to see the Girls Support Centre full of happy smiling girls, everyone of them talking, giggling and enjoying a happy mealtime together. I am really amazed at how your contribution has made this possible. Your contribution has helped us so much. We have been able to provide nutritious meal for girls who don't have access to healthy meals after school by providing them a proper lunch and a safe haven to stay, learn and play games with their friends. These lunch are often the only solid meals most of our girls have during the day and have even helped their focus in class.
Donations like yours are what keeps the Girls Support Centre operational.
At the end of 2021, we had first of its kind 3 day outreach in Nigeria for girls in underserved communities tagged "Weave 4 Love" where we took love to girls in selected locations of Lagos (Ilaje in Bariga, Imota in Ikorodu) and Abuja (Dape Community), offering them free Christmas hair styles of their choice. At the end of the outreach, a total of 105 girls benefitted from the SteadFastLove Foundation's gift to humanity.
We are transforming lives and building brighter future but none of that would be possible without you. With your support, the Girls Support Centre saw a 20% increase in attendance. Thank you for making yourselves a channel of hope and for being part of our success story.
Please see below how we used your funds
Disbursements of $1,198.48 was sent October 25th, 2021
1. November 2021: Purchase of Projector - $200
2. November and December 2021:
Two Facilitators for 2 months @ $52 per facilitator per month - $208
3. November and December 2021: Internet for 2 months @ $27 per month - $54
4. November and December 2021: Meal for 7 weeks @ $104 per week -$728
Total - $1,190
We love you dearly and look forward to your continuous support. Kindly consider becoming a recurring donor and setting-up automatic monthly payments for our project. We need your support more than ever this year to reach our set target. Have a wonderful 2022.
Kind regards,
Yewande Olusore