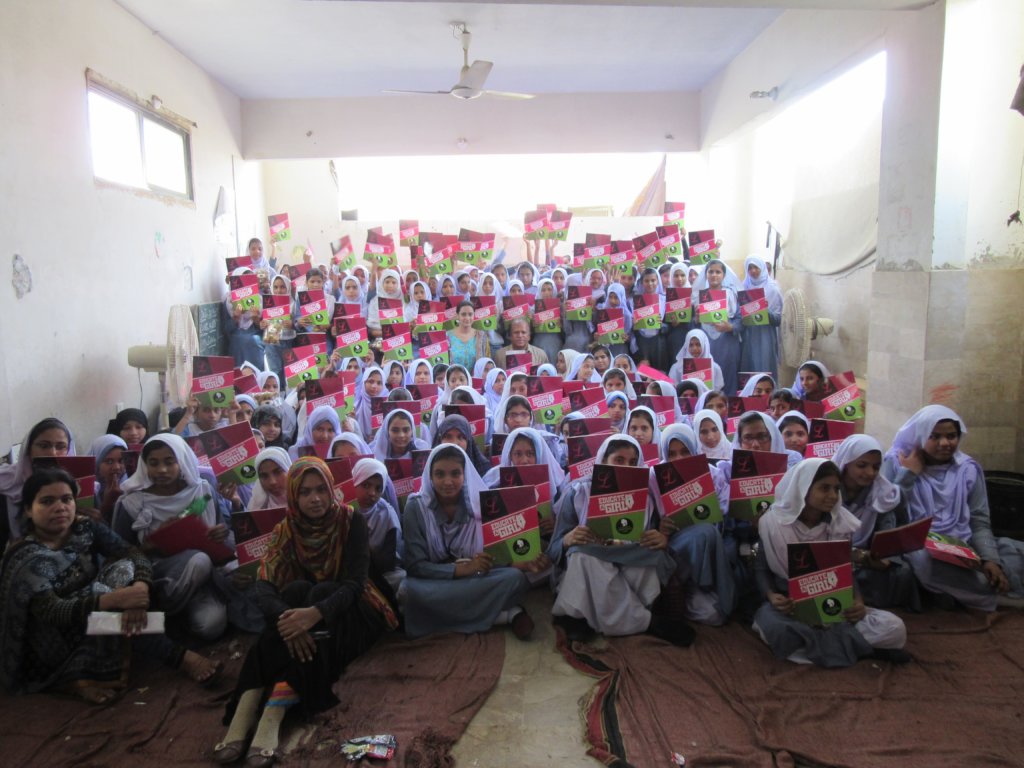 A person's most useful asset is not a head full of knowledge,
but a heart full of love, and an ear ready to listen,
and a hand willing to help others.
As explained in our previous reports, we have a programme, Educate a Girl, which is more focused in Girl education but under it we educate girls vocationally and the girls are usually 18-24 years old but Educate a girl Zakaat is for young girls age 4-16 to help them stay in their schools so they could get proper education which further will help them in achieving their dreams.
Girls who are from underserved, lower and middle class backgrounds, lack access to affordable, quality education. Some girls are often unable to continue or afford their studies due to loss of their homes from poverty, terrorism and communal feuds. Some fathers who have lost their jobs or businesses and/or have limited funds, will likely educate only the sons.
Keeping the above things in mind we realize that its our responsibility to come forward for such girls and while we were deciding that how exactly we should help or find such deserving girls, we came across this school which has almost a thousand deserving students learning and being educated in it for free.
Just to give an idea, the school that we visited was in a grass rooted area where the residents didn't had basic facilities even. There was no proper system for basic necessities like water, gas and electricity so imagine what would be the case with education. Obviously there were not many schools In fact we think this was the only school for the 5 blocks in that locality. Not only that, this school had no support from government.
Obviously a school which Is running on funds only and doesn't get any support from the government even, no matter how much work the school is doing for the society. Such school can provide only the basic things and that's why we were not shocked to see that the building was not luxurious, it was just a building which was still in the process of being built and the class rooms had normal old furniture with old blackboards.
But there was something which was very different than other schools, we got to know that some of the students in the school are orphans and that's why they don't have any place to live so those kids live in the school and there is a place in the ground floor which is built for these orphaned kids so they could have a shelter at least and not only that, the school provides food for all the kids studying and usually teachers eat with these students although we know that in some countries it's a norm that school provide foods or lunch to kids but this is not the norm in Pakistan and that's why we were very happy and satisfied to see this and when we spoke to the administrator of that school, he said they try their best to do as much as they could do for these kids and that's when we decided that we will help educate girls in this school because we felt so good to see not only a school which is helping those who couldn't learn but also those students for whom its not easy to come to school or they are sometime working to earn to feed their families but at least they are trying for a better life and that's what really matters: hope, because as long as you have hope for something, you try for it.
We learnt one more thing that no matter how small your efforts are but they always have a result or reaction. Because although we are just providing a semester fee for these students and trying to help that school a lil but we believe that it will give them an idea that at least there is someone who is thinking about them and that's what really matters because maybe in near future these kids will do the same for some other kids.
We at Educate a Girl couldn't wait to transform more lives and adding more and more girls in our community to help them achieve their dreams but that's need a lot of preparation and also support that we seek from our wonderful donors, so we could transform the lives of these girls.