Project Report

| Aug 10, 2023
St Martins School Update and Report - August 2023
Greetings from St Martins School,
Your contribution, support, and goodwill have enabled us to get here. We are more than grateful for the far that we have come.
We have made good progress since our last communication. We had rain in April, May, and early June. We are expecting a good harvest in August and September. This is good news because it means the cost of feeding the children will come down.
Volunteering: We had two volunteer groups visit our school in June, this is very positive as it is through these trips that we get to share our challenges, our impact, and the community that we serve here in Kibagare. The volunteer visits help highlight the needs of this community and we engage on the possible solutions to help in the transformation of the people in this community. We appreciate the volunteers who go out of their own way and use their volunteer time to visit us here at St Martins's School.
Junior Secondary School: We have 87 students in our Junior secondary school. With the new curriculum students in Junior high school need a science lad, a creative room, and a home science lab for their practicals. As of today, they have been lucky that they can share the resources in our high school because we share the same compound. Thanks to volunteers and employees from Frank Recruitment, Rebura, and Revolent, their efforts and fundraising have helped raise enough funds to help us build a creative room and home science lab. We will have this done at the end of this school year.
School daily feeding Program and Saturday Feeding program: We have continued with feeding the 797 students who attend the school Monday through Friday. The students are fed breakfast and lunch. Food prices are still high but with a good harvest, we expect the prices to go down. Thanks to the donations we receive we have been able to feed the children for the better part of the last three months despite the cost of the feeding.
The Saturday feeding program is still on and we feed between 1400 - 1600 children from the Kubagae Slum and other slums within our location every Saturday. 15,000 children have been fed in the last three months thanks to the support we receive towards this initiative.
Education and Extra-Curricular Activities: The second term of this calendar year started on 8th May 2023. School closed this week for a two-week break and we are to resume classes on the 29th of August. Students have done three exams this term, Opener, mid-term and end-term exams. The exams help the school gauge both the students and the school's performance to determine how we are fairing and areas we can improve on. We have 80 students in their final year of primary school. the 80 students will be sitting their national exams in November of this year. This will be the last class doing the 8-4-4 system that is currently being phased out.
Our students have participated in athletic competitions with other schools within the county. they have done exceptionally well and we have two students who will be representing the school at the National level this August.
Music is part of the new curriculum and we have a school band. The boys and girls have also been able to participate in competitions and have managed positions 2 and 3 and will be representing the school at the nationals this August.
University and Tertiary Education: We support boys and girls graduating from our school to colleges and universities. We have 9 students currently in colleges and universities here in Kenya, two are in Kigali Rwanda. There is a need to support more boys and girls through university and colleges as it is through this support that they can fully make it out of the slum and help themselves and their families.
One of our students graduated this July from the African Leadership University with a degree in computer science, a testament that with education you can truly transform lives.
Counseling: We have continued to offer counsel for our students, parents, and community members. This is helpful in identifying the challenges and community needs and thinking of ways and solutions geared toward making lives better for the children and the community.
90 individual counseling sessions have been done at school and 99 sessions have been conducted in households within the slum.
430 pre-teens have been reached through group counseling and psychoeducation sessions
472 adults have been taken through group counseling.
This is very helpful as it helps equip families with techniques for dealing with and working through complex family issues, emotions, and traumas. in return, most families are stable despite the challenges they face on a day-to-day basis.
Through the support we receive and continue to receive, we are able to achieve our set objectives in making life easier for the children and the community here in Kibagare. Your support and donations go a long way in helping us achieve the much we have set out and we are more than grateful that you go out of your way to do the much that you do and continue to do. THANK YOU ALL.
Best Regards,
Alfred Aswan,
Program Liaison.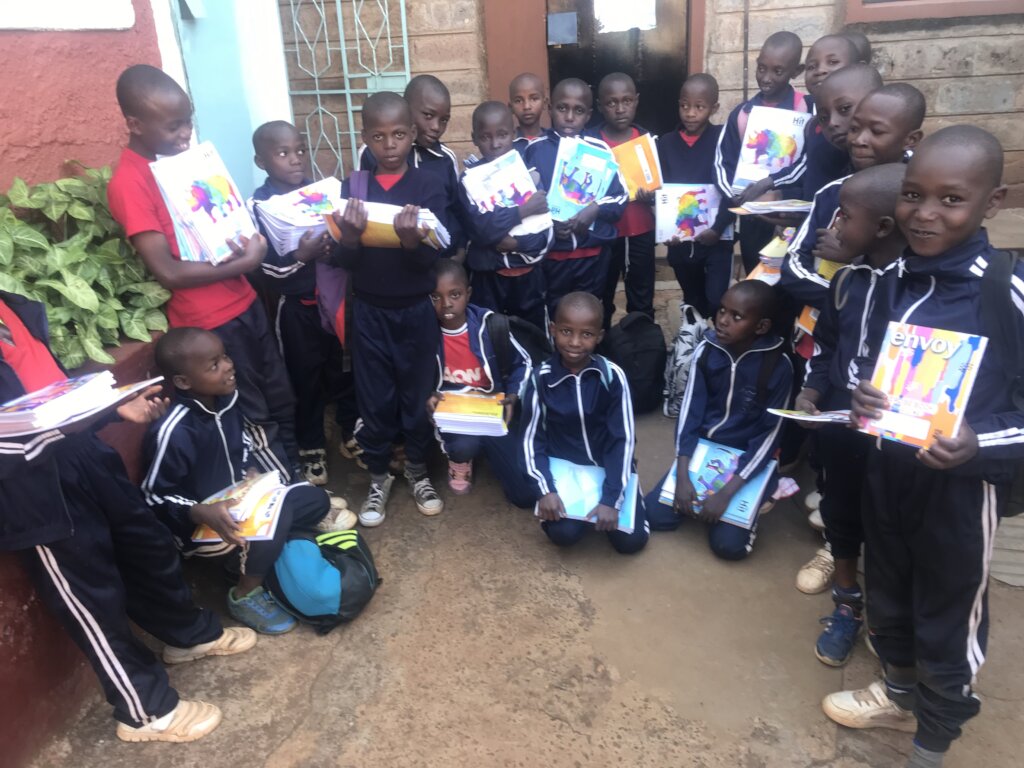 Links: