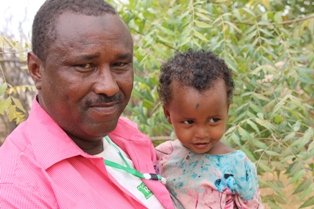 Most mornings, before the heat of the day sets in and the dust isn't too bad, a stout Somali man with gentle eyes ambles through the alleys of this refugee camp. He ducks into tents and sits on the edges of beds and just listens.
He listens to girls like Leila, a stick-thin 15 year old who tells him what it's like to raise her four siblings since her mother disappeared and her grandmother died.
He listens to old men, like the one who is squatting in the dirt, washing his wife and children's clothes – a job no Somali man usually does. He listens to the man tell him his wife is sick and he's out of money and options.
Abdul Rashid Adan Ibrahim is a spectacular listener. He does more than listen, he absorbs. When he sits down next to them, they let go some of their pain and he takes it on. They know they can trust him. They know he's like them, stuck in the same God forsaken camp they are.
What they don't know is that this middle-aged man who spends all his time patching up the shattered lives of others, has one of his own.
Like everyone here, Abdul Rashid never dreamed he'd be a refugee. He grew up in Merca, Somalia, a white-washed city that leans out over the Somali coastline. In its heyday, Merca attracted tourists who curled their toes into the white-sand beaches and sipped Italian coffee at the city cafes.
Abdul Rashid's father owned a fruit farm outside of town. The irrigated farm with its advanced canal system produced bananas that his father exported to Italy. As a boy, he traveled to Rome with his father, where he dined in fine restaurants and tasted life in a cosmopolitan capital.
Abdul Rashid followed in his father's footsteps and studied agriculture at Afoole University in the 1970s, a time when Mogadishu was in its salad days. In the capital, spotless, palm-lined streets and public gardens bloomed with bougainvillea under which friends strolled. Women dressed modestly, but weren't veiled like today. Back then, you could drink a beer at the Jazeera Club and then catch a taxi over to Cinema Super to catch Clint Eastwood in The Good the Bad and the Ugly, dubbed in Italian.
The future looked bright for Abdul Rashid. He married a woman with a big smile and kind heart named Maimoua. They started their family as Abdul Rashid found work as a contractor for the World Food Program while consulting for international NGOs on the side. They had a nice house in Merca and, he says proudly, he owned a boat.
But in the 1980s, political cracks started to fracture Somalia's peaceful façade. Frustrated with a military government, armed opposition groups started to appear. In 1991, after President Siad Barre was overthrown, clan ties became politicized more than ever. That's when Somalia began its slow slide toward chaos.
Throughout the fighting and the rise and fall of governments, Abdul Rashid persisted. He was respected and a go-to negotiator in Merca. While working for humanitarian organizations, he knew how to joke and cajole and make the armed groups happy. A sack of millet here, a little cash there.
During the early 2000s, he started working for an American NGO, directing their food distributions to 28 villages near Merca. For eight years, he and his right hand man, Abdul, a calm, articulate man who had worked with him for years, received shipments of World Food Program food at the port in Merca. They transported the food to the warehouse and then distributed them to Somalis in need.
But a few years ago, things took a turn for the worse when an armed group refused to let them distribute the food themselves. Everything, they said, had to go through them.
Abdul Rashid was worried.
Not long after, someone showed him a video. It was Abdul; someone was holding his head up by the ears. He'd been beheaded.
Abdul Rashid was beside himself. He'd known Abdul for years and considered him a close friend. He knew his wife and 11 children. He also knew he was next. He left Merca immediately, walking out of town on the trails farmers used for livestock. He fell in with some nomads and walked with them for through the night more than 30 miles – not easy for Abdul Rashid who rarely missed a meal. As he walked under the stars, he wondered if he'd ever see his children again. He wondered if the thugs would go after his family, after Maimouna. He eventually got cell phone service and called a relative who sent a vehicle to pick him up and he headed for Badare, a town in Western Somalia.
Back in Merca, the thugs who killed Abdul hit the airwaves: Abdul Rashid is ours. If you see him, bring him to us. They rolled up to his house, guns at the ready. Where is he, they demanded. "He left yesterday, and he didn't come back to us," Maimouna said. They loosed off a few rounds above her head, then started rifling through the house, turning the place upside down. They looked under the bed. They looked in the latrine and in the cupboards. When he didn't turn up, they trashed the place. Then they went outside and waited for him to return, holding the house under siege. They set up roadblocks and searched vehicles to make sure he didn't sneak back.
Maimouna knew she had to get the kids out. Six of their children were at home at the time, including Saman, who Abdul Rashid had dug out of the rubble 12 years earlier after her parents house was attacked in a bout of fighting. Her parents dead, Abdul Rashid and Maimouna took her in and she's been their daughter ever since.
To smuggle the kids out, it was a family affair. Relatives mustered up their courage and approached the men ringing the house. Grandmothers took the girls out one by one, saying they needed to get their skin decorated with henna. Old men took boys to the mosque. One by one, Abdul Rashid's kids escaped. Eventually, Maimouna did too. They paid for a vehicle and drove to meet Abdul Rashid in Bardere, Somalia.
Abdul Rashid and the family made their way to Doolwo, Somalia, a place near the Ethiopian border where he thought they could wait things out. A few days later, a text message arrived. "Wherever you go, we will find you. Even if you go to Kenya, we'll find you."
Get your clothes, he told the kids, We're leaving.
That's how he ended up here, in Bolkomanyo, a 44,000 person refugee camp in Ethiopia. His wife was shocked. A wind as hot as a hair dryer never stopped blowing. The tarpaulin they lived under was a far cry from their comfortable house in Merca. Everything about the camp bothered her – the scorpions, the bland food, the kids coated in dust, the mosque made of sticks, the wrinkly vegetables, the idea of being a refugee. She was inconsolable.
She didn't utter a word, Abdul Rashid said, for three months.
For days, he and the kids took turns watching people come and go from the water pump, waiting to see someone they knew. Surely, someone from their former life, one of Abdul Rashid's many friends or colleagues, had ended up here. For a week days, they waited.
They didn't recognize a soul.
It all became too much for Abdul Rashid. Maybe out of embarrassment, maybe out of shock, he did the mostly unSomali thing: He became a recluse. He didn't talk much with others, he kept to himself. For a year, he drew his cocoon tighter around himself and didn't let anyone in.
Then something changed. He must, he decided, make the best of this. He can't sit and stew in his own worries. His children look up to him, he needs to be there for them, no matter the circumstances.
He started volunteering for Save the Children's child protection program in the camp. He quickly became the head of a child protection committee, one of 25 in the camp. He supervises 23 volunteers who document cases of child protection issues and work with families to educate them about the dangers of child marriage and the importance of education. It's everything from talking to parents about bathing their children to dealing with issues of domestic violence.
As one of the best English speaking refugees, as a college graduate, Abdul Rashid has a lot to offer. He put up a blackboard in his tent – by now a two room shanty that now has a garden in back where he has planted trees – and he reached out to idle teenagers in the camp. He's broken the teenagers into three classes by their abilities. He sends them home with worksheets to study. If they pass his quizzes, they will advance to the next level. Students know that English could help them get a job with one of the many NGOs in the camp.
Nobody pays Abdul Rashid to do this. He uses a little of his $45 monthly salary and his own time.
His children – especially Saman – speak excellent English and wonder aloud to Abdul Rashid what the future has in store for them. Where will they go to high school? College?
"They are thinking of it," he says, "but I can do nothing."
His voice catches.
"Just a moment," he says, collecting himself.
This isn't easy. The proud college graduate, the world traveler, the man who keeps a laminated copy of his resume in English on hand just in case, has tears in his eyes because he doesn't know how to educate his kids.
"Never in my life," he says, "did I think I'd become a refugee. I'm wasting my time here. I'm also wasting my children's time. Let them go somewhere else instead of wasting their time in this stony place."
Uganda. Tanzania. Rwanda. He and his family sit in their home and dream about these places. A place where Saman can go to high school. A place where Abdul Rashid can find a job. They've been here four years and never set foot outside the camp; they try not to think about how many more. Word in the camp has it that cell phone service is coming soon. Maybe then he'll be unable to talk to the outside world. Until then, he'll throw himself deeper into working for Save the Children. It feels good to have a purpose in the camps, he says, to have something you can devote yourself to. It takes his mind off things that are out of his control.
"It's nice," he says, "to have a connection with people."